For children in the late '80s and early '90s, the Teenage Mutant Ninja Turtles might as well have been The Beatles. Actually, they did have their own band. They were everywhere and on everything. You could even eat Ninja Turtles—pizza crunchabungas, anyone? There were ninja turtle comics, cartoons, films, video games, tennis shoes, and waterboarding potty torture playsets. 
The origins of the turtle franchise, one of the most lasting and powerful in the children's entertainment industry, is what filmmaker Randall Lobb managed to capture in his newly released film Turtle Power: The Definitive History of the Teenage Mutant Ninja Turtles.
Released on Aug. 8, Turtle Power is a 98-minute documentary that traces the origin of the turtles from their latest Hollywood incarnation back to their humble beginnings, in the comic book pages of Kevin Eastman and Peter Laird. 
Eastman and Laird, who published the first Teenage Mutant Ninja Turtles comic book in 1984, are among the most interviewed in Lobb's film. Dozens of others, including voice actors, stuntman, artists, producers, and puppeteers, talk about their experiences in the turtle business.  
If you grew up surrounded by this phenomenon, and like millions of others were obsessed with anything combining turtles and ninjas, Turtle Power is like peeking behind the curtain of your childhood. The marketing, licensing, and ownership of the "turtles property" is a huge part of the story. So, maybe your favorite cartoon of all time was created just to sell you toys. Who cares? Your kids are still going to have a kickass time playing with Bandito Bashin' Mike and his Native American friend, Chief Leo. (And after 30 years, is an actual Technodrome still too much to ask?)
If it's a choice between going to the theater for the latest Hollywood reboot or watching this new documentary online, I'll put it like this: If you want to watch guys in motion-capture suits fighting a Transformer on a rooftop in 3D, go to the theater. But if you wanna hear some great TMNT lore—like the time a costumed martial arts actor vomited into one of Jim Henson's animatronic ninja turtle heads—you should check out this documentary instead. 
Last week, Lobb spoke with the Daily Dot about Turtle Power and what it was like researching the Ninja Turtles: 
What's the story behind this film? Why did you decide to make a TMNT documentary?
The story is as follows:
By day I was a high school teacher in Goderich, Ontario, Canada, whilst by night I was a founding partner in FauxPop Media with local tech-wizard Mark Hussey. Our skill sets were highly complementary, with me as a writer/director/producer and him as a sound/music/post-production mastermind.
The idea was that technology had reached the point where, between us, we could make pretty much anything and distribute it via the Internet (it was 2004 when this company started) at a high enough quality to compete with anyone, anywhere.
We worked on documentaries about Canada's military in Afghanistan and Cambodian landmine issues, along with music production, indie book publishing, music videos, and whatever else came our way.
In November 2008 Isaac Elliott-Fisher, a young cinematographer/operator we'd worked with, approached us with a passion project he had in mind: a fan documentary on the history of the TMNT. He'd done a fan/passion doc in the past on Toyota Land Cruisers and thought this project was too big to do alone. When he asked us to partner up I said no at the exact moment Mark said yes.
The second I said no, I knew we had to do it because we'd been talking about finding good niche subjects that would have an automatic audience. This really did fit the bill, and 2009 would be the 25th anniversary of the Turtles. I was worried about clearances, costs, travel, every other logistic, but Mark is the eternal optimist and Isaac, a lifetime Turtle fan, has an obsessively one-track mind when it comes to anything that he wants, so I agreed to start the process.
Of course, the first step was the establish that we weren't just a couple fans with camera phones, so I started the conversation with Gary Richardson, CEO of Peter Laird's company, Mirage. He eventually told me that, because of Fair Use, he couldn't stop us, so he would wish us well. I told him that we wanted to make a positive story that left people feeling good about the franchise, thanked him and we started right away with some creative reproductions of old toy ads (footage we ended up mostly discarding).
So, to make it short—we were going to make a doc for fans, make it for a few thousand bucks, sell it to that hardcore audience and make a few extra thousand for our efforts.
Of course, within even a few months it all got so much bigger.
You spoke with a wide variety of people—the TMNT's creators, the actors, stunt workers, puppeteers. How long were you making this film?
We started shooting in the drama room of Goderich District Collegiate Institute (where I taught English and Media) over the Christmas holidays in 2008, shot, cut, planned, and shot some more off and on right up until May 2014, after we'd already started delivering pieces of the doc to Paramount.
The final elements of delivery were nailed down this summer, right before San Diego Comic-Con. Right down to the wire, I might add.
And you're right, we did travel a fair bit. There were somewhere between 80 and 90 interviews, but we didn't use everything we shot, of course. We've got a remote interview with Steve Barron from London, U.K., some assorted stuff in Toronto and area, and a lot of footage from the Northeastern U.S. and Southern California.
Of course, there are more people we still wish we could have interviewed,
but what can you do?
In terms of editing, well, I really couldn't guess how long it took. We were cutting off and on for years. Five and half, actually…
What was the response from your friends and family when you unveiled this project?
Our wives were amazingly supportive in general, but I can't speak as much for Mark and Isaac. I can tell you that my wife Nisa says that she always knew we'd sell it and that it would be released, something that is nice to hear when things aren't going so well.
Some of our friends thought it was awesome, particularly those friends who were young enough to have grown up in the heat in the TMNT craze. They thought it was straight up amazing that we were meeting these people, talking to them, and, eventually, becoming friends with them.
Other friends would shake their heads at the Sisyphean nature of the project… In my case, I was deeply engaged in the process of trying to negotiate for permissions and interviews and basically trying to bend the world to suit our needs, which is stressful and demanding at best.
Imagine doing something so uncertain and so protracted, then imagine doing it while you have a full-time job and a bunch of other commitments, other projects, growing families, responsibilities, World of Warcraft characters to level, whatever else you're trying to do in whatever field… It's natural that some people would we skeptical.
And, of course, some people would find the whole idea of focusing on a piece of pop-culture like that to be ridiculous in and of itself.
Once it looked like there was going to be a distributor for the doc, and once people saw the quality, there were some changing attitudes, which is no surprise. It's hard to believe that a little team of small town filmmakers can just go out do something like this, right?
I had no idea that James Avery, who passed away rather recently, was the voice of the Shredder in the original cartoon series. Around when did you film your interview with him?
We shot with him in March of 2009.
He drove to the big, empty house in the Hollywood Hills that Kevin Eastman had up for sale (where we were literally camping for that week of shooting) and he was clearly not impressed with the size of our team, which I know he took to be too small to be pro—and our craft services were pretty dire, I will admit. Not one donut to be found.
However, once he saw his old friends from the animated series, and once he interacted with us and saw us at work, he was delightful. Oh, and when he found out I was an English teacher who knew my Shakespeare, then it was a straight-up lovefest.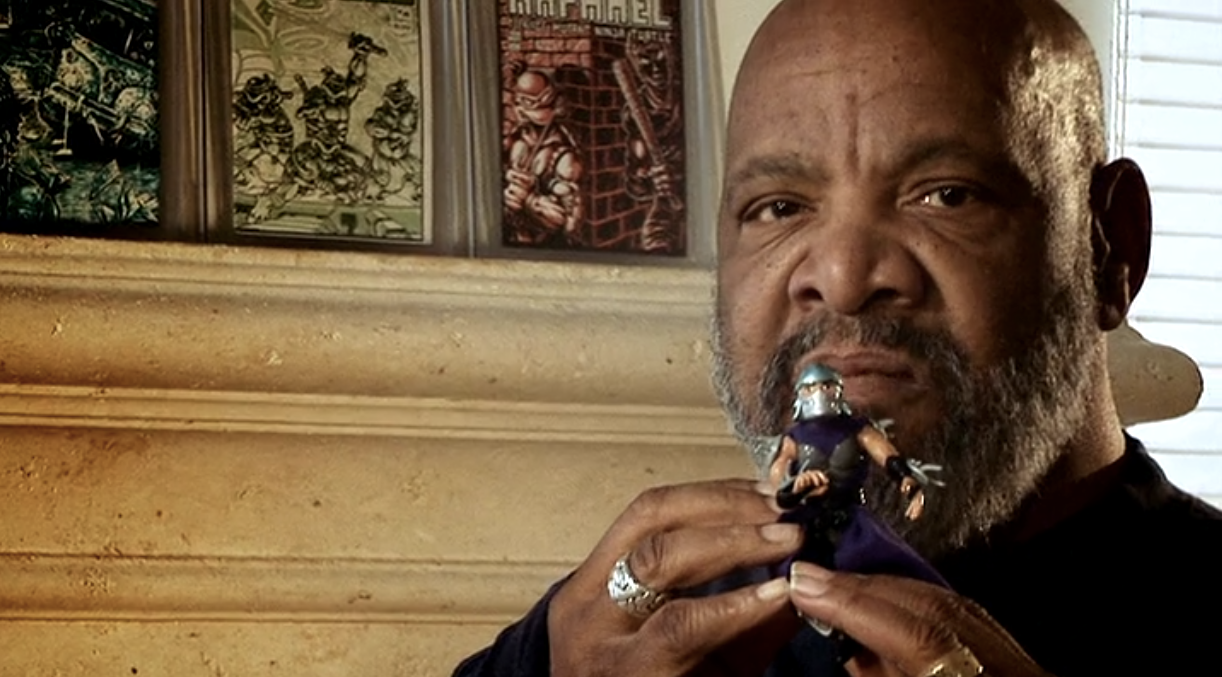 What are some things you learned about the TMNT you didn't know before filming?
Since I wasn't one of the hardcore fans, everything I learned about the TMNT was new, except for the original comic book series, which was on my radar when it first came out in 1984 (and I was skeptical about it, as usual).
But there were a few tidbits that were shocking to me.
1) Everyone we met and interviewed was a good person. There was no attitude, no ego, no trouble in dealing with all these different personalities and we had a good time at every turn. This is pretty surprising to me. Either we were able to work our Canadian Nice Magic on everyone, or it just so happens that this franchise has attracted a certain kind of energy over the years.
2) Michael Ian Black and Robert Ben Garant! I am a huge comedy nerd, and finding out that they two members of The State got their start in show biz in Turtle costumes, well, that was ridiculous. It's still ridiculous and amazing. I love it.
3) The odds were stacked against it at every turn. When you look back at the story, everything makes sense, lines up, and it seems inevitable that TMNT is what it is. But it was anything but inevitable. Getting things made in any medium is hard and look how deeply this franchise has penetrated pop-culture! It's astounding.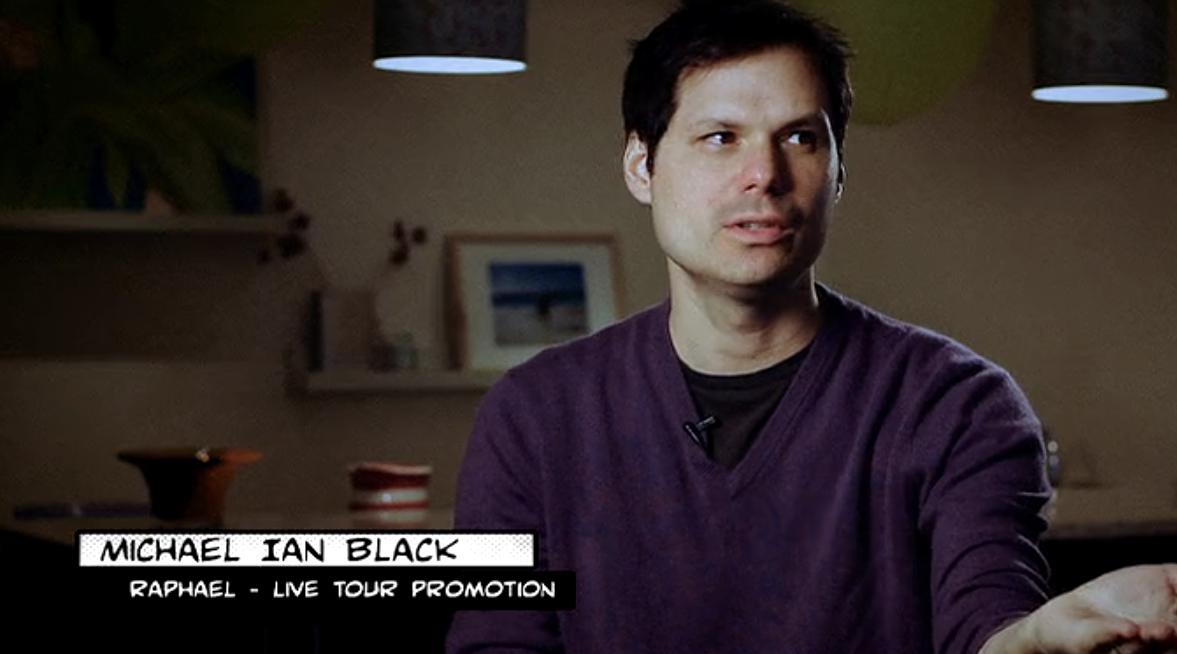 Was the timing of your film's release, being so close to the new Hollywood picture, just a coincidence?
That would seem pretty amazing if it was, right?
I might suggest to you that there was a fair bit of strategy and planning and careful tooth grinding as we waited, waited, and waited for things to line up. And then, once they did, you can bet that the smart folks at Paramount knew exactly what made the best sense in terms of having people care about a nice little documentary like ours.
Which Ninja Turtle are you?
Easy. I'd say Splinter, actually—remember, I'm a teacher—but I'm
constantly told I'm Raphael. Which fills me with rage and—wait a minute…
You can visit the Turtle Power website to see Lobb's film or learn more about it. 
Screengrabs via Turtle Power