You is the unexpected sexy serial killer sensation that has overtaken Netflix after originally failing to find an audience on Lifetime. And star Penn Badgley continues to keep being the absolute MVP of the entire experience.
If you haven't caught onto the fad yet, the show revolves around Badgley's serial killer character, Joe Goldberg, who stalks women and murders basically everyone they love (and sometimes them). But he does it while also romancing them, which has caused a very polarizing reaction among fans, who have been known to tweet at Badgley about how in love they are with Joe. 
The former Gossip Girl star recently appeared on The Late Show with Stephen Colbert to talk about season 2 of the show, focusing on how women seem to be drawn to this fictional sociopath in real life.
"It says something about how much we are willing to be patient and forgive someone who inhabits a body that looks something like mine," Badgley told Colbert. "The color of my skin, my gender, these sorts of things, these sorts of privileges. And how much less willing [we are] to forgive people who don't fit those boxes."
But the real treat of the interview when Colbert asked Badgley for an impromptu demonstration of how he can take the character of Joe from charming romancer to creepy stalker in a heartbeat.
"It is shockingly simple," he says, before going from smiling to a dead-eyed serial killer stare that will chill you right down to your soul.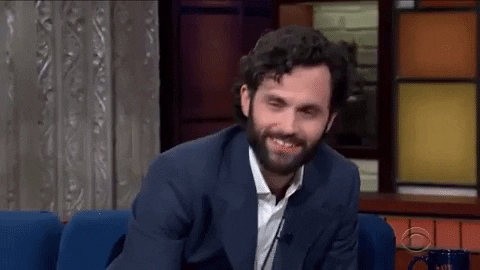 The actor went into more detail as he recounted a story of blowing You's crew away by being creepy at a promotional photoshoot without even intending to be. He said he was wearing Joe's signature hat and windbreaker (his "stalking outfit") and standing next to co-star Elizabeth Lail (Beck) who was in bed wearing nothing but a t-shirt and underwear.
And that's it. That's all it took.
"If you put a fully clothed person staring at a woman in her underwear in bed when he's not supposed to be there, it's inherently creepy and you don't have to do anything," he says. "You put yourself in a really questionable circumstance, an inappropriate circumstance, and then you do nothing."
READ MORE:
H/T Harper's Bazaar