Director Lucy Cohen's heart-wrenching Kingdom of Us, in title alone, suggests togetherness in isolation. What follows is a touching and intimate view into the lives of a grieving wife and her seven children, all understanding why patriarch Paul Shanks killed himself in Warwickshire, England's Crackley Woods.
Through old family videos, interviews, recited writings, and even songs, Cohen provides her Netflix documentary with precipitous depths to coping with mental illness and extraordinary loss. She goes inside the photographic negative of the supposedly happy family, living out an idyllic countryside life, and finds what went wrong.
The film also unpacks autism, six of the seven children live on the autistic spectrum, and the day-to-day challenges it presents to families. Two of the girls also have cerebral palsy. A vocal public advocate, the mother Vikie has campaigned for increased mental health and autism awareness efforts.
But Kingdom focuses on her husband's shocking 2007 suicide, completely changing the film's tenor.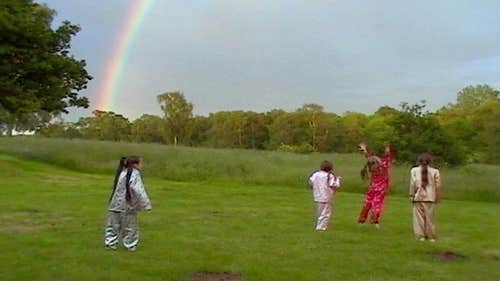 Cohen juxtaposes the children as young adults, each coping in his or her specific ways and spaces, with the mountain of home video and cassette footage from just before Shanks' death. In the slow reveal, there are opportunities to learn alongside the children, about their father's decline. Shanks lived within great extremes, as a profoundly depressed man who eventually became less of a father and husband, and more a "companion" as Vikie would explain to one of her inquiring children.
Vikie's turned into something of a hoarder, surely a coping mechanism of her own. Of everyone in the film, it is clear (and eventually found) that her pains run along a different plane. Few wives imagine living a life raising seven children on their own, while also trapped under their late husband's debts. However, there's some humor in the talented girls' interactions and even in the lone boy, Osborn, a burgeoning whiz who unpacks much of what's happened with a cold brand of empathy, one that's stirring and human nonetheless.
Says the young man, utterly uninterested and seeing no virtue in cleaning his room: "One day I'm going to die and then it won't matter. So why should it matter now?"
There is a tricky conundrum laying just into the background of Kingdom of Us: Does Cohen think that each of the children's mental health issues are related directly to Shanks' suicide? It is an exceedingly dangerous game that features Cohen tactfully dancing around opaque absolutes, allowing the subjects to seek truth for themselves.
Touching and responsibly presented, the film shows the meditative, intimate power of the documentary format.
Still not sure what to watch on Netflix? Here are our guides for the absolute best movies on Netflix, must-see Netflix original series and movies, and the comedy specials guaranteed to make you laugh.