It looks like you can add White House personnel to the list of people who do not find Daniel Tosh funny.
The Tosh.0 host called for fans of his Comedy Central program to support a series of petitions posted to We The People, the official petition site of the White House.
Tosh's petitions called for a merging of North Dakota and South Dakota into one state, an elimination of most forms of currency and butterscotch candies, an automatic grant of U.S. citizenship to any Mexican who can make a killer fish taco, a demand that Bed Bath & Beyond stores mark down their merchandise, and a demand that comedian Dave Chappelle return to television.
Since the April 2 broadcast, the latter two petitions have been removed, according to the comedian's blog. As of April 5, only three of the Tosh.0 petitions remain active on We The People, with the most successful collecting 5,300 votes. By comparison, a Change.org petition to take Daniel Tosh off the air received 37,000 signatures.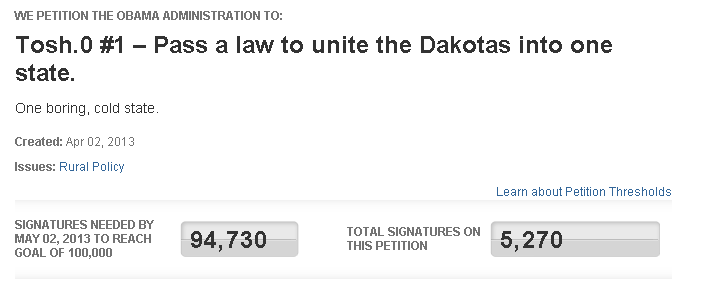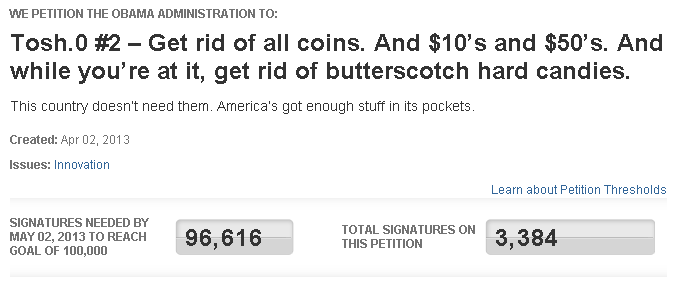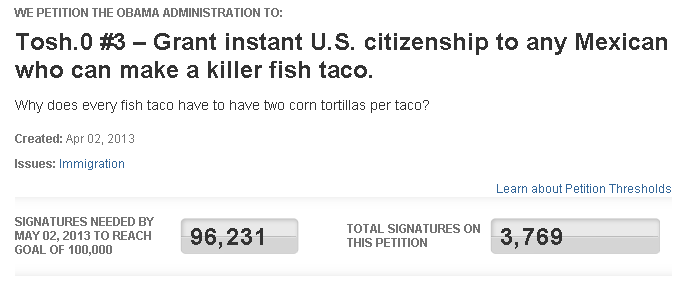 If the White House's penchant for cleansing the site of humorous petitions is any indication, Tosh's remaining petitions will also fail to reach the 100,000 signature threshold necessary to force a response from officials.
Tosh's critics, whose numbers swelled after the comedian made an ill-received rape joke in July 2012, have been quick to chastise the comedian's efforts.
"Watched your show last night, and your declaration, "the white house doesn't know the power of tosh" or something like that….. a little over 2000 sigs? I guess mocking the white house isn't as easy as mocking "pay for play teens singing poorly" hahahahaha. i thought you were clever," Facebook user James Welch commented.
"youre an idiot if you sign/like/ daniel tosh's petitions" tweeted Kristina Kasbohm.
Facebook user Ashley Williams attempted to fight fire with fire, taking the liberty to create her own petition that forces Tosh to "come out of the closet."

The next scheduled episode of Tosh.0 airs on Comedy Central on April 9. Tosh has not publicly stated any plans to address the petitions on his show.
Since its 2011 launch, We The People has been no stranger to less-than-serious petitions. Citizens have called upon the highest levels of government to tend to everything from state Pokemon to considering the construction of a fully-functional U.S.S. Enterprise. A popular November 2012 petition to build a Death Star received enough signatures to force a response from the White House.
Photo via Comedy Central