In 2017, comedy was revelatory.
It was finally revealed that longstanding rumors about Louis C.K.'s misconduct were real, putting the floodlights on standup comedy's deeply enshrined sexism and abuse of power. It revealed late-night TV to be a proving ground for its comedian hosts—and for political humor to be a ratings booster under a ratings-obsessed president. In 2017, we got together to laugh at the darker parts of life and found comedy in emptiness.  
Some of the year's best streaming comedy addressed issues that dominated the year: Difficult People's "Strike Rat" episode was an extended takedown of Woody Allen, the actors who still work with him, and the studio that keeps giving him a platform; Master of None explored what happens to a celebrity accused of sexual harassment with a very prescient storyline, right down to the number of accusations against a celebrity chef aired live on TV. In Lady Dynamite, Maria Bamford discovers the dark secret fueling sexism in Hollywood during an over-the-top meeting of powerful showbiz women. In One Mississippi, Tig Notaro and her producer Kate (Stephanie Allynne) discuss the harassment and assault they've experienced throughout their lives and the labels women assign to trauma. Elsewhere, a creepy boss masturbates in front of Kate, which may or may not be a middle finger to C.K.
In 2017, I laughed hardest at a Netflix show about dicks—and the irony was not lost on me.
We asked some funny people what made them laugh this year, or at least helped get them through it. Hopefully, 2018 will be full of more middle fingers.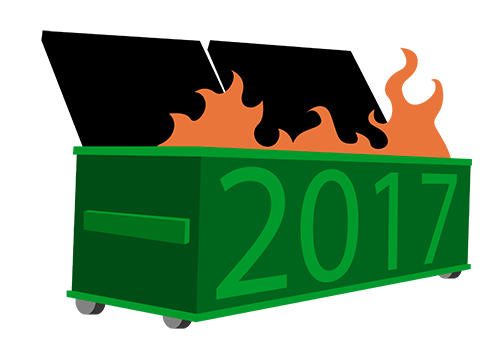 As soon as Trump was elected, I knew I needed to adopt a puppy. You know, a cute, snuggly thing to distract me, to cry into, etc. Sometimes she barks at popcorn. That makes me temporarily forget the world is on fire.
Oh boy, so many things got me through this awful awful year, but most of them were terrific television shows and movies. Nothing on TV made me laugh harder than Nathan For You and Detroiters. Nothing in the movies made me scream with joy more than Girls Trip, Fate of the Furious (I know, I know), Captain Underpants (I KNOW, I KNOW), and The Big Sick. Nothing in comedy made me happier than Oh, Hello on Broadway and Joe Mande's Award-Winning Comedy Special. No book brought me more joy than Jesse Andrews' The Haters. As for the smallest unit of "thing" that made me laugh, I've been giggling about the line "Penelope said 'begets?'" from Three Billboards Outside Ebbing, Missouri ever since I watched it weeks ago. It was a great year for laughs! And a terrible year for just about everything else!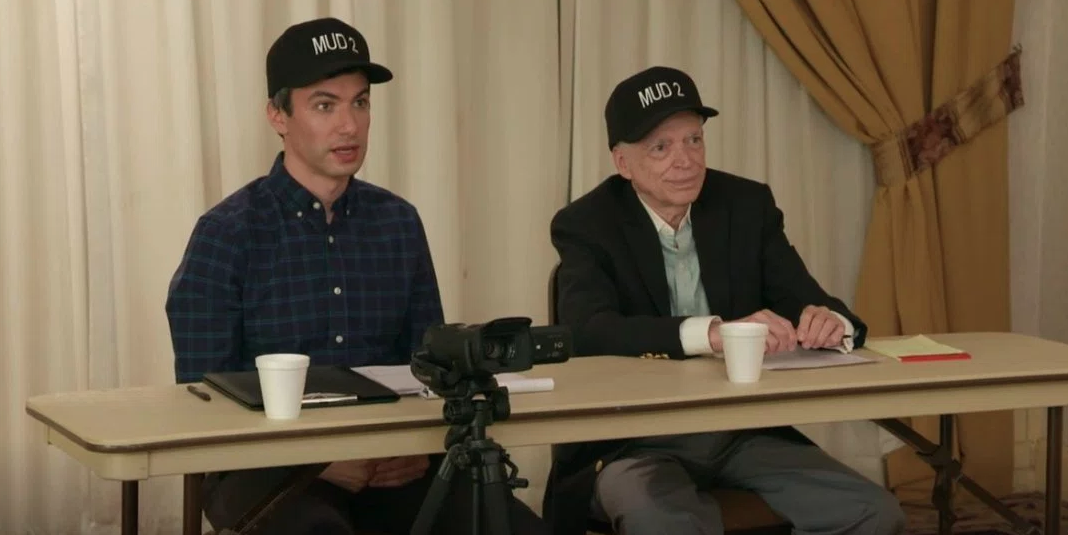 2017 sucked ass but the one thing that has kept me going, brought me joy, and made me laugh more than anything else in this world is the National High School Musical Theatre Awards, aka the Jimmy Awards. Find the professionally filmed awards ceremony on YouTube, watch the three-hour documentary on PBS, and start a group thread with a dozen of your closest gay friends and let loose. The ceremony and performances themselves aren't funny (most of the time), but your own obsession with them will make you laugh, trust!
My wife and daughters, my friends/co-workers, my dogs Darby and Rigby, Neko Case, Karen Kilgariff, Scharpling & Wurster, and Documentary Now.
Lane Moore
, comedian and creator of
Tinder Live
I took my comedy show Tinder Live on tour this year and it was the most healing thing that made me constantly laugh no matter how hard life got. I do the show every month at Littlefield in Brooklyn and it has always been the one thing that even if everything in my life seems impossible and I feel like it's too painful to be in the world, I know that show will make me laugh, and make people in the audience laugh, and I/we will feel better. So going to rock venues and colleges all over the country and going on my Tinder live there and seeing how much everyone else, no matter where they live, really needs comedy right now because everything is so hard reminded me there are still so many good-hearted kind people in the world who want something better than the world we're in right now. And while we're at the show together, for a brief while, we're all laughing until our stomachs hurt, and you remember that life can be really, really funny, even when it's also really painful.
Jonathan Katz
, comedian and creator of
Dr. Katz, Professional Therapist
What made me laugh in 2017: My wife and daughters (26 and 34). They are all funnier than me. My favorite type of joke is the kind I see coming but I don't mind. My daughters have been giving me courtesy laughs for years.
Negin Farsad
, host of
Fake the Nation
My own anxiety-laden response to the news made me laugh this year. I would get worried, anxious, and serious about the news. Then I would laugh at the extent of my anxiety. Which would then lead to me being worried, anxious, and serious again. It's basically been a vicious cycle. I want to end on a laughing note, though.
Jimmy Pardo
, host of
Never Not Funny
This 20 seconds of Jay Mohr doing his Dice impression on Never Not Funny brings me so much joy. 
2014 – Jay Mohr@jimmypardo and @mattbelknap figure out how they can bet, @jaymohr37 ambushes Jimmy with his Andrew Dice Clay impression. pic.twitter.com/ZErVNt8Ixm

— NeverNotViney Guy (@NeverNotViney) May 15, 2017
The great #MeToo Predator Purge of 2017 has been an unending source of cackles, joy, and delight. But the work is just beginning.
Jamie Loftus' show I Lost My Virginity on August 15, 2010 made me laugh, partly because she's hilarious and partly because it's been a really good year for nostalgia. And splash zones. She had a splash zone.
Our country has gone through changes that feel backwards since president Trump entered office and what made me laugh was Michelle Obama's flawless side-eye during Trump's inauguration! It was meme heaven on social media. I'm a standup who seriously respects and loves a strong, funny meme! S/O to all the meme creators out there who use this picture on every tweet and kept me forgetting Trump was in office for a couple of seconds.
Stories later confirmed Michelle was not throwing shade at Trump or the new first lady but holding back tears from saying goodbye to everyone at the White House. The kids were crying and left out the back because they didn't want the media to twist a story saying, "THE OBAMAS' TEARS OF HORROR SEEING OLD AMERICA" or something like that.
The arc of Michelle Obama's side-eye shade bends toward justice pic.twitter.com/HCjC9Ham4W

— Brentin "900 Number" Mock (@brentinmock) January 20, 2017
When a guy that I usually greet with a hug blocked me, put up a trembling fist bump instead, and said, "We're cool, right?"