The SXSW hype bubble has officially popped.
At least in terms of influence and activation, the annual music conference peaked somewhere between LL Cool J and Lady Gaga performing inside a giant Doritos vending machine in 2014.
For years, SXSW has thrived on (or suffered from, depending on your perspective) an absolute embarrassment of riches, with massive artists performing for intimate audiences, usually on behalf of corporate underwriters: Metallica in 2009 (Guitar Hero), Prince in 2013 (Samsung), Coldplay in 2014 (iTunes), Justin Timberlake in 2017 (Myspace), Kanye West in 2011 (Vevo) and with Jay-Z in 2014 (Samsung). The list goes on.
The sponsorships haven't so much dried up as they have shifted to other portions of SXSW. Netflix, Amazon, and others in the streaming entertainment space blanketing the Interactive and Film conferences earlier in the week.
The massive artists that did appear this year catered more to international audiences. iKON, the K-pop outfit that recently landed its own Fortnite skin, made its U.S. debut on Wednesday, while Columbian superstar J Balvin did a dress rehearsal for his upcoming stadium tour, inflatable T-Rex included.
In 2019, it seemed, the playing field was finally leveled. In fact, the festival was almost for who wasn't there. Major indie labels like Sub Pop and Merge Records didn't host showcases; Pitchfork, once the ultimate SXSW tastemaker, declined to even host a day party. There was no Spotify House or Pandora Backyard, the Fader Fort was a fraction of its former self, and marquee acts with highly anticipated new material like Vampire Weekend and the Black Keys opted to stay home.
All of which is to say, this year, perhaps more than ever, SXSW was truly about supporting up-and-coming artists and finding the next big thing. And with 1,954 artists showcasing across 92 stages, there was plenty to choose from. Here are the acts who caught our attention. —Austin Powell
The best new bands at SXSW 2019
Pink Sweat$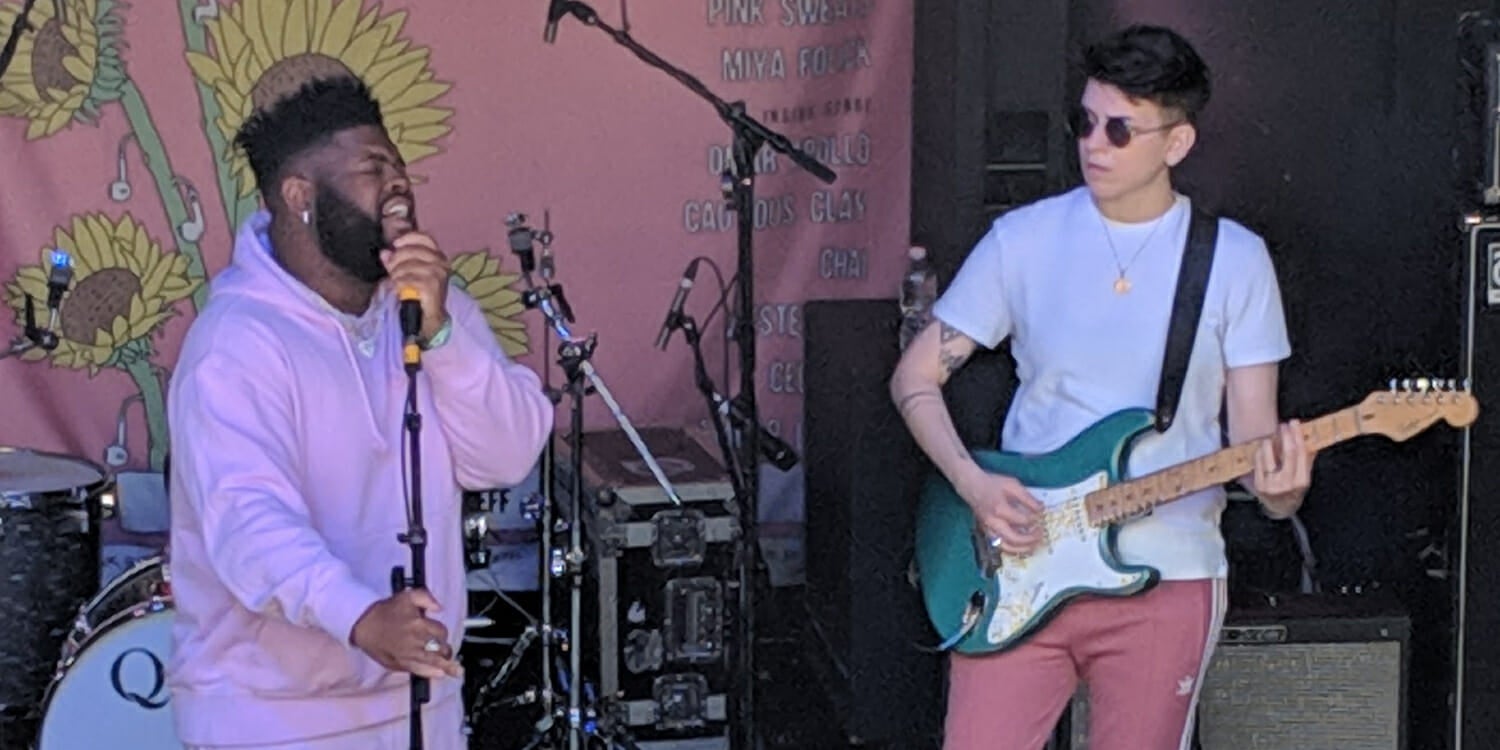 The first thing you notice about Pink Sweat$ is his dedication to aesthetic: an all-pink Adidas jumpsuit and reflective high-tops—no small feat on a sweltering day in Austin. The second is his voice: a commanding, sensitive croon. The Philly artist otherwise known as David Bowden had performed just twice before SXSW. It didn't matter. Backed only by an electric guitarist, Pink Sweat$ carried Frank Ocean's collaborations with John Mayer ("Thinkin' Bout You") to their logical conclusion, crafting modern SoundCloud ballads of relationship drama and insecurity. It's not as transcendent as Ocean—few things are—but closer "Honesty" has a hook you'll be singing before the song has even finished. —Austin Powell
Sir Babygirl
We love Sir Babygirl, and live at the Palm Door it was instantly apparent why. The queer pop experimentalist—go ahead and make those Robyn, Lady Gaga, and Kesha comparisons—writes crushing confessionals baked in candy glaze. Here, the New Hampshire artist celebrated the one-month anniversary of her album Crush on Me's release with a purple Squier guitar that churned over rumbling beats. Like fellow SXSW performer Cuco, she posts funny memes that boost her digital profile. But unlike Cuco, the self-described "theater kid" translates her over-it, shitposting candor into commanding performances and freak-out anthems like "Flirting With Her." —Ramon Ramirez
Omar Apollo
A first-generation Mexican-American, Omar Apollo has been making slinky, low-key R&B from his bedroom in Indiana. The 21-year-old has a handful of Spotify hits to his credit ("Ugotme" has 12 million streams), but it remained to be seen how it would translate on stage. Turns out, Apollo is a born showman. At Antone's on Wednesday night, he danced like no one's watching—except everyone was—leaned into his Chicano soul (despite fighting a cold), and backed by a tight band, he let loose on guitar in a way only hinted at on his recordings. —A.P.
iKON
South Korean boy band iKON played its first U.S. show at Austin's Moody Theater on Wednesday, signifying the global rise of K-pop and the changing musical tides at SXSW. The 2,500-person theater didn't reach capacity, but the healthy crowd sang rapturously to every word of the K-pop septet's performance, roaring with excitement when the group thanked fans or doused them with water. The minimalist stage setup allowed the group's expert choreography and trap-infused pop gems to shine, and nobody minded a bit when the band gave a reprise performance of its signature hit "LOVE SCENARIO" (which boasts 72 million Spotify streams). Fans who caught iKON's impressive stateside debut will brag about the intimate show when the group graduates to arenas in a few years. —Bryan Rolli
Celeste
It's hard to avoid comparisons with Celeste (Adele, Amy Winehouse, and Alessia Cara all come to mind), but the London-based singer-songwriter takes a softer, jazzier approach. At the Paradigm Agency's Sound + Vision party inside Mohawk on Wednesday, she was backed by an unorthodox trio—saxophone, guitar, and bass/keys—which accented her confessional narratives without overpowering them. Set highlights "Lately" and "Father/Son" should definitely be on your next Spotify playlist. —A.P.
Auntie Naj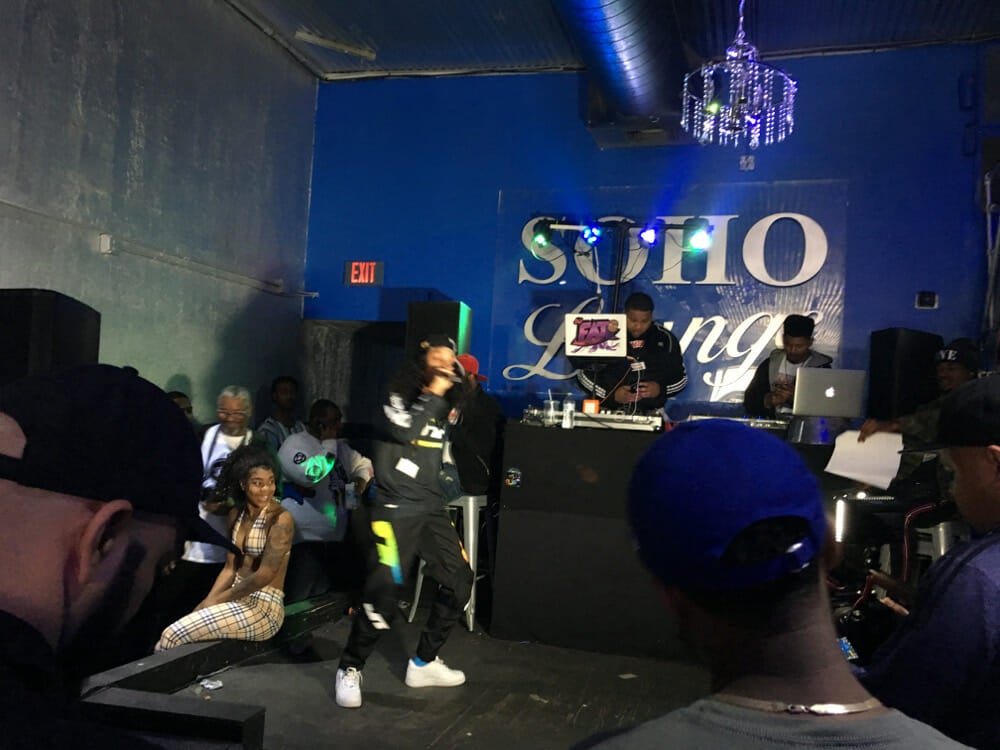 There is nothing more urgently punk than SXSW's slow transformation into Valhalla for mixtape culture. During the music conference, kids from Killeen, Texas, to Miami drive in to hang out and trade Insta handles. At the Soho Lounge on Dirty Sixth, NYC rapper Auntie Naj checked in with the DJ so he knew what single to play. There were many rappers on the bill and she only got to perform one song, but it oozed with charisma, wit, star wattage, and bounce. All week, I heard great DIY rappers like DJ Rome Stallion make populist noises on patios. I also heard a dude plug his phone into an amp and boom his music on Red River Street only for his Google Maps directions to loudly interrupt. —R.R.
Angie McMahon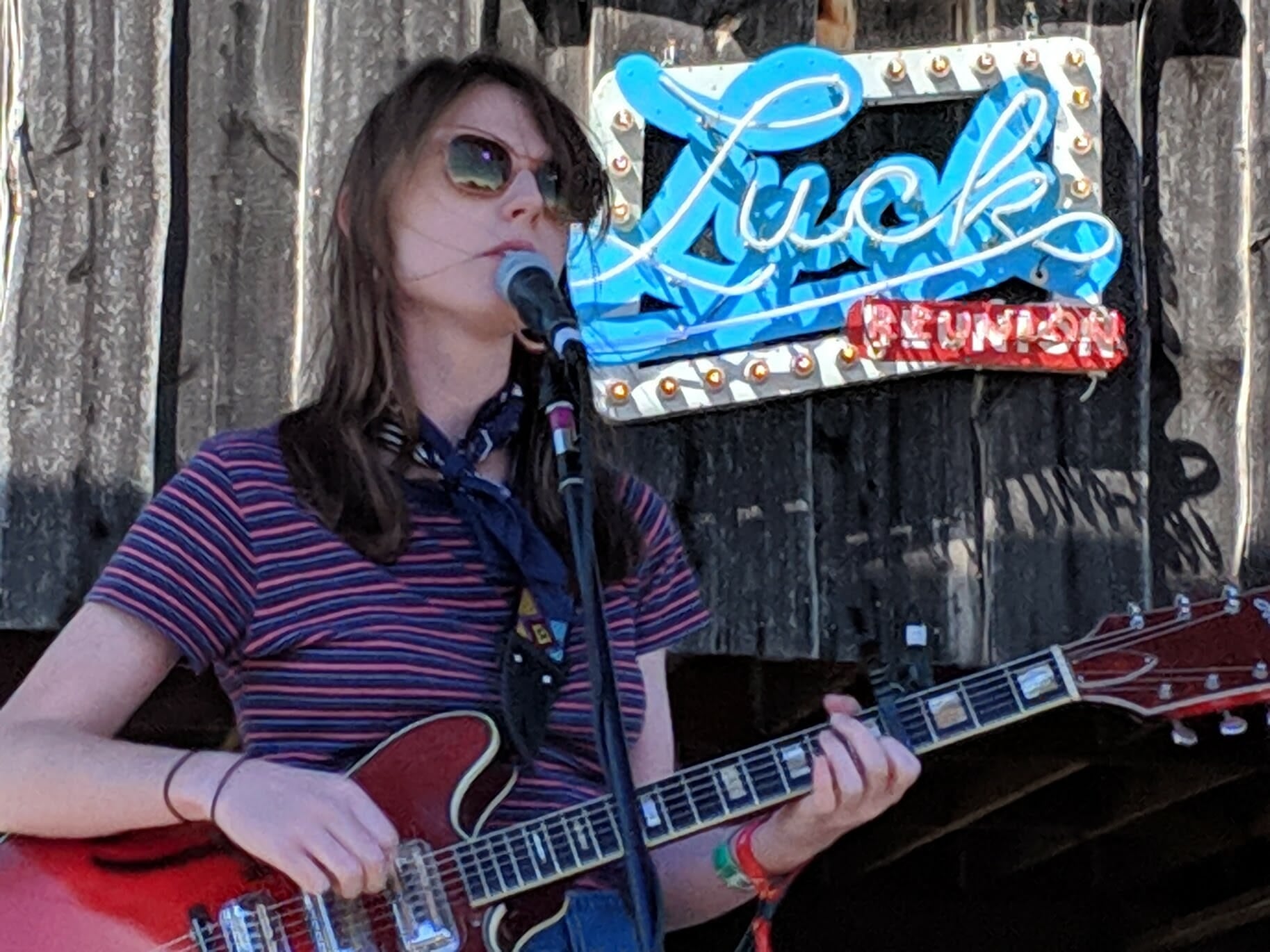 I was walking across Luck Reunion, Willie Nelson's annual outing that's become almost as highly anticipated as SXSW itself, when Angie McMahon stopped me in my tracks. The Aussie songwriter specializes in torch songs, emphasis on the torch. She has a startling command of her voice, capable of escalating from a smokey falsetto to an angsty bellow in the same word. When she delivered the line "Loving you is lonely," over stabs of guitar in "Missing Me," it felt more like a threat than a statement, and her slowed-down cover Neil Young's "Helpless" absolutely simmered. It's no wonder she earned SXSW's Grulke Prize for Developing Non-U.S. Act. Her 2017 single "Slow Mover" deserves another chance stateside. —A.P.
Illuminati Hotties
When you pick a band name as brazenly brilliant as Illuminati Hotties, you damn well better back it up with great tunes. Thankfully, singer/guitarist and producer Sarah Tudzin makes good on her moniker with wistful, effervescent pop-punk songs that land somewhere between PUP and Japanese Breakfast. Illuminati Hotties beefed up these songs during their Thursday afternoon performance on the Luck Reunion's main stage with slabs of feedback and jagged guitar solos, rewarding Willie Nelson devotees who showed up early and braved the daytime heat. ­­—B.R. 
Black Pumas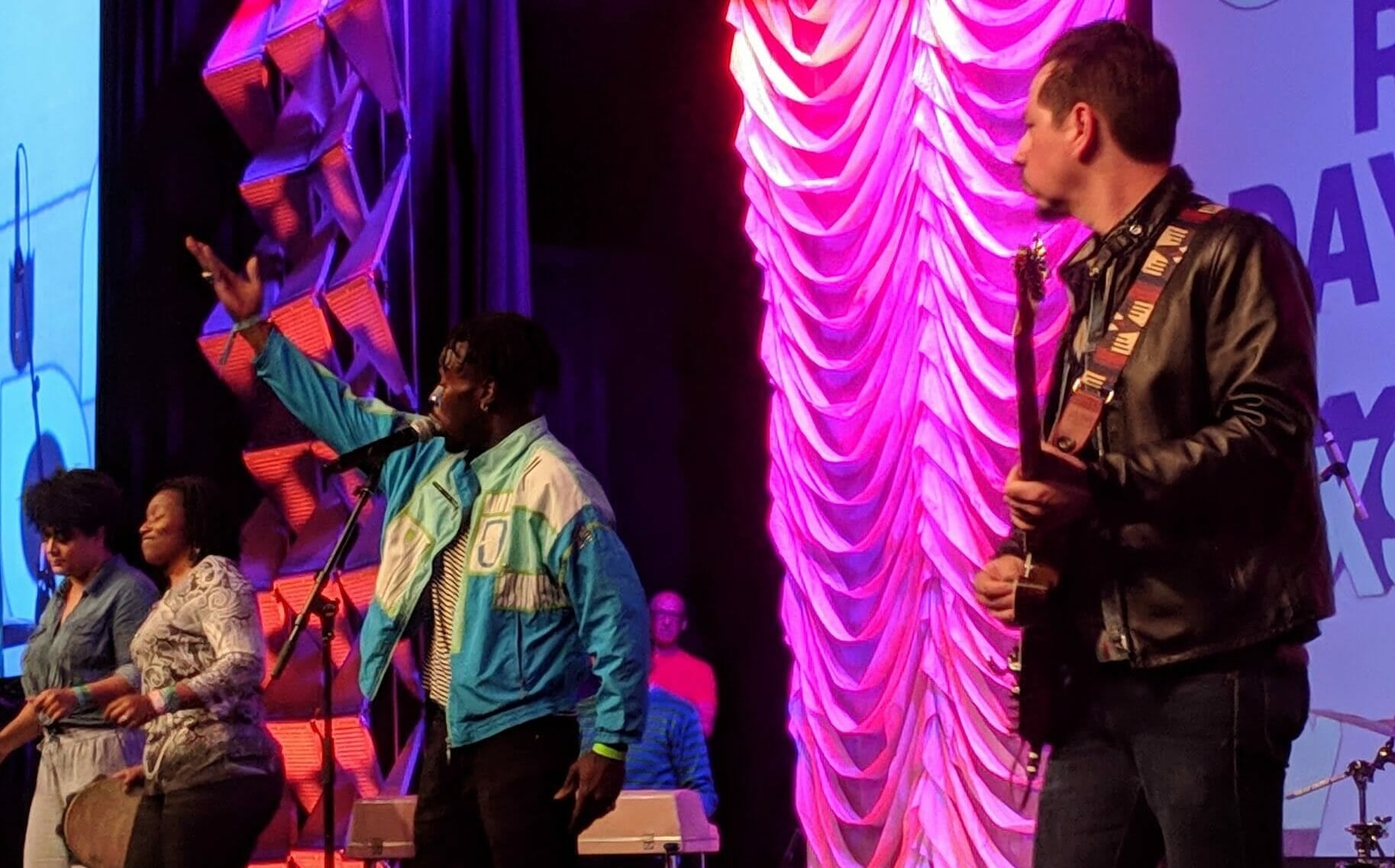 The latest project from guitarist/producer Adrian Quesada, Black Pumas won best new band at the 2019 Austin Music Awards and scored a record deal with just one song to its credit, "Black Moon Rising." Admittedly, it's a killer track, a sweltering mix of Hot Buttered Soul and smoky R&B, but nothing else from the band's set on the Radio Day Stage at the Austin Convention Center could quite compare. Not that that stopped frontman Eric Burton from working the entire room. He ended the set in the second-to-last row, bringing attendees to their feet in the process. —A.P.
Yola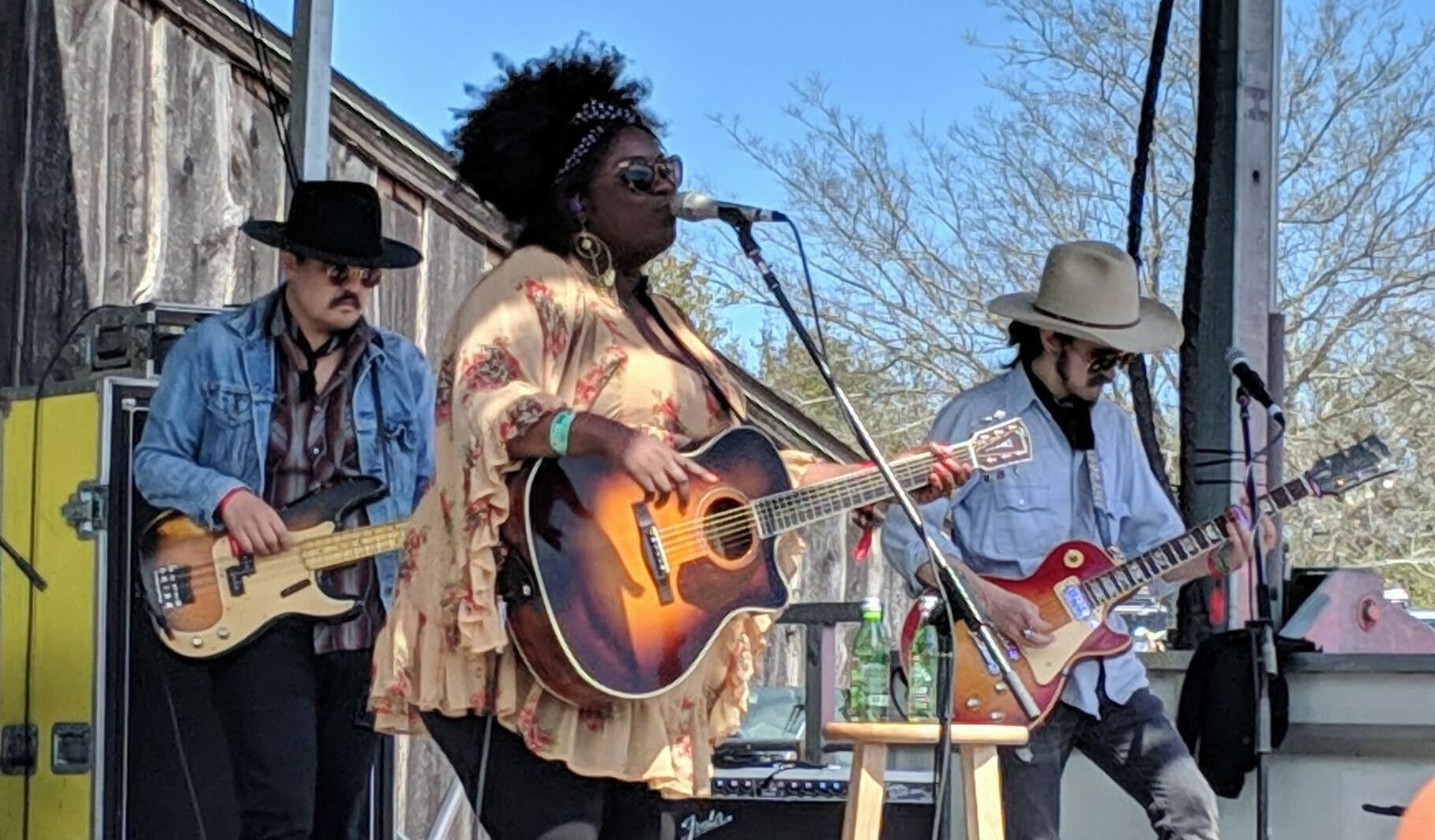 "You might be able to tell from my accent that I'm not from around here," Bristol's Yola acknowledge at Willie Nelson's Luck Reunion. You probably wouldn't have noticed otherwise. Yola's mix of American gospel, roots music, and golden oldies sounded right at home in the Texas hill country. Her set felt a little too restrained and NPR safe, lacking in grit and groove, but "Faraway Look" absolutely soared. —A.P.
The Nude Party
Realistically, it only takes four people to play the Nude Party's countrified psych-rock, but they had seven, and hey, that's cool too. The North Carolina septet locked into a killer groove on Thursday afternoon at the Luck Reunion's Revival Tent stage, augmenting its Stonesy boogie and Velvet Underground cool with languid pedal steel solos courtesy of John "Catfish" DeLorme. It all coalesced on snarky set closer "Chevrolet Van": "Someday when you're too old to play/ Yeah, you'll wish you got a job." For now, though, the Nude Party are young and savoring every minute of it. —B.R. 
Low Cut Connie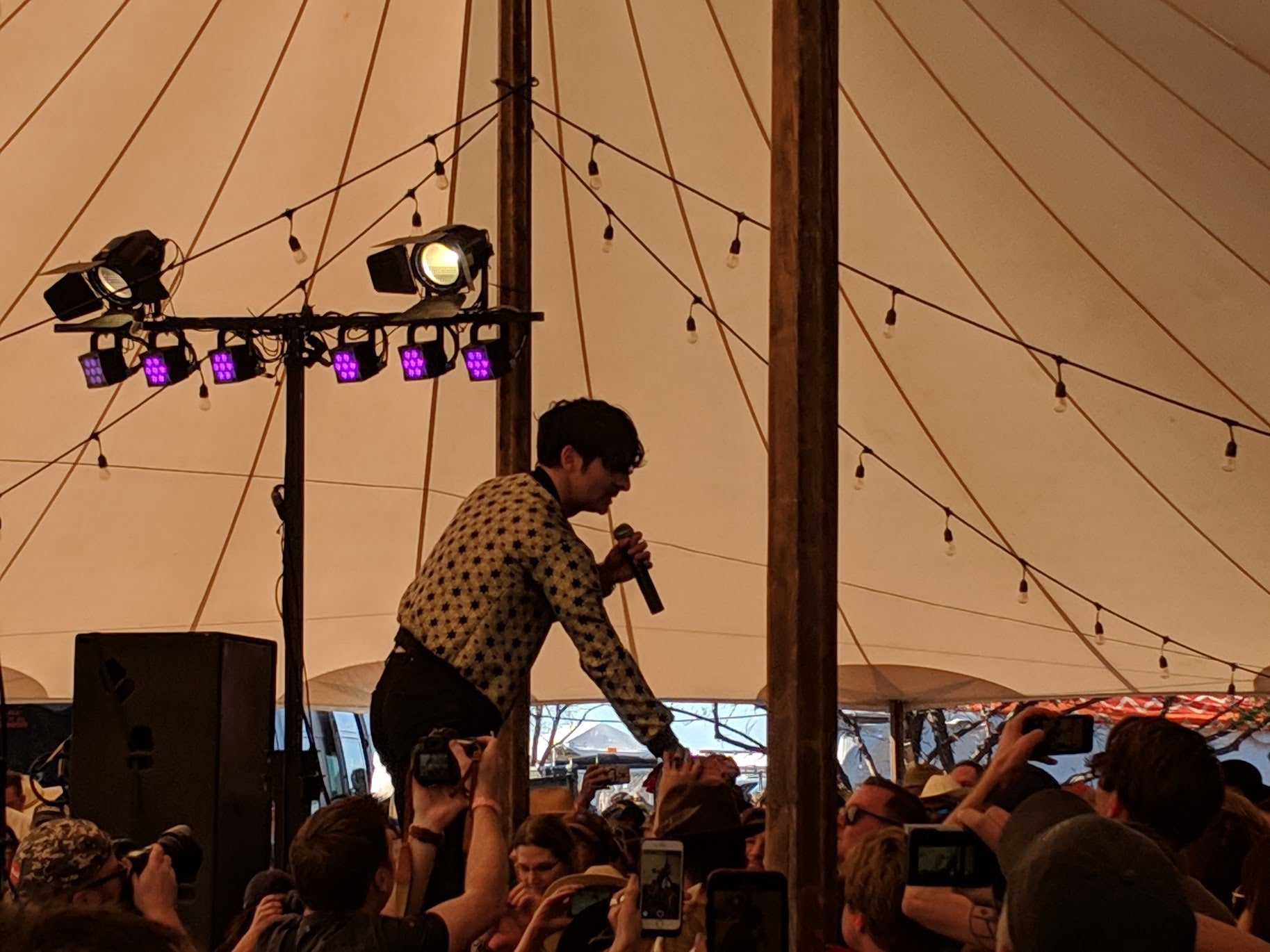 It's fitting that Low Cut Connie played the Revival Tent stage at Luck Reunion, as the Philly rockers baptized fans by fire with a breathless, soulful performance that set the bar for stage presence at SXSW. Frontman Adam Weiner channeled Elton John and Jerry Lee Lewis as he attacked his piano (named Shondra) and ripped his shirt clear off his body, as guitarist Will Donnelly dropped to his knees and fired off chicken-fried solos with gusto. Low Cut Connie left the audience feeling gleefully exhausted after just 40 minutes—but they could've gone all night. —B.R.
Queen Key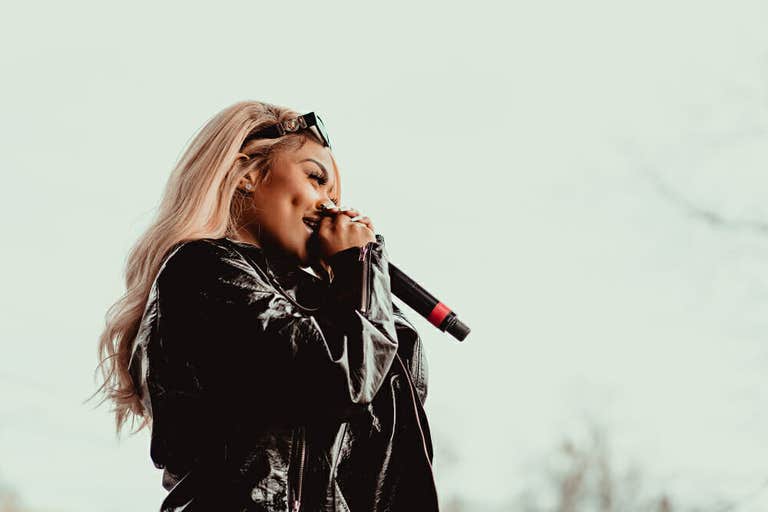 "I left my pizza in the oven—that bitch burnt as fuck," rapped Chicago's Queen Key Friday at the Fader Fort. The up-and-comer added, "I got zero fucking children" as a circumstantial brag. Following the lineage of sex-positive rap stars who write cutting lyrics as feminist acts of ownership and as responses to the marginalized age of Dr. Dre videos (Lil Kim, Cardi B, 2019 Fader headliner Megan Thee Stallion), the World Star Hip-Hop fave directs her own music videos and coughs up grimy-as-hell bars. Key's live game is still a work in progress, but there's a reason Chance the Rapper is hanging out in her videos. —R.R.
Deeper
Post-punk band Deeper came off like Gang of Four fronted by Robert Smith, with coiled, ricocheting guitars and mechanical precision. But the Chicago-based four-piece had enough right turns to keep things interesting and moving forward. One highlight toward the end of the set built from a trickle of rapid, repetitive guitar notes to a manic chorus and back down again. It was nothing short of thrilling. —A.P.
MORE FROM SXSW 2019: 
Gia Margaret
At least the kale-and-lime gingeritas flowed early at Cheer Up Charlie's. It wasn't long ago that spring-breakers camped out on the final Saturday of SXSW to see John Legend play the piano for 20 minutes here on behalf of Axe body spray. Gia Margaret strummed her elegant gut-wrenching bedroom ballads on behalf of some zine because it's suddenly a very different music conference. The last time she did SXSW, about 10 years ago she said onstage, the Chicago songwriter played in a sandwich shop and cried. But this time her spellbinding heartbreak single "Birthday" made it on NPR's playlist: She lived up to the hype—if you can call it that. —R.R.
Cautious Clay
Brooklyn's Cautious Clay offers fast-casual R&B: aesthetically pleasing, a clear step above your average takeout, but nothing to plan a whole evening around. I'm sure his radio set at the Austin Convention Center sounded great to those live-streaming at home, especially when he pulled out his saxophone, but the "Cautious" moniker is all too fitting. It's as if he couldn't fully commit to being onstage. —A.P.
Drugs & Attics
"This song is about our favorite monster truck," Drugs & Attics singer/guitarist Willie Jordan told the Shangri-La crowd on Friday night. "If Grave Digger isn't your favorite monster truck, you can fuck right off!" The Kansas City, Missouri trio unloaded a flurry of dirtbag party-punk anthems about waking up in an anthill on the fifth of July and "drinking a High Life and being a low-life," most of which barely grazed the two-minute mark. Bonus points for being the only band at this year's SXSW to A) lure me in off the street, and B) prompt me to spend money on a physical album. —B.R. 
King Princess
Thursday night at Stubb's, King Princess led her legion of woke cool kids through a rendition of "Pussy Is Gold" that's still stuck in my head—and not just because it samples Bravehearts' "Oochie Wally." She hit the Juul onstage, made fun of olds like me in conference lanyards, and was hype because Alicia Keys recently shouted her out. The 20-year-old sings "love songs for queer kids," as the Daily Beast recently wrote, and even a throwaway White Stripes cover rings essential. Her band is precocious but prodigious, and the rock star born Mikaela Straus proves that the world could use a genre-bending shit-talker. —R.R.
Leyla McCalla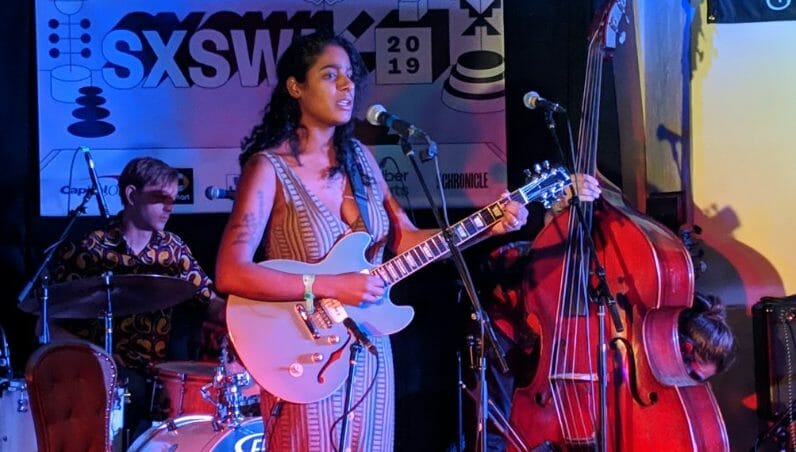 It can be easy to lose sight of what's happening in the rest of the world during SXSW. Not so during Leyla McCalla's barefoot set Friday night at the Driskill. The former street musician and one-time member of Carolina Chocolate Drops tackled daunting societal issues, from the Flint, Michigan, water crisis ("Heavy as Lead") to the violence in the Middle East ("Aleppo") and wealth inequality ("The Capitalist Blues"), all while alternating between electric guitar, tenor banjo, and cello—and trading verses in English and Haitian Creole. Much to their credit, McCalla and her nimble backing trio made you feel the weight of it all. —A.P.
Armani White
Armani White strode onto the Empire Garage stage on Friday night dressed in a white bathrobe, but it might as well have been a boxing robe. The Philadelphia native danced across the stage and into the crowd like a prizefighter, spitting rapid-fire flows and anthemic hooks over soulful, vintage beats. His unbridled enthusiasm seemed to reflect a welcome pivot away from the faceless SoundCloud and mumble rappers who visited SXSW in recent years and couldn't be bothered to give a shit about their performances. "I came a long way," Armani proclaimed in the singsong chorus of the Chance the Rapper-esque "Onederful," and indeed, this champion in the making seems poised to go the distance. —B.R. 
The Viagra Boys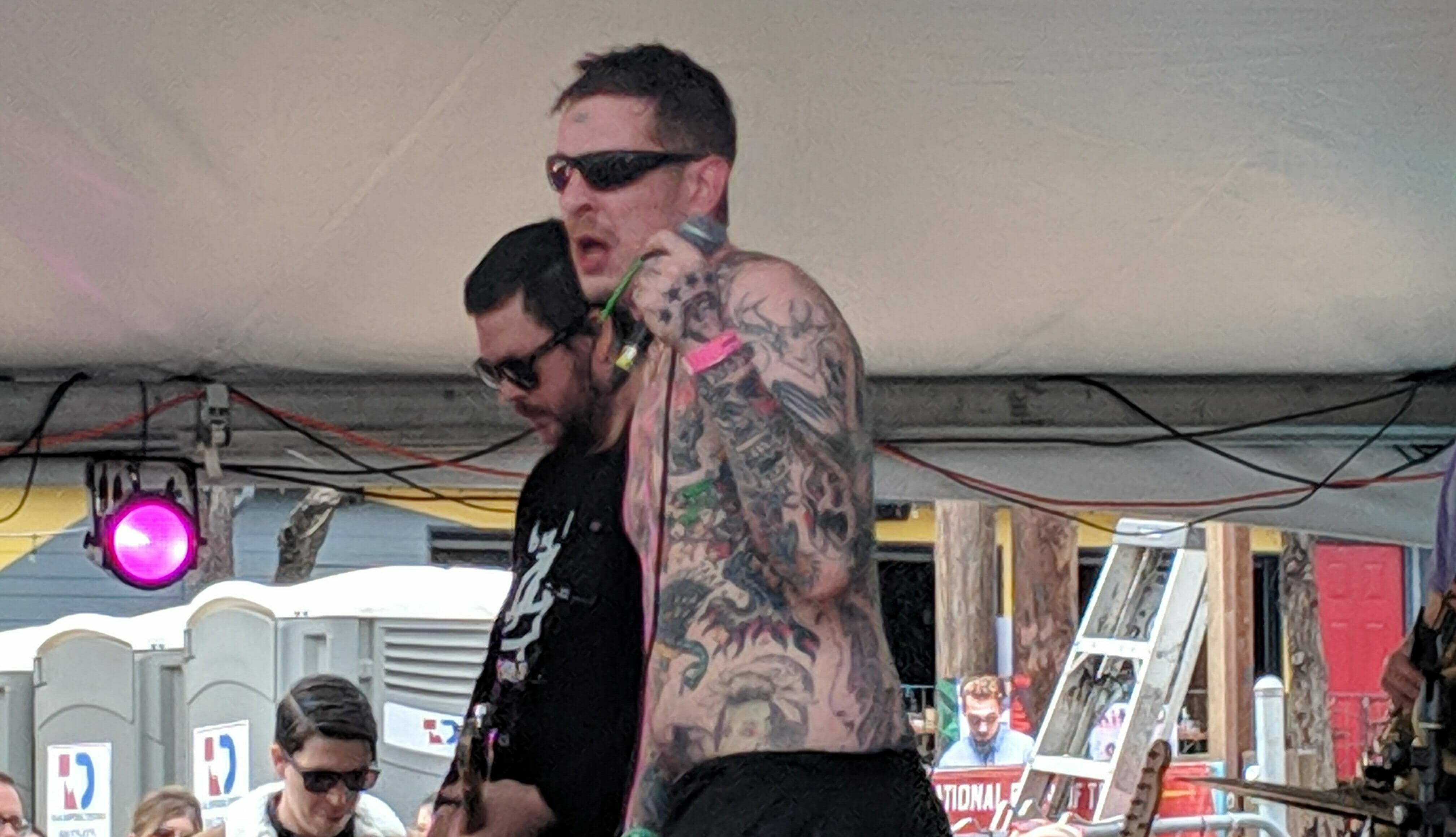 Stockholm punk band the Viagra Boys offered wry, confrontational diatribes on sports, erectile dysfunction, and the side effects of prescription drugs. The searing sax and keys gave it all a prowling, "Nightclubbing" vibe, but it's sold by tatted frontman Sebastian Murphy. He's the type of dude who would get obliterated at your house, smash a vase, piss on the floor, blackout, and refuse to take responsibility for any of it. In fact, that's the entire premise of closing tantrum "I Don't Remember That." —A.P.
Chai
The Nagoya, Japan dance-punk band arrived at Hotel Vegas Saturday with a recent "best new music" badge from Pitchfork for its Burger Records release, Punk. Put delicately, it rocks. I wasn't able to jostle into the one-in-one-out Chai show so I watched from the street until a police officer politely asked me to move. I watched the rest of the set from the sidewalk—and it still ruled. —R.R.
Injury Reserve
Sure, you could classify Injury Reserve as "alternative hip-hop" or some other clinical genre, but the truth is, these dudes are rockstars. The Arizona punk-rap trio dispenses guttural roars atop pulverizing beats engineered to summon mosh pits among even the most conservative backpackers. The group killed the stage lights during Friday night's set at Empire Garage and mixed crowd-pleasing bangers like "Oh Shit!!!" and "Eeny Meeny Miny Moe" with more brooding, mid-tempo material. Richie with a T nevertheless goaded fans into action with his clever barbs: "Y'all lookin' like some old PR writers at a Pitchfork show or some shit." —B.R.
Sasami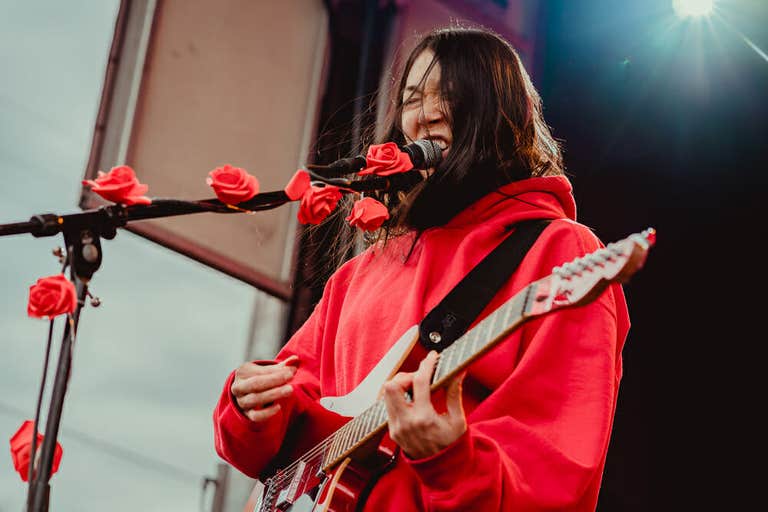 Slacker guitar rock was my favorite wave during SXSW: Cherry Glazerr, Charlie Bliss, Hala, Whenyoung, Slow Pulp, local regulars the Flesh Lights, and Mike Krol all made noise. Sasami Ashworth did it great while also being among the few rock acts who thrived at the Fader Fort—where loud rap music dominates and it's a mofo to set up the backline while a DJ keeps the party going. An annual mainstay since 2001, Fader returned to SXSW without the hype culture of secret headliners; organizers leaned into exciting bands for three days. They curated Tik Tok videos. They gave away CBD oil for pets. In other words, the ad agency spinoff magazine continues to lead as a trusted tastemaker. Sasami, who released her solo debut on Domino Records this month, was its brash disruptor. —R.R.
White Denim
Austin's White Denim closed out SXSW with a generous, 80-minute set in the backyard of the band's East Austin studio, Radio Milk. A local institution at this point, White Denim worked through cuts from last year's Performance and the pinball fusion of their new LP, Side Effects, caterwauling from one song to the next at maximum velocity. When the band locks into a medley, it's a dizzying sight to behold, guitarist/vocalist James Petralli dueling with madcap keyboardist Michael Hunter, and there's no topping classics like "I Can Tell." With everything that's changed at SXSW, it's a great relief to be able to still count on White Denim to bring it. Let's make this an annual tradition. —A.P.