BY MAX FREEDMAN
Sir Babygirl might be best known as the purveyor of some of social media's funniest queer memes. One visit to her Instagram is often enough to fill almost anyone's queer (and non-queer) meme thirst at least temporarily.
These days, though, the artist born Kelsie Hogue devotes her Instagram to pictures of herself and news about her upcoming debut album, Crush on Me, outFebruary 15 on Father/Daughter Records. She released her debut single, "Heels," this summer, which blossoms from a soft, sweet knock into a sneering, thrillingly histrionic climax and has been praised by the likes of Pitchfork and Stereogum and Chloë Grace Moretz.
"I'm shook," Hogue says of the song's success. Since then, she's been non-stop prepping her self-produced LP.
"It's basically turned into a full-time gig, which is surreal," she says. "It's really fucking wild."
Music has always been Hogue's foundation, even before she discovered her sexuality and, later, her gender identity. From an early age, Hogue's mom taught her that Whitney Houston and Mariah Carey are "the most important women to know about." She picked up her first instrument, the saxophone, when she was five or six, inspired by Lisa Simpson. She started acting in her local theater when she was in third grade.
"Theater and music have always been intertwined for me," she says. "I'm a theater kid, so I love trying on different shit."
Lessons in bass followed, and then when she was in sixth grade, Hogue taught herself piano and guitar. Following a seventh-grade songwriting class in an "absurdly well-funded" public school in her childhood New Hampshire town, she felt confident enough to teach herself any instrument she needed to learn.
"I'm one of those little bastards that's like," she begins before inflecting a mocking, nasal voice, "'I play 17 instruments!'" She's only slightly overstating it: she also plays alto sax, banjo, and mandolin (although Crush on Me is entirely synths and guitars).
In college, she studied acting and vocal performance, and eventually, she learned how to produce music. During that same near-graduation era, when she was 21, Hogue had a queer awakening. It was gradual, though, since she hadn't known anyone else bisexual at that point.
"I was in theater school, so I was just with straight girls all the fuckin' time," she laughs. She began making some queer friends who helped her come into her sexuality, and then after she graduated, she met some people who use they/them pronouns and strongly identified with them.
"I'm very naturally androgynous. People don't know my gender a lot of the time. It's sick," she says with a hilarious mix of sternness and irony, her constant, abundant sense of humor intact. "I'm very privileged," she admits, speaking to her also being white and middle class, "so I don't experience the day-to-day danger that other people do."
After recognizing that she's "always been drawn to either hyperfemininity, hypermasculinity, or extreme androgyny," she realized she was comfortable with any pronoun: she, he, or they.
"My non-binary, genderqueer identity is that I feel like a boy, I feel like a girl, I feel very strongly like both," she says. "Of course, those then congeal, and I feel gender in the middle as well."
"I really like she and he, because I'm really obsessed with extremes," Hogue continued. "It's a huge, core tenet of my creative, emotional, and social foundation."
Her creative extremes are on full display across Crush on Me, on which she experiments with sparkling synthpop and propulsive pop-punk styles united by her flair for drama, humor-infused spectacle, and soaring, technically astounding vocal parts. Her songs' theatricality reads as super queer, and her lyrics often do too, though she takes care to maintain a certain level of ambiguity.
Take the flashy, immensely catchy, borderline campy "Haunted House." Hogue, hesitant to talk about its precise meaning, mentions that listeners have suggested that it might be about social anxiety, sexual trauma, or "some gay shit," all in the context of a party: "Oh, I can't wait, I can't wait/to lose all my friends in one night!" she cries exuberantly during the song's chorus, which follows a pre-chorus in which she sings, almost as excitedly, "No one knows the difference from my laughter and my screams." The song's abstract video, directed by "gay bitch extraordinaire" Eli Raskin, leaves further room for interpretation and appeals to the same theatrical, fantastical choreography that drag does.
"Lyrically, [my songs] are just grab bags of all these fucking little moments that I've had…. It's more fun for me to connect the dots between experiences," she says. Her lyrical style allows listeners to project their own experiences onto her songs: Fans might hear themselves in the overtly gay, riotous pop-punk yelper "Flirting With Her," which displays the intertwined humor and gentle self-deprecation of Hogue's memelord days ("Flirting with her is like losing your keys/What the fuck is wrong with me?") or the sky-reaching ecstasy of the manically belted "Pink Lite." The latter's chorus, "So pull me outside/Give me the drag of my life!/'Cause I'm dying tonight/Right by your side!/I'm dying tonight/Slip me the pink light!" is both full of the excitement that accompanies the bubbling, intimate first moments of a new queer love and void of specifics about the experiences Hogue is recalling.
"I want you to viscerally feel the lyrics, [but] I love that everyone has different interpretations," Hogue says. She's nevertheless certain to be, for lack of a better term, gay as fuck in her music.
"For me, it's been important to be overtly queer so that you're not mistaking it," she says. "This is not a hidden agenda."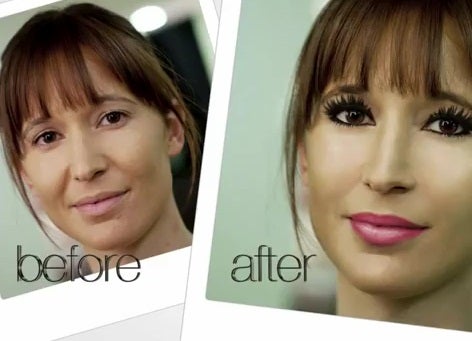 Hogue hopes to continue the work of the many other queer folks opening music to more queer voices; she praises the successes of Kehlani, Demi Lovato, Rina Sawayama, and King Princess.
"I don't want to be the only gay girl on stage. I want the industry to be flooded. I want us all to be having a gay blast," she says. "The more we can get more queers in there, the less pigeonholed each person will have to be."
At the same time, Hogue hopes that anyone, queer or not, can rock out hard to Crush on Me.
"[My queerness] should be no roadblock for any identity to listen to my music," she says. She plans to get her music out to the masses with a big tour opening for fellow queer musician Petal early next year, and even a brief listen to Crush on Me suggests that her live show will be flashy, exciting, full of dancing, and, of course, theatrical. This is exactly what she wants her music to provide for her audience.
"I hope that we can fucking dance," she says, "and get some fucking shit out on the floor."