Ari Aster has just finished an hour-long Reddit AMA for Midsommar, his new "macabre fairytale" about a poisoned relationship and a bad trip to Sweden. There are questions about specific scenes, deep readings of certain lines or shots. It's the kind of movie people want to "solve." But one question seemed to sum up people's feelings about the film: "You ok?" 
Aster is not OK, but understands that his films—Midsommar follows up debut feature Hereditary, and both explore cults and grief—get inside people's heads and, in turn, make people want to know what's going on in his. There are dozens of videos and theories attempting to "explain" the film or its ending. Aster thinks the ending is pretty clear: "It's not exactly unresolved," he tells the Daily Dot. 
For all its grand set design and psychedelic pagan ritual backstory, the film is about two people at the end of a relationship, and Dani (a transcendent Florence Pugh) realizing she's not OK. Viewers reacted, and many people aligned with Dani, who frets that she's asking too much of her checked-out boyfriend Christian (Jack Reynor), and even apologizes for his shitty behavior (the true horror of Midsommar). Aster wasn't anticipating such a polarizing reaction to the film along gender lines, though he did want people to "wrestle" with who they identified with. Asked whether he thinks the film has actually ended relationships, he says: "I have no idea, but if it's ended one then it's worth it." But, he adds, "it is designed to be a wish-fulfillment fantasy, and it's a perverse one." 
https://twitter.com/abs6954/status/1149497489864577030
More than theories and analyses, it's perhaps the Midsommar memes that best convey the experience, the film's dark humor, and the commentary that's flowed out of viewings. Aster says he hasn't seen any of the memes, but when I show him one I found particularly funny—employing a clip from The Departed—he says he's seen that one and it made him laugh. (He says A24 suggested he get on Twitter to promote Hereditary, and now he's "a little bit addicted to it.")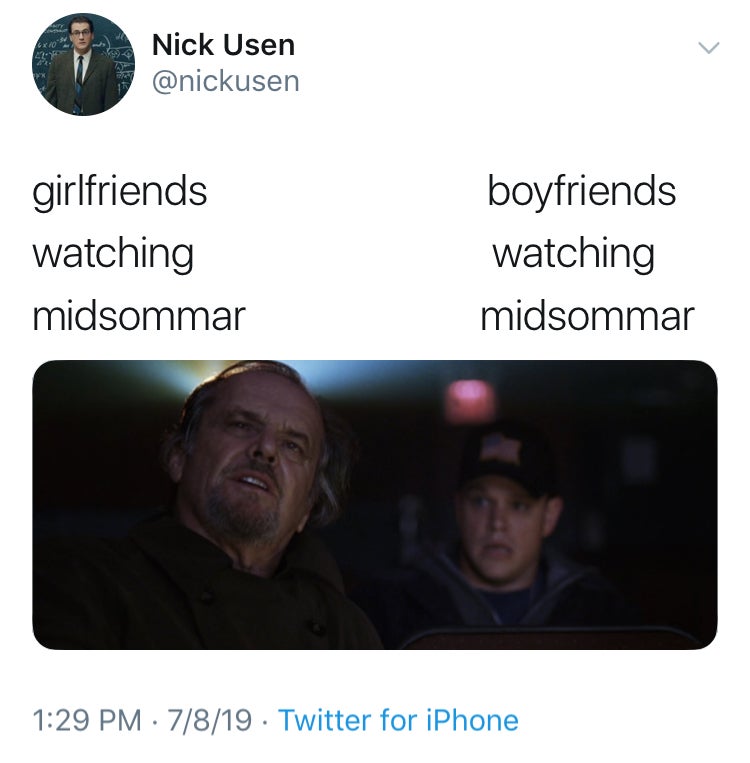 Aster is releasing an extended cut of Midsommar next, with 30 additional minutes of footage, including an excised argument between Dani and Christian. He's also started a production company with producing partner Lars Knudsen to help spotlight young directors and put out his work. His next film will either be an "absurdist nightmare comedy" or a "big, operatic domestic melodrama." There's certainly a theme of family dysfunction in his films—and shorts like 2011's The Strange Thing About the Johnsons—but he's also got a gift for lodging images in your brain that linger long after you've seen them. It's stuff that's in his head, too. 
"Sometimes the images are almost an example of my sense of humor," Aster says. "Some of them are things that have bothered me that have been in my head. Sometimes I'm reappropriating stuff I've seen before in real life, and anxieties I have, and I'm dramatizing them." 
More proof of his sense of humor: The one-off Austin Powers reference in Midsommar was just something he thought was funny. Reddit has some other ideas about it, of course.
READ MORE: