A Futile and Stupid Gesture, Netflix's feature film adaptation of Josh Karp's 2006 book of the same name, arrives at an interesting time. As an exploration of the creation of humor mag National Lampoon and its odd-couple co-founders, Henry Beard (Domhnall Gleeson) and Doug Kenney (Will Forte), it's removed enough from its 1970s origins to offer new insight into its generational influence. And it also recontextualizes satire in an era littered with "fake news."
David Wain, who directed the film (and helped shepherd two Wet Hot American Summer offshoot series onto Netflix), says the biopic was new territory for him, but he was interested in telling the story of a guy who wasn't known to the mainstream: "He was such a pivotal, central, influential figure in inventing a sense of humor that still resonates today." As a kid, Wain knew about the magazine, but it was something of a forbidden fruit: "I would see a Lampoon in my sister's boyfriend's coffee table and I was almost scared to look at it because it had boobs."
National Lampoon had lots of boobs; that could be considered its selling point. It also included heady, absurdist pieces on politics, class, nostalgia, and war, and took shots at those in power. At one point in the '70s, the Lampoon was the second most popular magazine on newsstands, after Cosmopolitan. It also opened the door for SNL, Animal House, and Caddyshack.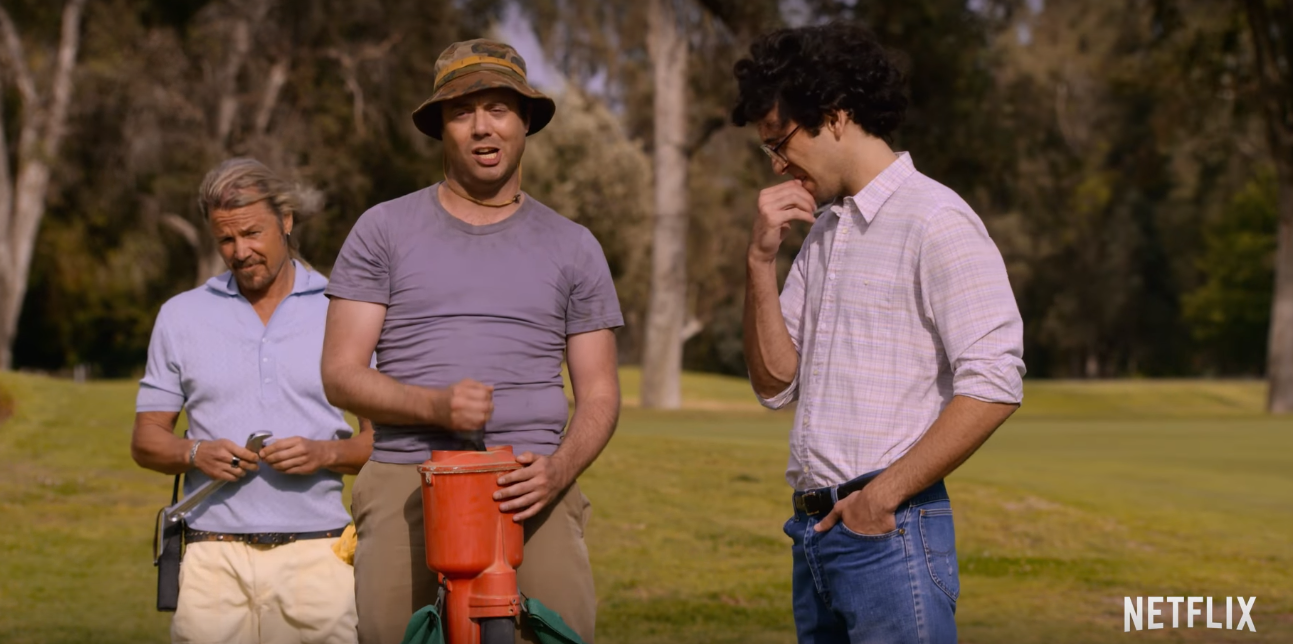 In the hands of another director, this film might have felt procedural, but Wain adds in the asides and inside jokes and fourth-wall-breaking that made WHAS so unique. The heart of the film is Kenney—whom Forte plays with a crucial balance of dysfunction and vulnerability—and his relationship with the more cultured Beard, "the oldest guy who was ever a teenager." As they build their own lunatic fringe in the Lampoon office, we start to see that what they were doing was bigger than boobs.
As with Wet Hot American Summer, the cast is a chaotic ensemble: Joel McHale plays former Community co-star Chevy Chase in a meta role; Natasha Lyonne is Anne Beatts, the lone woman employed at the Lampoon when it started; Veep's Matt Walsh is Matty Simmons, the publisher who gave them the runway to test out their controversial ideas. Emmy Rossum plays Kenney's partner, the actress Kathryn Walker; Martin Mull narrates the film as Kenney if he were alive today. In one scene, Mull points out that the actors playing the real comedians don't really look alike, and a list of other things they fudged scrolls by quickly. Wain says they had to take some liberties to make the "movie story" flow, but more than that he came to appreciate the elasticity of truth and memory that came from rounds of first-hand interviews with people who were there.
As the film highlights, the Lampoon was created by men, for men. It calls out the magazine's "little boys' club" and "caveman bullshit," as well as lack of non-white writers, but doesn't spend much time on the women characters. In the 2015 Lampoon doc Drunk Stoned Brilliant Dead, a former colleague says Kenney would often put his dick in women's ears as a joke, a move that would no doubt be less well-received today. Wain says they actually shot that scene but decided it didn't feel right in the film. (There is a reference to it at the end, though.)
"I think our attempt was to, as with the whole story, was to give it context and understand that this was an important stepping stone in the history of American comedy, warts and all," he says. The lack of diversity is also joked about: "You were beloved by so many white people," Mull says at Kenney's funeral. (He died in 1980, a month after Caddyshack was released.)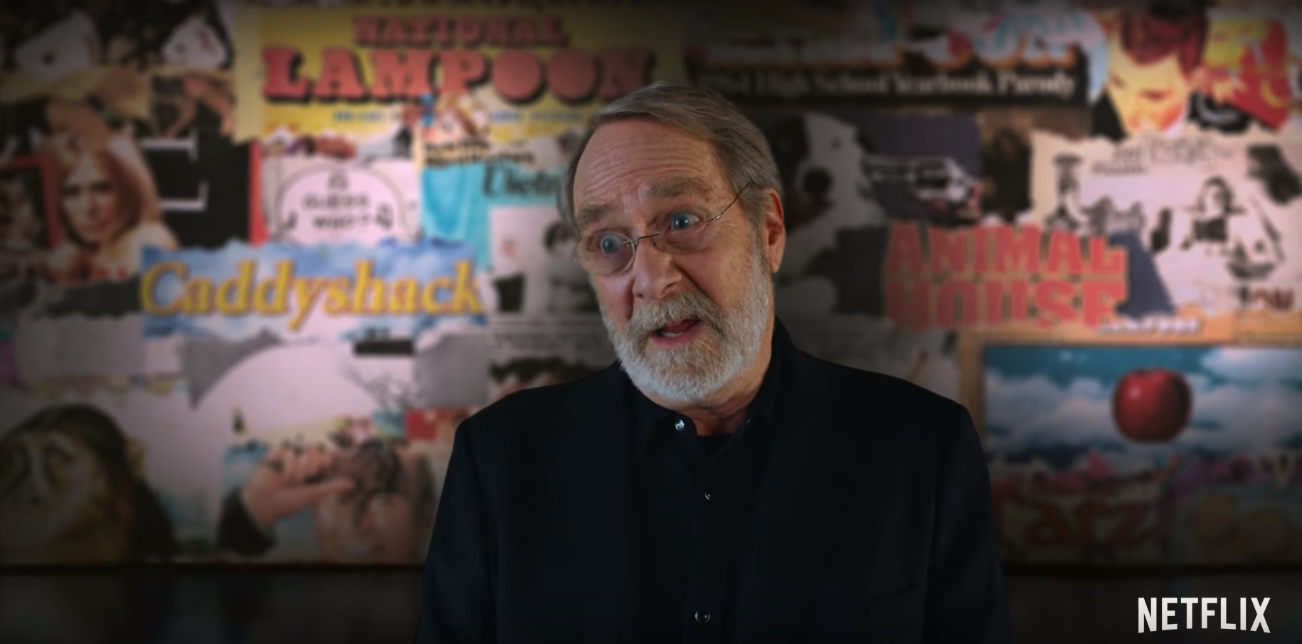 The film doesn't focus on the tragedy of his early death; it also doesn't spend much time exploring why Kenney might have jumped (or fell) from a cliff in Hawaii, or whether he suffered from depression, though it's hinted at in parts. Instead, it paints him as a variation on the tortured genius and more importantly sketches out a part of comedy history that influenced generations after it.
Wain sees the parallels between the Lampoon and his own comedy troupe, the State, which originated at NYU in the late '80s and become a cult-hit MTV show in 1993. The group was majority white guys and one woman, and their absurdist sense of humor was often misunderstood by the mainstream. With 11 members, they had to deal with clashing egos and opinions. "It was a direct sense memory," Wain says.
While Wain and others of his generation grew up on Animal House and Caddyshack, he hopes that younger viewers who didn't will still get something out of it. "I'm very aware that a huge amount of our Netflix audience has no relationship or even familiarity with any of this stuff," he says. "We tried to make a movie that communicates to all of those vectors… at the end of the day, I think, it's just an interesting story about a human being and his relationship with Henry Beard and this crazy thing that they put together."
Still not sure what to watch on Netflix? Here are our guides for the absolute best movies on Netflix, must-see Netflix original series and movies, and the comedy specials guaranteed to make you laugh.