YouTube announced last month that 2020 was essentially too terrible for its annual YouTube Rewind. So several creators made their own, but one apparently went too far.
As Insider reports, YouTuber Michelle Khare announced last week that her Rewind would be a musical. It went live on Dec. 10 but there was some controversy around the inclusion of Jenna Marbles, who left YouTube in June after addressing past videos in which she made racist jokes and wore blackface.
Marbles, whose real name is Jenna Mourey, doesn't actually appear in the video; she's played by singer Julia Aks, who wears the outfit Mourey wore in her apology video, and even sings some lines from it, during a number called "I'm Sorry." Mourey's partner Julien Solomita reportedly found out about it during a Twitch stream, and was not happy. "You're putting this thing out there that's such a joke, and it's at our expense," he said.
Other creators took issue with it as well: "Using her exact words making fun of it and having them sung did NOT sit well with me," wrote YouTuber Adam McIntyre.
The video is currently private on Khare's YouTube account. She posted an apology on Saturday, and said the segment was removed from the musical. Khare explained that she was trying to "accurately reflect the year," which included "the departure of one of the most beloved internet stars," but realized "Jenna's wish to be off social media for the good of her mental health, was counteracted by including her in the musical."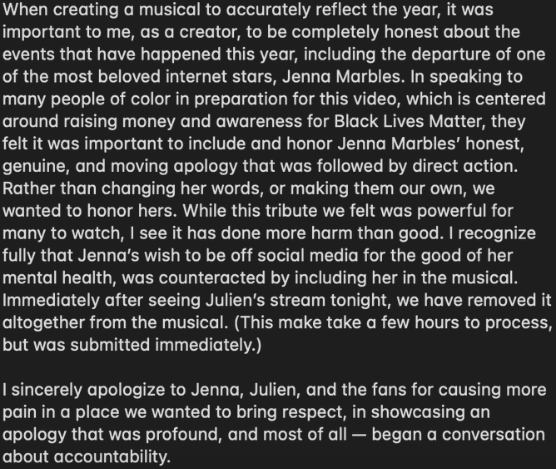 Mourey's most recent video is from June 17. Her apology video is now private.