We ask our partners all kinds of hypothetical questions about how love stretches, but none of them capture the internet better than asking them if they'd still love you if you turned into a worm.
Yet, for the past few years, we've done just that. And the specificity of the question leads to its universality.
The 'would you still love me if I was a worm' meme history
The origin of the "would you still love me if I was a worm" meme comes from two tweets posted by @shutyourhell in June 2019.
The first tweet illustrates a hypothetical late-night conversation between a married couple sparked after one of them has a nightmare. The fear that the primary person proposes—that their husband wouldn't like his spouse if they had both been born as worms—is the kind of nonsense someone might come up with as they're only just waking up from a dream.
"Idk i just feel like if we were born as worms u wouldn't like me .. would u even marry me ? whatever just forget it …" @shutyourhell tweeted.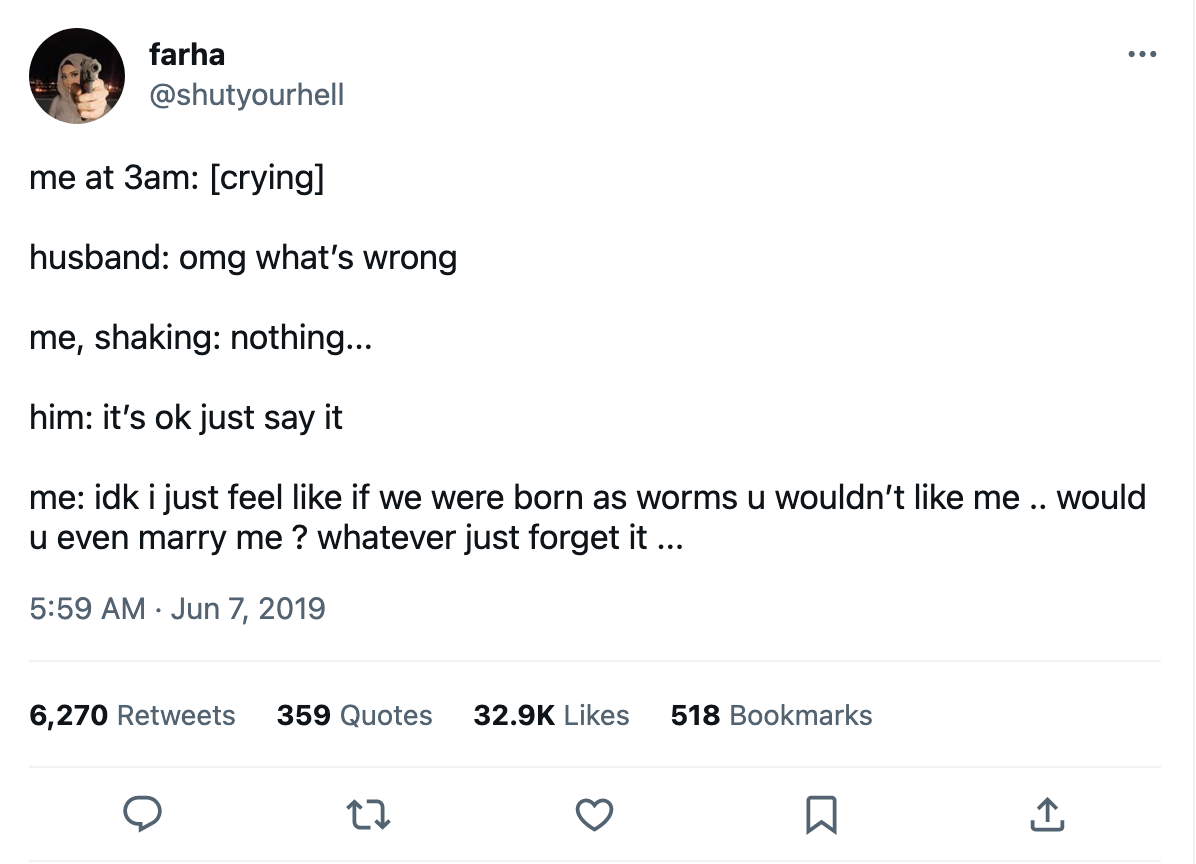 It doubles as the kind of silly hypothetical someone might ask through a bout of insecurity or to get assurance: Of course, I'd still like and want to marry you if you were a worm, is the answer someone would want to hear to this question.
A few weeks later, @shutyourhell posted a variation of the first tweet, asking the question at large.
"Would u guys still like me if i was a worm .. ? idk i feel like u wouldn't .. whatever … just forget it .."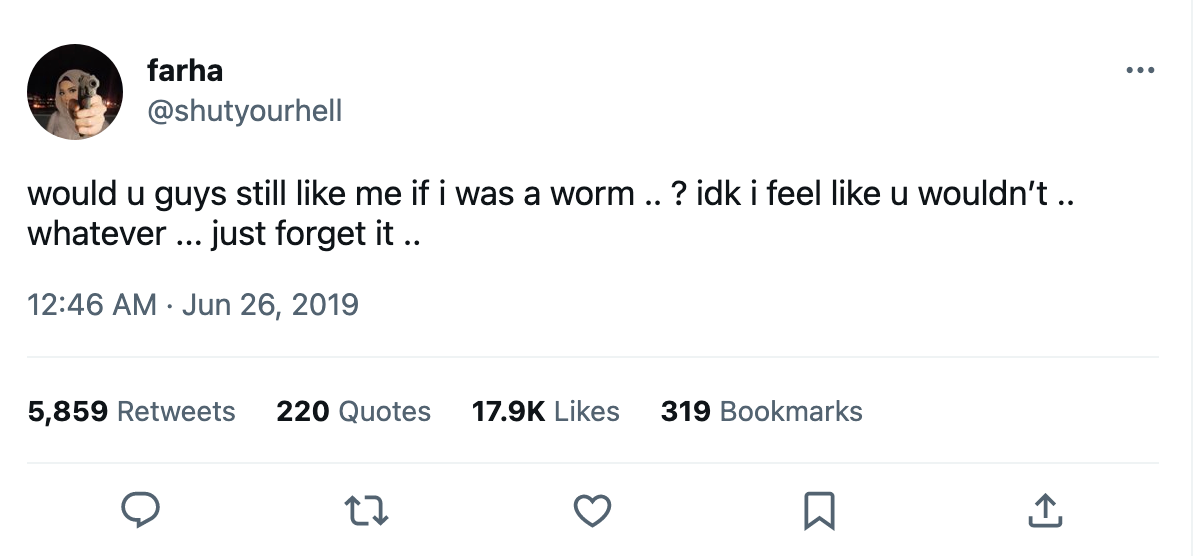 It would take almost a year for the word "love" to be included in the question. A tweet by @princesssmeera, which went private but was screengrabbed by Know Your Meme, does that while leaning on the latter interpretation of the original tweet: A question someone asks their partner.
The 'would you still love me if I was a worm' meme on TikTok
Starting in 2021, the "would you still love me if I was a worm" meme got the TikTok treatment and serves as the basis for short sketches. Some simply showed a discussion between a couple while others created an entire thought-out production to answer that question.
In one spin on the meme, TikToker @vonnijr visualizes what it would look like if his girlfriend actually was a worm, alongside the welcoming environment he created for her.
Another video takes the argument to its absurd and logical conclusion as one TikToker imagines how a relationship with a worm—played by a gummy worm rather than a live worm—would play out from the honeymoon period all the way to its tragic end.
The 'would you still love me if I was a worm' meme gets a Heidi Klum crossover
The "would you still love me if I was a worm" memes didn't need to be depicted literally to get the point across. But Heidi Klum offered just that when she dressed up as a worm for Halloween in 2022, which went viral and became a meme.
Klum, known for wearing elaborate Halloween costumes, went all out. She didn't wear a dress or a regular outfit designed to look like a worm. Instead, she wore detailed prosthetics and restricted her limbs; her arms weren't visible. Even her face was covered in prosthetics, which made the entire get-up look even more realistic as she did interviews in her costume.
But it also gave people a visual that made the meme even more real: You can now imagine yourself or your partner as a worm because now we know what a human-sized worm looks like. And it's, well, something.
The 'would you still love me if I was a worm' meme in 2023
The meme is still going strong this year, with people referencing it in everything from memes about Ben Affleck to memes about Dune: Part Two. It looks like it's here to stay as a question people will be asking their significant others for generations.


We crawl the web so you don't have to.
Sign up for the Daily Dot newsletter to get the best and worst of the internet in your inbox every day.