Whole Foods sure is grateful for that oral sex.
At least, according to an odd, context-less tweet, aimed at a nonexistent Twitter account. On Monday morning, the official @WholeFoods account tweeted an unusual sentiment to its 3.2 million followers: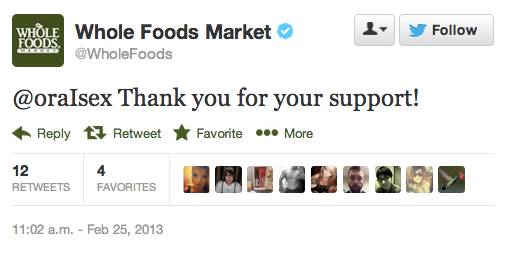 So has @WholeFoods been hacked, or is it simply run by an intern who believes in reciprocity?
It's not immediately clear who @oraIsex is. That account is swallowed into the ether, suspended or deleted. However, a Topsy search indicates whoever's behind that account simply changed its name to @YOUNGSEXLlFE. Those accounts had the same avatars, and have a number of old tweets in common. And most importantly, @YOUNGSEXLIFE—likely @oraIsex at the time—tweeted at Whole Foods Sunday afternoon: "I love you @wholefoods."
If that's true, it's a possible explanation for Whole Foods tweeted out the sentiment to each of its 3.2 million followers. And evidence that either @YOUNGSEXLIFE, whoever that is, is a brilliant prankster, or that this is an amazingly unlikely turn of events.
You see, @WholeFoods is a verified account. That means that its replies to average followers are filtered out from its main Twitter feed: You have to visit @WholeFoods's actual page, and click "All," to see every tweet it posts. From there you can see that the account tweets messages of thanks and support to fans all day long—without clogging up its feed with messages that are meaningless to most people. But once @oraIsex ceased to become a real account, that tweet was no longer hidden.
In other words, when @YOUNGSEXLIFE became real, @oraIsex became public.
The tweet lasted just less than an hour before it was deleted. But cleanup is never that easy: the tweet lives on in Topsy's archive.
Photo via JoshLabotnik/Flickr