A lot of people fed up with government largesse and bureaucracy were happy to see Donald Trump take office under a promise to shrink the federal government. Conversely, a lot of people are already fed up with Donald Trump as president. The White House may have accidentally stumbled upon a perfect solution.
In a survey asking for public comment on which parts of the executive branch should be eliminated, the White House included the  'Executive Office of the President.'
"President Trump," the survey says, "wants to hear your ideas and suggestions on how the government can be better organized to work for the American people."
Now, you can vote to either "reform" or "eliminate" the White House.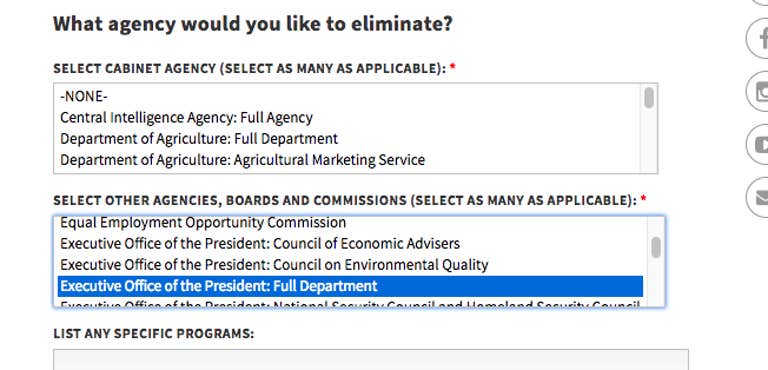 There's also a comment section for you to delineate why, and people are already having a field day with it—not unlike what happened with Trump's biased media accountability survey.
Now the list includes practically every cabinet and subcabinet of the Executive Branch. Indeed, if you wanted to, you could vote to eliminate the Department of Homeland Security's Domestic Nuclear Detection Office (which you shouldn't!)—so it would have been disingenuous for the White House to leave themselves off of it.
Really, this is downright honorable. But it's also somewhat humorous.
And also, this is only for input. It's not like an episode of American Idol, where you, the voters, control the fate of the federal government.
Well, it sort of is. But whatever.
H/T Washingtonian