Last week saw the arrival of yet another fantastic meme that the internet didn't know it needed—a mashup of Waluigi and DJ Khaled's "Wild Thoughts." The video is brief, an 18-second clip that finds Waluigi's face plastered on the bodies of Khaled and Rihanna in the song's video, as well as Waluigi singing parts of the song's hook.
https://twitter.com/cool_as_heck/status/883793812627181568
The combination obviously worked, considering the clip has received over 95,000 likes and more than 54,000 retweets on Twitter. When asked about the video's virality, James Nielssen told The Daily Dot "Waluigi thicc af," which we're still trying to understand (Rihanna is thicc af after all). What's most important is that Waluigi has crossed over on the internet in a way he hasn't before, to where some people were getting introduced to the fictional Nintendo character for the first time.
But Waluigi has always been a staple on the internet. From viral videos to poems made in his honor, Waluigi, arguably the most hated of any character belonging to the Super Mario franchise, is beloved by a part of the web. So, in honor of Waluigi's most recent viral moment, we've chronicled his meme-ification up until this point.
February 2008: Waluigi is featured on Cracked's list of  'The 15 Most Annoying Video Game Characters'
Waluigi made his introduction into the Super Mario franchise back in 2000 in Mario Tennis. Eight years later, Cracked called out Waluigi for being one of the most annoying video game characters of all time, putting him in the number three spot on the list.
"Sure, maybe the concept of an evil counterpart to Luigi actually had potential at some point, like maybe if they didn't just take the Luigi model, turn it purple, then stretch him out and give him a mustache like a silent film-era villain. It also doesn't help that you're debuting him in a damned tennis game. Seriously, if this is the first time we've seen him, how do we know he's evil? Because of his backhand?" the website wrote. People commented approvingly of the article's inclusion of Waluigi, and even Kotaku wrote a brief post in solidarity, too.
April 2009: Waluigi joins 'Brawl In The Family'
A popular webcomic inspired by the Super Smash Bros. series, Brawl In The Family was created by artist Matthew Taranto in 2008. However, Waluigi wouldn't be introduced until a year later, when the character took over the series and renamed it Waluigi In The Family as an April Fool's joke. Ultimately, Waluigi became a recurring character in the webcomic, with Taranto adding a depth to the character in a way that made him more than just a secondary Mario antagonist. Plus, it introduced the popular quote turned meme "Too bad. Waluigi time."
December 2009: Waluigi finds a home on Deviant Art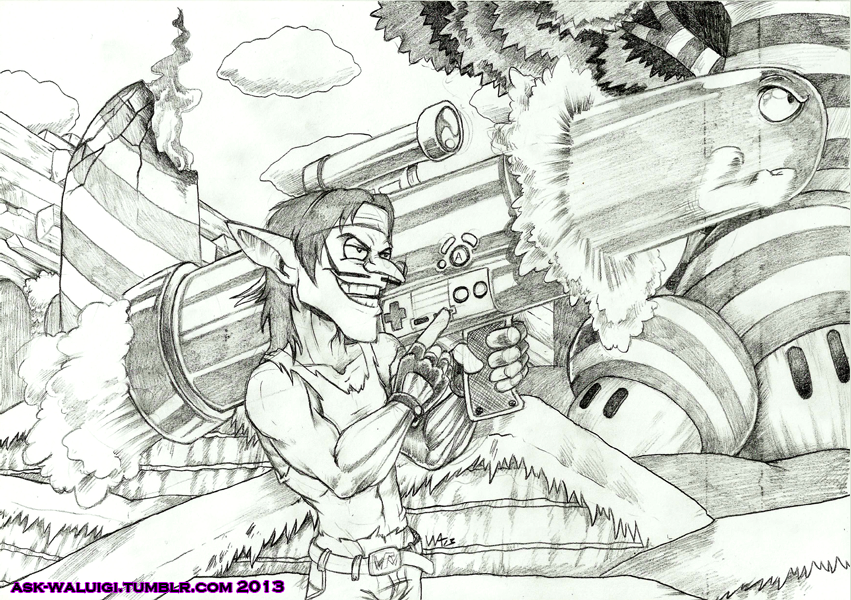 One of the earliest Deviant Art groups to arise on the internet was Walu-club. The 497-member group features a collection of Waluigi drawings, ranging from him firing off a Bullet Bill to this more vivid portrait of the character listening to music and drinking coffee. Walu-club is still around today, with fans contributing new artwork and discussing how he should have his own game.
March 2012: Waluigi invades Tumblr
Most early Waluigi Tumblrs were dedicated to the character's appearance and voice, especially the latter. Ask Waluigi, which posted its first entry on March 1, 2012, impersonated the villain, as well as displayed artwork and memes of the character found across the internet.
There are some gems: this one of Waluigi detailing how his rivalry with Luigi began (apparently the latter dine-and-dashed on the former, leaving him with the bill) or him unveiling his own video game, Waluigi's Grand Tour: The World Wah's With You. The creator of the Tumblr hasn't posted in nearly two years, but other Waluigi blogs exist in its place, including Waluigi 4 Life, which features everything from Waluigi-related GIFs to blog posts from other fans (such as this one, where someone's 20-year-old brother gave them a 100-page Waluigi zine as a Christmas gift).
May 2012: Waluigi gets his very own poem
Sam Daly, a fourth-grade student from Alberta, Canada, dedicated a poem to Waluigi that ultimately led to the nine-year-old winning a national writing contest. Titled "Ode To Waluigi" the 27-line poem honors the villain for his cleverness and craft, opening with "Thou art such a genius when it is thy time to attack Mario and Luigi!"
Daly was one out of nine recipients of the Canadian Children's Book Week 2012 writing contest, which is an incredible accomplishment considering 2,000 Canadian students participated in the competition. Sheryl McFarlane, one of the judges of the contest, reportedly liked Daly's Waluigi poem because it made "a hero out of an oft-ignored secondary character, something all of us feel like sometimes."
March 2013: An old Waluigi rumor resurfaces
Back in 2005, a rumor began to circulate that Waluigi was an unlockable character in Super Mario 64 DS, a Nintendo DS remake of the iconic Super Mario 64 video game. The rumor, in the form of this image, was created by Deviant Art user King-Bowser-Koopa as another April Fool's joke.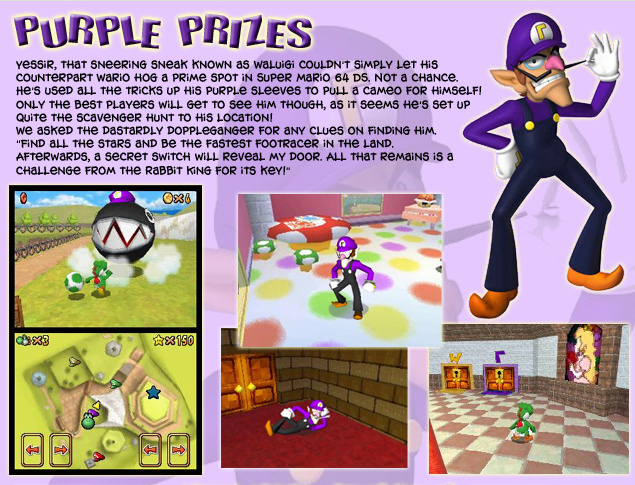 Fast-forward to March 15, 2013, and YouTube user wwwwario posts a series of video addressing the Waluigi rumor, tackling everything from the theories and pieces of evidence that supported the notion that he was a playable character to showing how King-Bowser-Koopa created the fake image.
Even today, King-Bowser-Koopa's ingenious prank is displayed on his Deviant Art page and still getting commented on.
March 2013: Waluigi's "Crotch Chop" becomes an all-time great GIF 
Thanks to Reddit user designty, the internet was introduced to this GIF of Waluigi.
Taken from the Mario Strikers series, this GIF shows one of the animations Waluigi does whenever he scores a goal, where he makes an "X" symbol over his crotch. Designty shared the GIF to r/gaming and the rest is history, with the post getting over 14,000 upvotes and 500 comments.
March 15, 2015: Waluigi covers Bruno Mars' "Uptown Funk"
Before there was Waluigi and "Wild Thoughts" there was Waluigi and "Uptown Funk." Created by YouTube user Onizuka2794, the video is a mashup of Waluigi's catchphrases and Bruno Mars' "Uptown Funk." Granted, it's not as good as "Wild Thoughts" (it lacks the visual component that makes the other mashup so great) but this is still worth a watch, having received over one million views.
January 2017: Waluigi parodies LazyTown's "We Are Number One"
If you know memes, you know the Icelandic kids' TV show LazyTown created the meme of 2016: a song called "We Are Number One." Sung by the show's main villain Robbie Rotten and his accomplices, the track and its accompanying video was parodied in more ways than one, with two very popular ones featuring the one and only Waluigi. Both are pretty great. The first foreshadowed what was to come with "Wild Thoughts," with Waluigi's face being photoshopped on the villains' bodies, the second because it is all animated.
July 2017: Waluigi parodies DJ Khaled's "Wild Thoughts"
In the words of James Nielssen, "Waluigi thicc af."