Netflix's The Umbrella Academy is a rare comic book adaptation that embraces the visual elements of the source material. With a contemporary yet timeless setting, it avoids modern technology and gritty realism in favor of retro locations and surreal details like a character living on the moon. The costumes are a particular highlight, so we reached out to designer Christopher Hargadon (Hannibal) for a chat.
Umbrella Academy's team of superpowered siblings each have a very distinctive look. Only one of them (Diego) wears anything resembling a superhero costume, while some draw obvious inspiration from their actors: Klaus with a grungy version of Robert Sheehan's peacocking red carpet style, and Vanya dressing like Ellen Page IRL. Meanwhile, team leader Luther offered some logistical difficulties, since his enormous frame required a lot of padding. Tom Hopper (whose real-life physique landed him a Men's Health cover story) wanted to avoid repeating his Game of Thrones experience of looking like a tiny head perched on a bulky body.
Review: The Umbrella Academy is the adult superhero show we've all been waiting for
Speaking to Christopher Hargadon, we learned more about Umbrella Academy's ambiguous time period, the evolution from page to screen, and the surprising steampunk inspiration behind Mary J. Blige's suit.
The Daily Dot: The comics are visually stylized and the show obviously made a lot of changes, but you can see their influence in things like the kids' uniforms. Could you tell me about where you took inspiration from the comics?
Christopher Hargadon: You always want to be very respectful of the source. I thought that the storyline was very interesting and the illustrations were brilliant, it's a collaboration of many things in order to get the tone. You know, the lighting is very important. For instance the school uniform in the graphic novels is black and white, but it was too strong for the balance within our production, so then I looked for other variations that would give the same feel.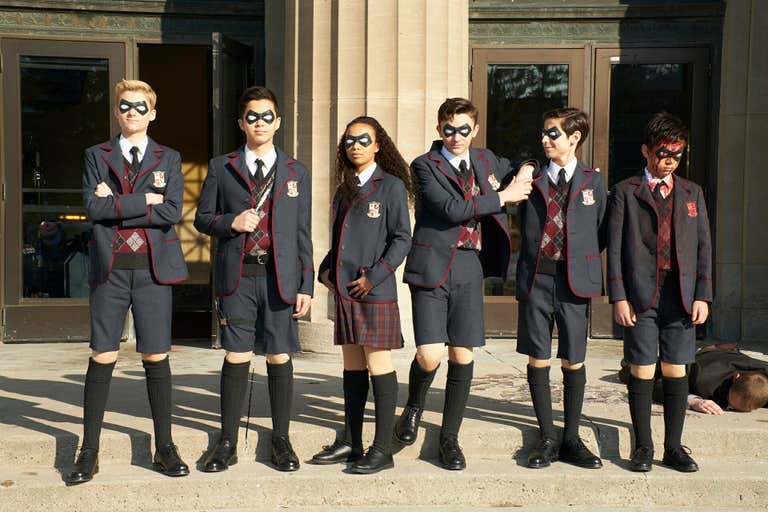 I tried to be as true to the comics as possible. I tended to differentiate the female characters a little more than in the novels because the characters were so distinct and Ellen Page wanted very definitely to play an androgynous character. It wasn't like there were gonna be lines crossed between her and the sister [Allison], because the sister is a movie star and has a whole glamorous side to her life. I think Vanya in the novels wore a skirt and Ellen never wore a skirt.
Klaus always levitated in the books, and they decided not to go with that particular look. He's also dressed in black all the time, but with the lighting and the choice of Robert Sheehan to play him, he's so colorful it seemed difficult to put him into that kind of goth world.
You could also see the economic disparity between the two sisters. You can tell that Allison's clothes belong to a rich person because they're so tailored, which was an interesting detail.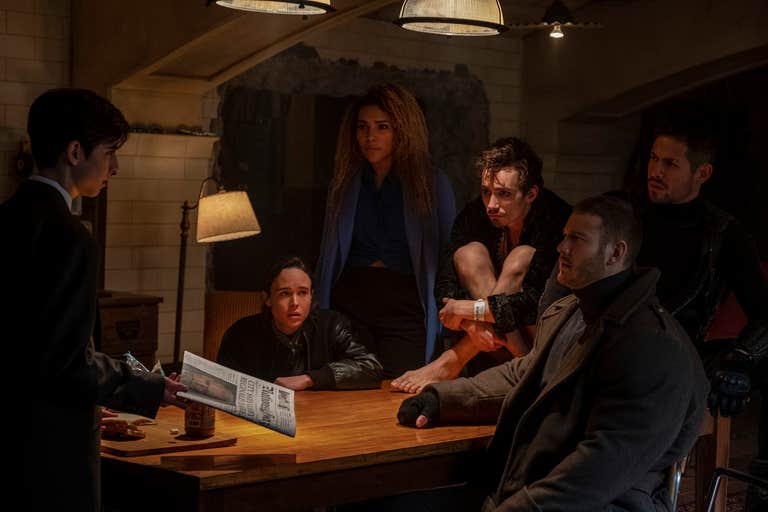 There's a timeless quality to the show, even though it's set in the present day. (Elements like the 1950s android mother and the suit-wearing agents.) What was your approach for creating that timeless setting?
Because there's a practical component to any television show, for instance with the clothing on the background performers, we amassed a stock of clothing from different decades. I didn't want anything that was too old or too black, I wanted a mid-range of color, soft and more subdued.
For the past, which was supposed to be about 20 years ago, I settled on a feeling of Berlin in 1973. That was my inspiration for the flashbacks. The current period really came down to the styling of the individual characters. Pretty much always, I strive to dress people in a way that will be watchable 15 or 20 years from now, and you won't be able to nail a timeframe.
There's wonderful character-based costuming in this show. You've already mentioned the difference between the two sisters, and I'd like to dig into the inspiration for some of the others. For instance, Luther has this huge frame that I assume involves a lot of padding. What was the design process for that?
Poor Tom Hopper, he'd worked on this body and then we had to put a muscle suit over it. He was happy when we did flashbacks because you got to see him in a leaner kind of silhouette.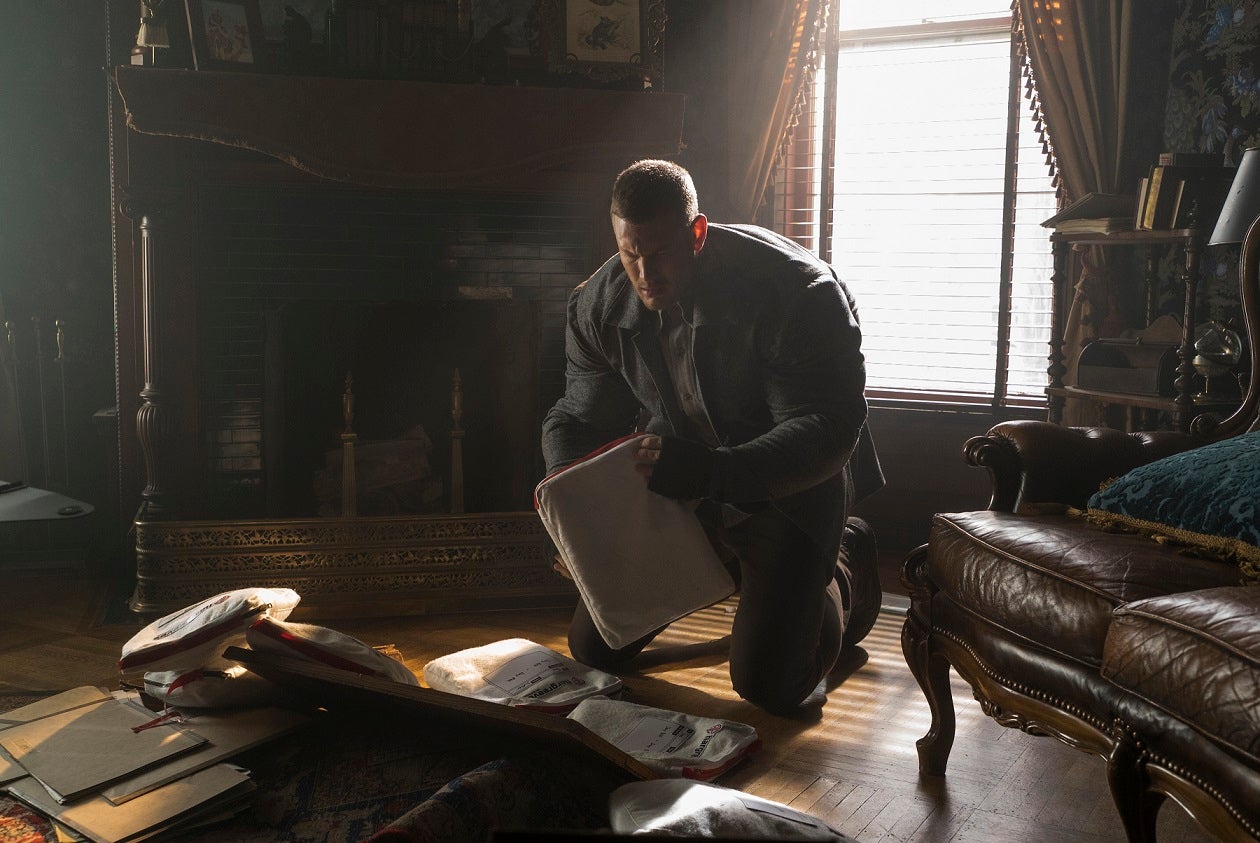 Getting the body suit constructed is the first step for anything of that nature. It really was quite a mass of muscle that we applied to him. One of the main challenges with that, and a big concern for him, was not to look like he had a tiny head with this massive body. So breaking up the body by opening up the jacket or having the neck exposed under the sternum, not just having a mass of one garment, kind of helps break him up so he wasn't just this huge hulking being. 
Luther is the only one who remained faithful to [their father], so he has a very solitary life. He's not a fashion guy. I wanted to dress him in earth tones, greens and browns and greys, to sort of show… not the somber side, but that he's a natural person, he doesn't think beyond the practicality of clothing.
Can you tell me a bit about Klaus' costumes? He has this very fun and idiosyncratic look, and you can tell that sometimes he's just picked his clothes up off the floor in the morning.
Not only off the floor he'll pick them up wherever he goes! We were trying to integrate that into the storyline, that sometimes he'd appear in something he might have picked up from a clothesline somewhere. He takes his sister's skirt. You know, he really lives in a different reality, he sort of floats. I think the floating aspect of Klaus, which is visual in the books, Robert Sheehan depicted psychologically in the show. He just sort of floats from one situation to the next.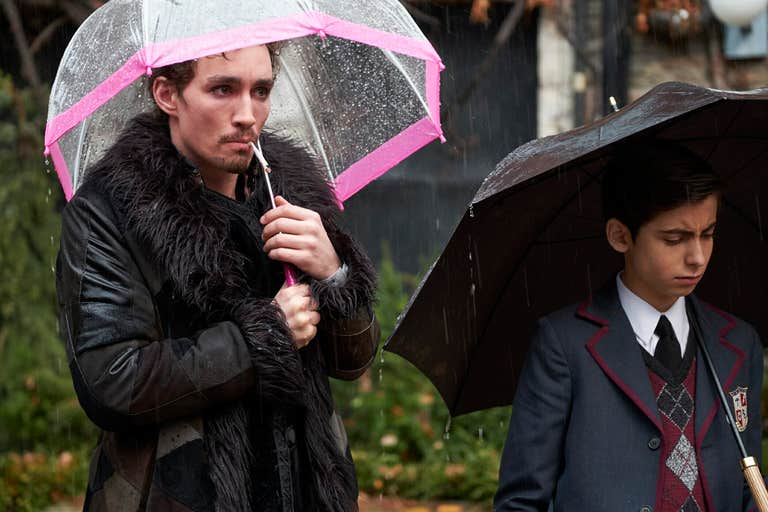 One last costume I'd like to hear about is the two agents Hazel and Cha-Cha, they have this kind of cartoonish but menacing look.
In the book, I think they were wearing black suits. Black is a color that I very rarely use… I hardly ever used black in Hannibal. So Hazel and Cha-Cha having black suits, I just felt it was going to be too strong and there were going to be a lot of scenes in shadows. There was already enough black happening in the script.
I'm open to people's opinions, and I think somebody from Netflix mentioned steampunk. So my first thing was to find a wool that had enough brightness in it not to go dead or disappear. Also, I needed a massive quantity because I needed a lot of multiples for those guys. Cha-Cha gets shot and stabbed, and things are happening to her costume as she progresses. With Cha-Cha I made a few variations up, I did a shorter jacket, I did a longer jacket, I did a full-on steampunk version. Then it was really up to the fitting to see which was going to play. The only steampunk thing that remained was the hardware that closed her jacket, everything else was basically a tailored suit.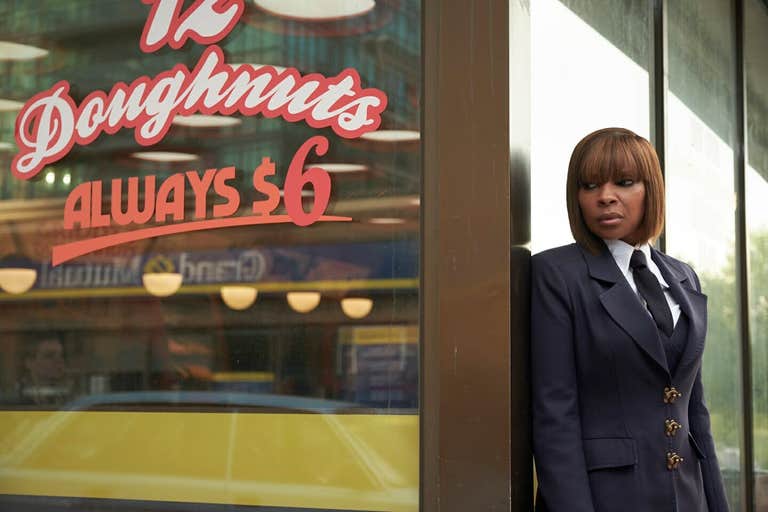 I was really pleased with Ryan [Reed] our hair person, who I thought was genius. I loved the wig that he did for Cha-Cha, and the same with Allison because [actress Emmy Raver-Lampman] actually had a mohawk. He added hairpieces for that sort of lion's mane, he did that in seconds for the camera test.
Finally, do you have any personal favorite costumes that people should look out for?
I really have a soft spot for Grace. She was conceived by Lord Hargreeves to be the maternal element because he himself had no fathering abilities or interest, he was purely scientific. Very emotionless with these kids. Grace was the nurturing figure, and he wanted her to be like the quintessential perfect housewife from the '50s, so I wanted to reflect that '50s styling. I just looked for unusual ways to work with the fabrics, so they would be not typical.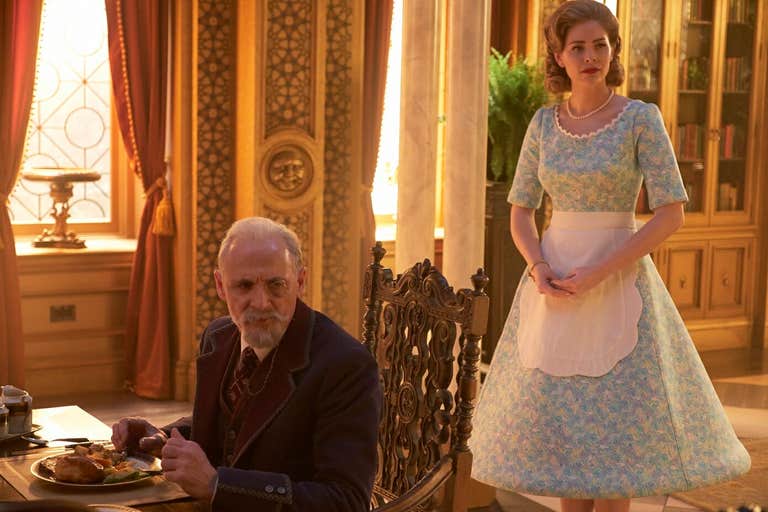 Her initial costume is a dress, it looks like it might be a floral, but if you look closely it's like plasticine that's been mixed different colors and smushed. Rivulets of color spinning around one another, it's an interesting fabric. And then we backed it with foam to give it that rigidity. There was one scene I was really pleased with, where there's a perfect circular shadow following underneath her as she walks.
I liked all the characters. I love it when characters don't over-cross each other's boundaries. It's actually quite common that you'll get a bunch of people together, sometimes it happens subliminally, and then I'll realize there's a psychological overlap between the characters so it's natural for their clothing to reflect one another. But I didn't have this in this. It was very straightforward and distinct.