You shouldn't believe just anything you see online, but that doesn't mean people won't. Why else would a half hour of a rambling old man get 3 million views on YouTube in three weeks?
The video stars "Boyd Bushman," who claims he worked for military-industrial juggernaut Lockheed Martin and has appeared in segments for truther media outlets like UFOTV® The Disclosure Movie Network. Posted by "Independent Aerospace Professional" "Mark Q. Patterson" (only other upload: "Gila Woodpecker Eating on the Fruit of a Night Blooming Cereus Cactus"), it shows Bushman "candidly speaking about his personal experiences with Area 51, UFOs, aliens, and anti-gravity ideas" shortly before his death on August 7.
There's a lot to love about this baloney, from the part where Bushman identifies clouds in a photo of Tuscon, Ariz., as spaceships to the images of extraterrestrial beings that Quebec broadcaster TVQC discovered on sale at Walmart. "They're able to use their own voice by telepathy to talk to you," Bushman says of the five-foot-tall aliens, divided into "wranglers" and "rustlers," all of whom made a 45-year journey to Earth from the planet Quintumnia. "You walk in the room with one of them, and… you find yourself giving the answer to your question in your own voice." Bushman also notes that "[w]ith respect to the alien craft, we have American citizens who are working on UFOs 24 hours a day." Sounds like they need a union!
British tabloid the Daily Star gave the laughable story some traction, and Glenn Beck just shared the Blaze's coverage on Facebook, commanding his fans to "WATCH," so the crazies are out in force. Meanwhile, Wikipedia won't confirm so much as Bushman's name, let alone his employment history as an engineer, and may soon be deleting his page altogether.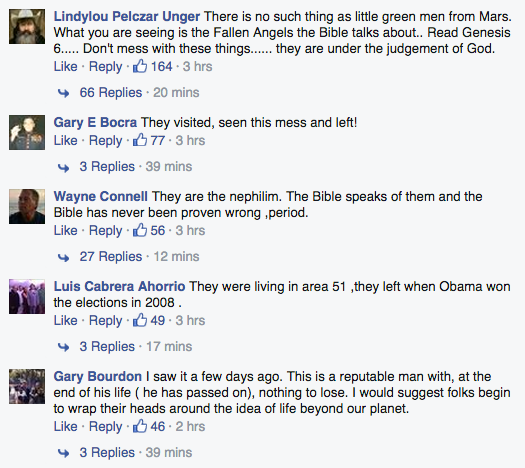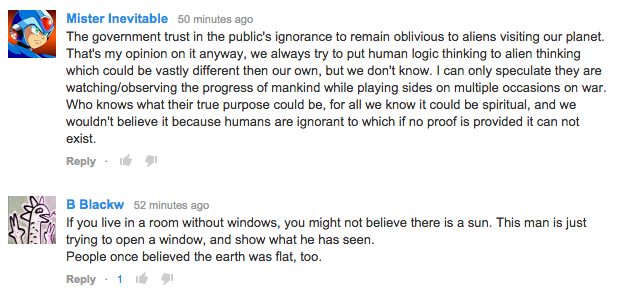 It's tempting to write the whole thing off as a massive practical joke or a sad case of dementia. Then again, if the government did want to conceal a shocking truth about Area 51, they probably would arrange for a lonely crackpot to reveal it on the Internet and thereby discredit the idea forever, thereby keeping our nation of sheeple ensconced in a bubble of propaganda.
Right?
Photo via Mark Q Patterson/YouTube