Twitter is notorious for the uneven application of its anti-harassment policies. Nazis run rampant while people who antagonize Nazis are shut down. Rose McGowan gets suspended for tweeting a phone number, while President Donald Trump keeps tweeting after threatening to destroy North Korea. The latest casualty of the fraught argument is a popular leftist account that tweeted a joke about Antifa violence. Can Twitter distinguish between satire and a threat? Not always.
Krang T. Nelson, a well-known poster in the Venn diagram of Weird Twitter and Socialist Twitter that orbits around the leftist Chapo Trap House podcast, was suspended on Monday. The apparent catalyst was a tweet where he joked, "Can't wait for November 4th when millions of antifa supersoldiers will behead all white parents and small business owners in the town square."
It's a reference to an upcoming anti-Trump protest organized by Refuse Fascism, and also to a right-wing trope that Antifa is violent, dangerous, and as bad as the Nazis themselves. In other words, it's a joke. But the Fox-News-watching crowd didn't take it that way. Whether they actually believed Krang was making threats or whether they were just acting in bad faith, they mass-reported his tweet and tried to bring it to the attention of the right-wing media.
https://twitter.com/Voices4Humanity/status/924819553179152384
These tactics worked, and Krang's account is now temporarily banned from Twitter.
Supporters of Krang have picked up where he left off, both by protesting his suspension and by making fun of him. Some have even tweeted the same thing Krang posted, without suffering the consequences: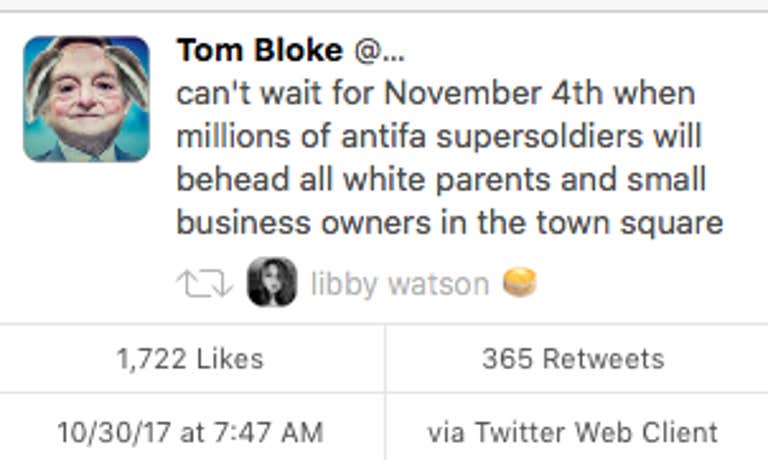 Others are just calling for his reinstatement:
https://twitter.com/keithus/status/924996230178136064
free my man @KrangTNelson, punished for undoubtedly calling some maga chud a wet fart in the line of duty

— Goth Ms. Frizzle (@spookperson) October 30, 2017
https://twitter.com/Diatron5/status/925024373131669504
And his friends are trolling the heck out of him:
https://twitter.com/2dAmMuslim/status/924980321443024896
Some have even joked that the suspension was retribution for Twitter's earlier banning of conservative power broker and Trump confidant Roger Stone. Stone was banned from Twitter after a profanity-laced rant against several TV journalists.
https://twitter.com/passthehooch/status/925026991643926528
Twitter bans Roger Stone and yet allows the anti supersoldier respecter to stay on. Wow.

— Thomas D (@djamesalicious) October 29, 2017
Any way you slice it, it looks like Twitter suspensions are more about PR and public outcry than any actual standard of behavior.