Today's memo from the desk of Captain Obvious: If you're an internationally famous hip-hop star and you release a song discussing your explicit sexual fantasies vis-a-vis getting it on with a pair of gorgeous celebrity identical twins, the celebrities will hear about it within nanoseconds of your song's release. Guaranteed.
Which brings us to rapper J. Cole, who never got over his childhood crush on twin actors Tia and Tamera Mowry, stars of the 1990s sitcom Sister, Sister. Many episodes of the show had the following plotline: "One twin is mistaken for the other. Hilarity ensues."
And here's one thing you can say about J. Cole: if ever he meets the Mowry twins, he has a plan to avoid making that particular mistake.
On April 30 he released his much-anticipated self-produced single, "Cole Summer." BET news announced the release with the headline: "J. Cole Releases 'Cole Summer'/ Roc Nation rapper opens up about his fears on new track." In a similar vein, PopCrush announced, "J. Cole shares his vulnerabilities in Cole Summer."
These fears and vulnerabilities include undertipping strippers in topless bars ("Bitches saying 'You a rappin' ni**a, ain't you s'pose to tip more?' I don't see no p*ssy, baby, ain't you supposed to strip more?") and Cole's more serious concern that his music career might fail and cause financial harm to his family ("I finally put my Momma in that E class, ni**a, and I told her quit her job, oh, hold your horses, if my next album flops it's back to the post office, both of us, sh*t, they're saying that's a real possibility.")
But within a day of the song's release, headlines about the song stopped mentioning Cole's fearful or vulnerable side in favor of Cole's fantasies regarding the Mowry twins. Not long after the song's release, Tia Mowry somehow heard that she and her sister were mentioned in the song, and tweeted, "So I'm hearing J Cole mentioned the sis and I in a song? Send me the link? I'm curious"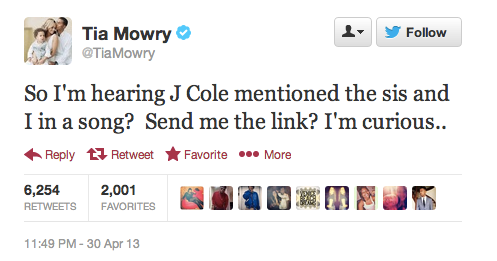 Indeed, Cole mentioned her and the sis, when he sang this:
"If I had one wish, I would f*ck Tia and Tamera at the same time, and put name tags on they titties so I don't get they names wrong."
Which is why he tweeted this response to Mowry's request for a link: "Noooo @tiamowry Don't do itttttt."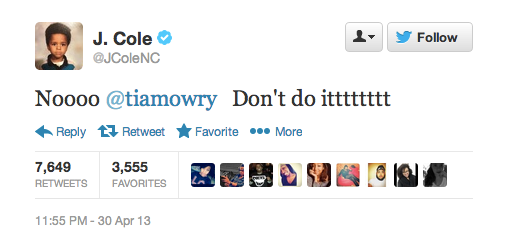 On the bright side, the publicity generated by this tweeted exchange has surely reduced the chance that Cole's new album will flop, as he worried about in his song: as of press time, Tia Mowry's question has been re-tweeted more than 6,000 times in 15 hours, and Cole's response more than 7,000 times.
Photo via Bigstockphoto