Warning: This recap contains spoilers for The Mandalorian season 3 premiere, "The Apostate."
The Mandalorian is in the business of constantly reinventing itself, and in the season 3 premiere, "The Apostate," that's no exception. We've become used to it as The Mandalorian molds to tell whatever story it needs to (more episodic vs. serialized backdoor pilots), but the latest episode puts the characters in a holding pattern as we return to locations, story beats, and character moments we've seen before.
If you wondered if The Mandalorian would address the rancor in the room of how Grogu ended up back in Din Djarin's (Pedro Pascal) care, it didn't; it's not even included in the "Previously on" segment that preceded the episode, even though it contains a scene from The Book of Boba Fett (the show that united Djarin and Grogu) that The Mandalorian immediately repeated. It's simple enough of a decision to roll with, and Djarin isn't especially concerned with explaining the particulars to Greef Karga (Carl Weathers), who's now the High Magistrate of a cleaned-up and more respectable Nevarro.
Neither is Grogu, who has plenty of GIF-able reaction shots throughout the episode as he's mesmerized by hyperspace, levitating food into his hand, or hugging the Azellan mechanics attempting to reboot a droid a little too hard. (The Mandalorian has a modicum of restraint and doesn't reveal that one of the creatures is The Rise of Skywalker's Babu Frik.) Even a couple of last season's dangling threads—what happened to Moff Gideon (Giancarlo Esposito) after his arrest and how it wrote Cara Dune (Gina Carano) out of the show—are quickly handwaved away.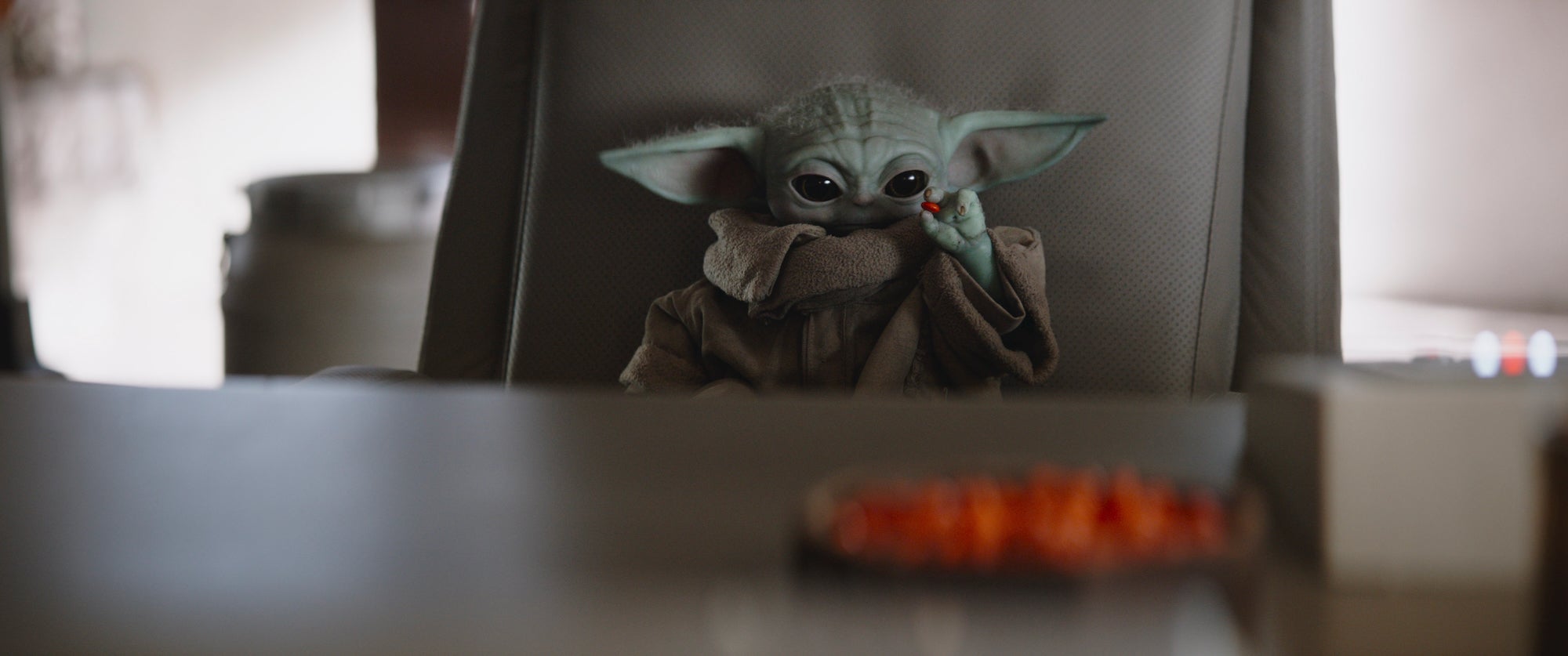 Nor does The Mandalorian seem all that pressed about the kinds of particulars that Star Wars' detail-oriented and Easter egg-obsessed audience wants to know, which can sometimes clash with much of their audience. Just look at the confusion that arose on Monday after creator Jon Favreau said in interviews on Tuesday that Grogu spent two years with Luke before reuniting with Djarin, a point he literally had to clarify later that day at the show's premiere.
"The Apostate" essentially returns Djarin and Grogu to square one. After an exciting opening sequence in which a young boy's ceremonial swearing-in as a beskar helmet-wearing member of the Children of the Watch is interrupted by a creature's emergence from the water, Djarin and Grogu go through the motions. Saving the Mandalorians' skin does little to sway the Armorer (Emily Swallow) from reversing Djarin's exile for the act of removing his helmet. Only one thing can redeem him (and what looks to be the main quest of season 3): Traveling to Mandalore and bathing in the Living Waters beneath the planet's mines. The problem? Mandalore's been deemed uninhabitable, which might be dangerous to anyone visiting it post-Purge.
It's hard not to view the episode functioning like a video game pitstop, not just because of the other hit TV show Pascal is the face of at the moment. Djarin and Grogu need supplies, so he returns to a planet he knows with a familiar face in Karga. He requires a droid, so he initially tries to reboot the one droid he likes, IG-11 (Taika Waititi). Pirates threaten the friendly town, so Djarin takes some of them out, leading to more retaliation when they chase him in space.
There are even scenes where Djarin, finally accepting that he's Grogu's defacto dad, tries explaining how various components of his ship work and which world they're heading to next, which echoes something that Pascal did in a recent episode of The Last of Us to his other defacto kid.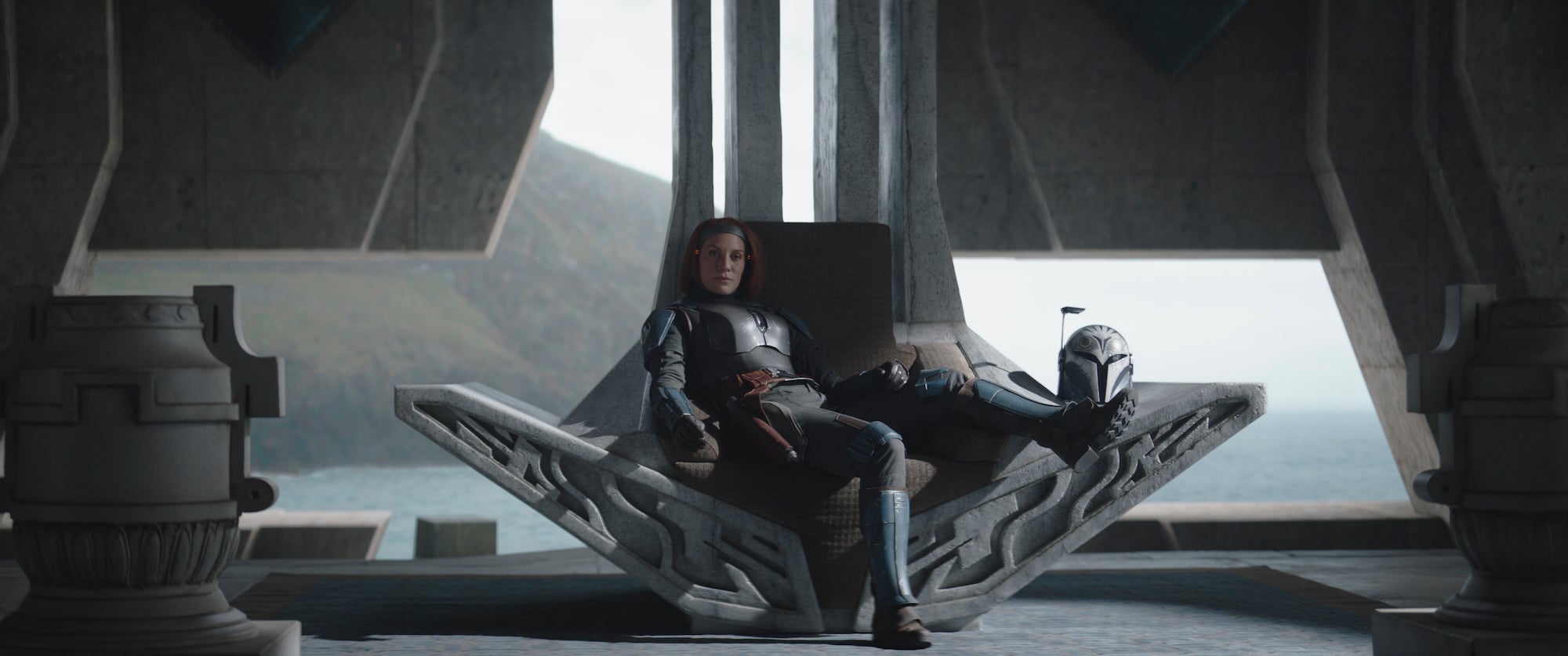 Djarin's next step is heading to another ally in Bo-Katan Kryze (Katee Sackhoff), who's sprawled out on a throne in a Mandalorian-built castle and was left by her fellow Mandalorians after they saw she failed to obtain the darksaber. She thinks that Djarin's shot at redemption is futile (on top of her belief that he's part of a cult), yet she tells him exactly where he needs to attempt it.
"You are a fool," Bo-Katan says. There's nothing magic about the mines of Mandalore. They supplied beskar ore to our ancestors, and the rest is superstition. That planet has been ravaged, plundered, and poisoned."
"The Apostate" is more of an establishing episode with the payoff still to come. But apart from the adventures that await us that are only vaguely teased, it does one thing. With the characters explicitly stating their next mission, we know exactly what we're getting into this season.


We crawl the web so you don't have to.
Sign up for the Daily Dot newsletter to get the best and worst of the internet in your inbox every day.