If you happen to live in Keller, Texas, you can forget about that expensive radar detector—just get on Facebook or Twitter. That's where local law enforcement will tell you exactly which roads and intersections they're scanning for speed limit violations that day.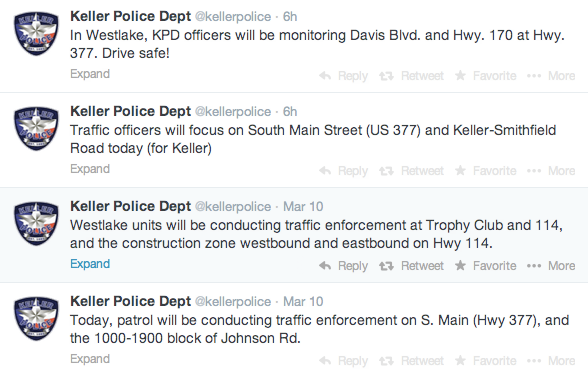 Keller PD, which also has a contract to monitor traffic in nearby Westlake, had noted a 17 percent spike in traffic citations, and a 27 percent rise in car accidents, over the past year. Clearly, tickets weren't solving the problem. And while some municipalities make all their money that way, Keller Police Chief Mark Hafner is more interested in keeping drivers safe. "We can't concern ourselves with ticket revenue," he told a Fox affiliate.
The idea seems to be catching on already, and may soon spread to other districts.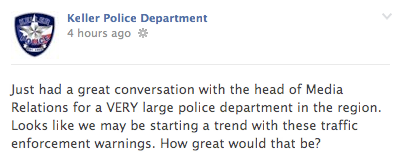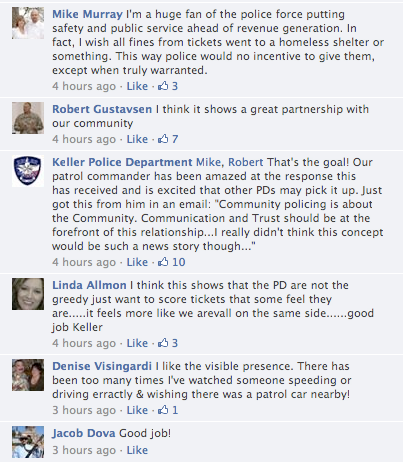 These warnings, however, only pertain to planned surveillance; every police vehicle is equipped with radar and will pursue a speeder if necessary. Even so, the clever new system is bound to save a lot of people some hefty fines and embarrassing courtroom appearances.
It may even save some lives.
H/T myfoxdfw.com | Photo by Dennis van Zuijlekom/Flickr (CC BY-SA 2.0) | Remix by Jason Reed