So, this happened: Someone called the cops on a teenager for giving away free books.
At—wait for it—a book giveaway event.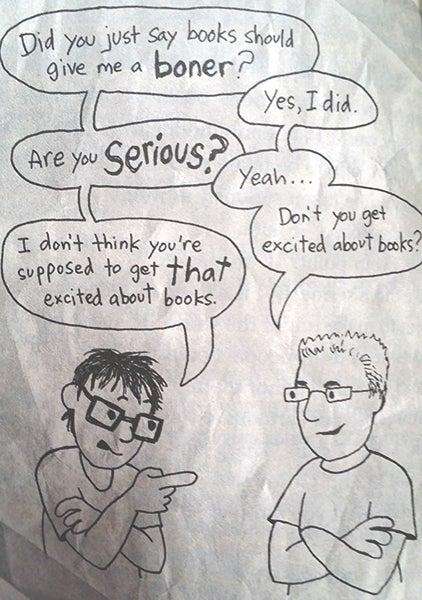 Illustration by Ellen Forney; photo by Aja Romano
Just last week, we wrote about the difficulties Sherman Alexie's acclaimed Young Adult novel, The Absolutely True Diary of a Part-Time Indian, had faced during its four-year run as one of the most banned books in the U.S.
Two weeks ago, parents in the Idaho school district of Meridian successfully campaigned to remove Alexie's novel from its 10th grade reading curriculum and additional reading lists. A National Book Award winner, The Absolutely True Diary is a searing coming-of-age story about a Native American teenager who decides to attend an all-white high school outside of his reservation. It's a powerful narrative about modern race relations in the U.S. But the Meridian school board sided with parents who objected to its alleged sexual and anti-Christian content, along with, as noted by the Seattle Post-Intelligencer, other stuff:
[A]n adult named Lonnie Stiles complained that the Alexie novel contains language "we do not speak in our home."
Apparently the adults who objected to the book weren't thinking about the teens living on Idaho's five Native American reservations. But the district's local teens fought back, organizing a petition to have the book reinstated. In response, Sara Baker and Jennifer Lott of Washington crowdfunded a $3,400 campaign to buy copies of the book for each of the 350 students who signed the petition. 
 
MORE:
Young female fanfic writers arrested in China
 
That meant there were a lot of books to give away. Junior Mountain High School student Brady Kissel went to Kleiner Park in Meridian to distribute the books Wednesday evening. Kissel had arranged the giveaway with Baker, Lott, and local Boise bookseller Rediscovered Books as part of a national book giveaway event called World Book Night.  
The goal of World Book Night is to put a free, ultra-readable book into the hands of a reluctant reader. Kissel and her fellow teens had no problem finding takers for Alexie's controversial book. They gave away all but 20 copies. 
And then, of course, an irate parent ruined it by literally calling the cops to the scene. Boise news station KBOI reported that even the cops were baffled about why they'd been asked to police a book giveaway.
KBOI reported that police had been summoned by "someone concerned about teenagers picking up a copy of the book without having a parent's permission."
Gee, it's almost like banning books from schools makes teens more likely to independently find and read those books. The cops apparently saw nothing wrong with Kissel's activities, nor with the book's brief mentions of masturbation, one of the oft-cited reasons for its being so frequently challenged.
Alexie's publisher, Hachette Book Group, has responded to the students' campaign by sending Rediscovered Books an additional 350 copies. So if you're in Meridian, go pick up a free copy. 
Meanwhile, we'll just leave you with one of our favorite (and fitting) quotes from The Absolutely True Diary of a Part-Time Indian:
"You should approach each book—you should approach life—with the real possibility that you might get a metaphorical boner at any point."

"A metaphorical boner?" I shouted. "What the heck is a metaphorical boner?"

Gordy laughed.

"When I say boner, I really mean joy," he said. "Boner is funnier. And more joyful."

In Wellpinit, I was a freak because I loved books.

In Reardan, I was a joyous freak.

 
Clarification: We originally reported that Rediscovered Books of Boise organized the giveaway. Sara Baker and Jennifer Lott of Washington organized the crowdfunding project and partnered with Rediscovered Books to distribute the books.
Photo via rediscoveredbooks/Instagram; H/T Shelf Awareness