An Oklahoma teen thought he was making a statement by posting a picture of a dead dog on Facebook, but he's probably rethinking it after receiving death threats.
On Friday, 18-year-old Caisen Green uploaded a picture of a pit bull with an arrow apparently stuck in its side, with the caption, "For all you Pit lovers out there. Here's what happens when one shows up around my house."
Green took the picture down, but screenshots have circulated on Facebook and now police are investigating the alleged killing. Cherokee County Undersheriff Jason Chennault said the family is receiving death threats, which has forced Green and his mother to leave the county.
Green's  Facebook profile has since been deleted.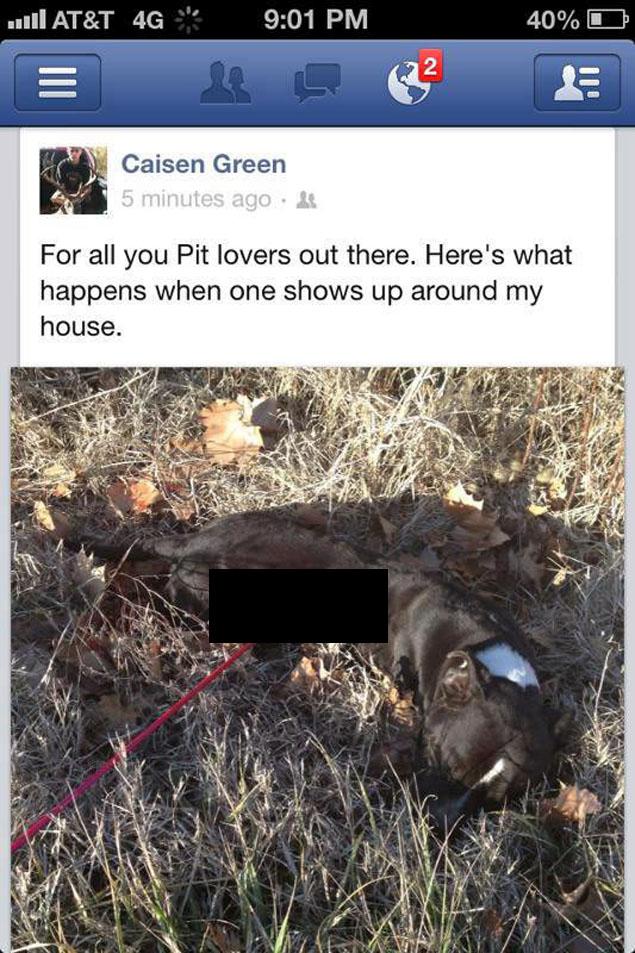 "I understand people don't want to see animals hurt," said Cherokee County Undersheriff Jason Chennault said to a local newspaper. "But death threats are not going to help the situation."
Chennault said he's been only able to speak with Green's father, but said he'll speak with Green this week. He also asked people to stop threatening the family and those who threaten the family might be subject to prosecution.
However, the dog's death falls into a legal "gray area" due to livestock laws in the rural eastern Oklahoma city.
"If the dog is threatening livestock or your wellbeing, you can do what you have to do stop it," Chennault said, adding that the investigation will finish this week.
However, the circumstances around the dog's death, including the question of whether Green even shot the dog himself, remains unclear. A Facebook page seeking "justice" for the dog has garnered 3,000 likes since Saturday, and a Change.org petition encouraging the county's District Attorney to charge Green has collected nearly 3,000 signatures.
Screenshots/photos via New York Daily News