Over its run, Ted Lasso, the unexpected wunderkind of Apple TV+, has gone from laughable underdog to top dog, a similar trajectory that AFC Richmond, the show's fictional Premier League soccer team, is attempting to pull off in its third and final season. With clearer stakes than ever, Ted Lasso is doing plenty to ramp up those potential showdowns looming in the distance. But with some of its characters having already left the roost of AFC Richmond—some on the best of terms, others far more dramatically—Ted Lasso is starting to show some of its cracks.
Ted Lasso season 3

Release Date:
March 15, 2023
Creators:
Bill Lawrence, Jason Sudeikis, Brendan Hunt, and Joe Kelly
Streaming:
Apple TV+
Apple TV+'s biggest show returns for its third and final season, which finds AFC Richmond back in the Premier League while former assistant coach Nate Shelley is now coaching for the rival club West Ham United. While it's still plenty entertaining and tries to give ample time to each character, 'Ted Lasso' is starting to show its limits.
That's not to say that Ted Lasso has lost its spark; the writing is still sharp than ever, although I wouldn't be surprised if the show's weekly release schedule could inspire the return of the same kind of discourse that emerged last season. (I've seen the first four episodes.) But instead of, so far, spending an episode with the enigma that is Coach Beard (Brendan Hunt) or veering off the main plot for a Christmas episode, the season is spread out over three different workplaces, some of which offer more to delve into than others.
Last season, AFC Richmond was promoted back into the Premier League, fulfilling at least part of what Ted Lasso (Jason Sudeikis) promised team owner Rebecca Welton (Hannah Waddingham) at the end of season 1. But nobody—and I mean nobody—has faith that Ted Lasso and AFC Richmond can "win the whole fucking thing." Before the start of the Premier League's new season, every single pundit, including one of Leslie Higgins' (Jeremy Swift) kids, who runs a blog, is predicting that Richmond will finish dead last, which would lead to the team getting relegated again. The players are concerned and dejected by those predictions. But the camaraderie that Ted helped to build lends itself to the team mentality to let that negative energy flow over them.
A team that doesn't have that issue? West Ham United, now owned by Rebecca's ex-husband Rupert (Anthony Head). They're predicted to have a much better season than their real-life counterpart is right now, largely thanks to the hiring of Nate Shelley (Nick Mohammed), AFC Richmond's former kit-man-turned-assistant-coach. But even Nate's success isn't enough to cure his self-doubt, often resulting in him lashing out at his players or taking cheap shots toward Ted's ineptitude during a press conference, an embodiment of the notion that "hurt people hurt people." The only thing more frustrating for the folks behind AFC Richmond than Nate's betrayal is that Ted doesn't even seem to be mad about it. "I don't understand how you're not pissed off at Nate," Higgins tells him.
Keeley (Juno Temple) is also mostly separated from the team. When she isn't popping in, she's dealing with her own problems, mostly in the form of her CFO (Katy Wix) trying to keep things in line, who was appointed by Keeley's venture capitalist funders and seems to have little patience for her. But she's also struggling to navigate life after her off-season breakup with Roy Kent (Brett Goldstein), which hangs over the team's head like a dark cloud. Even she seems to be happier whenever she's at AFC Richmond versus her office, and it's the plot element that works the least so far.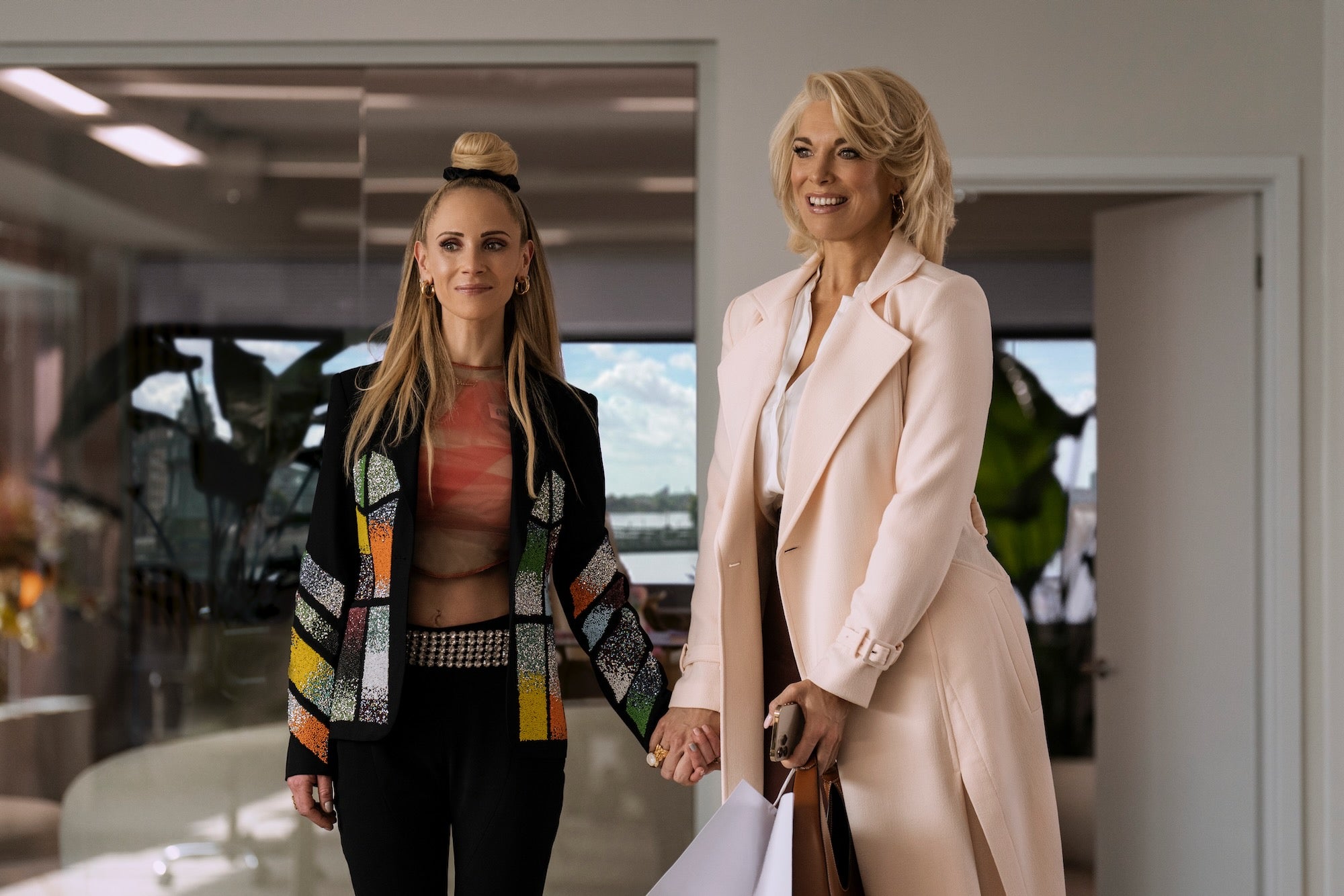 It seems like, with it being the final season (Sudeikis is open to spinoffs in the future), Ted Lasso is making efforts to bring back as many people as possible, occasionally stretching the show too thin; even the focus on those other workplaces don't always work.
Rupert is the clearest thing Ted Lasso has to a villain, which is illustrated both through the dark and sterile decor of his office (which has none of the warmth of Rebecca's and does not allow him to keep tabs on the team) and the billowing of his long coat that harkens comparisons to someone like Darth Vader. And if that doesn't convince you, Rupert is the kind of person who—in a world close enough to the present day that Worldle exists, even if it sidestepped COVID completely—willingly vacations with the Sacklers.
But in that analogy, it's clear that Nate is the Darth Vader of that working relationship. He's a hurting antihero who is practically destined for redemption, even if Nate and Ted Lasso are a long way from seeing that through, and there's enough time for him to cause even more chaos in his wake.
Over the first four episodes, Ted Lasso encounters more than just its status in the Premier League. The arrival of Zava (Maximilian Osinski), a diva soccer superstar (he's been with "14 teams in 15 years, leaving behind nothing but chaos and trophies") who aims to play in the Premier League, threatens to shake things up, leaving things. Trent Crimm (James Lance), no longer with The Independent, embeds himself with the team as he plans to write a book about their first season back in the Premier League, a decision that's met with some pushback from at least one member of the staff.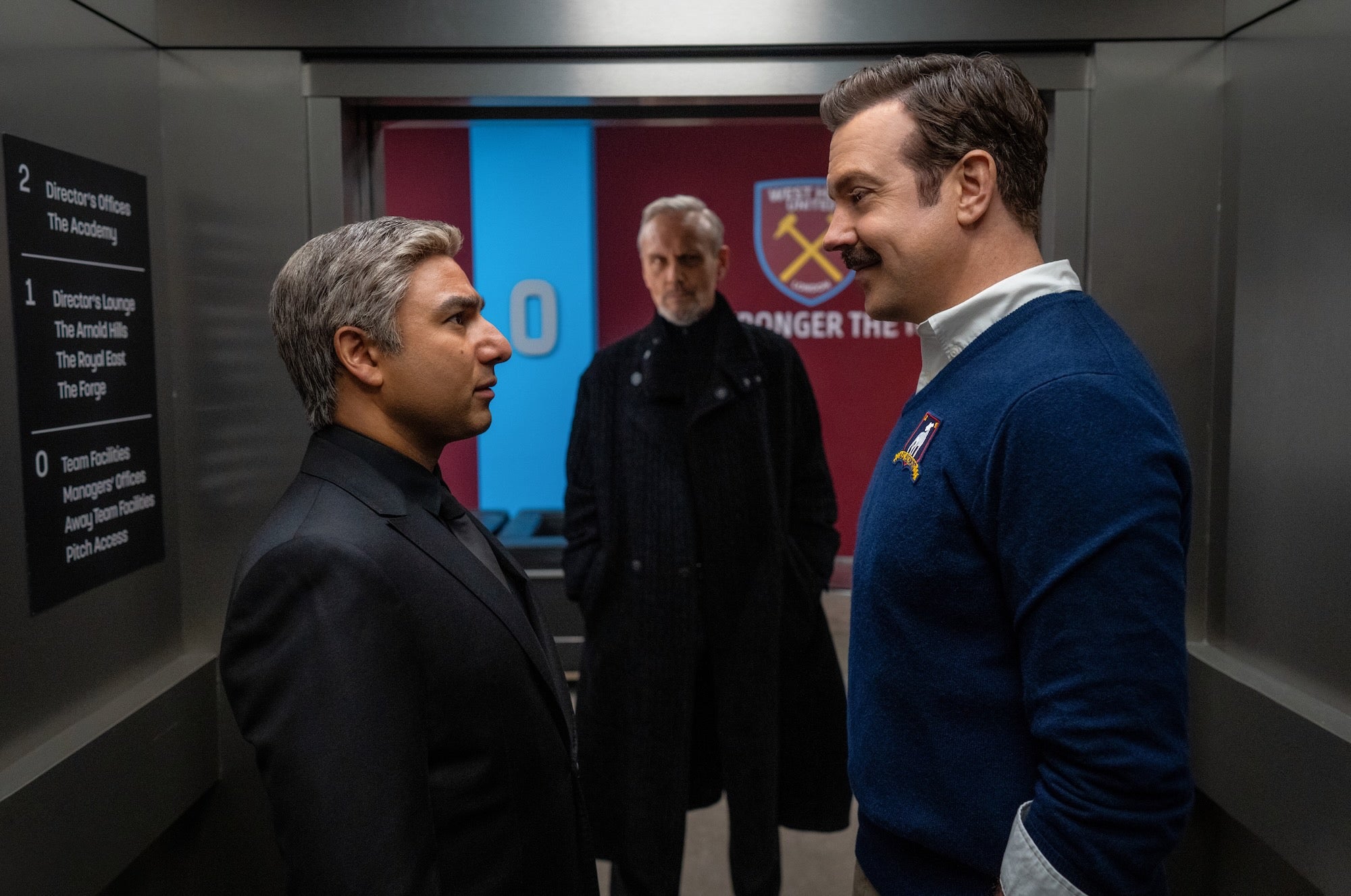 Like last season, Ted Lasso allows other team members their moment in the spotlight, such as Welsh left wing Colin Hughes (Billy Harris) and goalkeeper Thierry Zoreaux (Moe Jeudy-Lamour). We even get to see a new side of striker Jamie Tartt (Phil Dunster) as he's faced with a professional hurdle he's never had to tackle before. Even if Ted has some healthier coping mechanisms in place after starting therapy last season, his panic attacks (and the various elements of his life that trigger them) didn't instantly disappear. "I'm a work in progmess," he eventually concedes, leaning into the pun.
Is Richmond destined to fail because everyone thinks they'll fail or because their attempts to prove everyone wrong will blow up in their face? Or, inversely, will they succeed because they made vast strides to prove everyone wrong, or did they have that magic touch all along? Ted Lasso doesn't have answers one way or the other—at least not yet—but the show knows that the journey with those characters is what brings people back. Even if nobody else will believe in them, they've at least got to try.
The Ted Lasso season 3 premiere is now streaming on Apple TV+. New episodes will drop on Wednesday.


We crawl the web so you don't have to.
Sign up for the Daily Dot newsletter to get the best and worst of the internet in your inbox every day.