Olivia Rodrigo's Guts is one of the biggest albums in the country right now, but a new profile designed to promote the album resurfaced speculation about a potential feud between Rodrigo and a pop singer that Rodrigo long considered an inspiration to her: Taylor Swift.
Appearing on the latest cover of Rolling Stone, Rodrigo dove into the process of making Guts, having fans analyze her song lyrics, and trying to avoid the "sophomore slump" at age 20 after her first album became much bigger than she could've imagined.
But, toward the end of the profile, she is also asked about whether she was feuding with Taylor Swift, an artist she often mentioned in interviews as having inspired her—leading to the two publicly supporting one another and later meeting—but now appears to not mention at all.
Olivia Rodrigo says she doesn't 'have beef with anyone'
"I don't have beef with anyone," she told Rolling Stone. "I'm very chill. I keep to myself. I have my four friends and my mom, and that's really the only people I talk to, ever. There's nothing to say."
She alluded to speculation around any "beef" she might have to be similar to the kinds of conspiracies that spread on social media platforms like X.
"There's so many Twitter conspiracy theories," she continued. "I only look at alien-conspiracy theories."
It's the kind of answer that's vague while answering the question at hand; Swift is not mentioned by name in her response. So naturally, people are using her quotes to support their speculation about what may or may not have happened. To some, it's confirmation that there was no feud. To others, there absolutely is a feud because if there wasn't, why wouldn't Rodrigo praise Swift again?
Mutual praising and an iconic meeting
Rodrigo, who starred in the TV shows Bizaardvark and High School Musical: The Musical: The Series, released her first album, Sour, in May 2021. Her first single, "Drivers License," had already blown up, and upon the album's release, shot Rodrigo into superstardom.
As Rodrigo acknowledged in the Rolling Stone profile, Sour operated as a breakup album after amid speculation around a love triangle involving her, her High School Musical co-star Joshua Bassett, and actor Sabrina Carpenter. ("Drivers License" is said to be about the split, although Rodrigo has downplayed speculation of who the song is about.)
In interviews throughout 2021, Rodrigo seemed to praise Swift as one of the artists who reached out to her.
"I'm just so in awe of her constantly, and I truly would not be the songwriter I am today if I had not grown up being so inspired by everything she does," she told Ryan Seacrest in March 2021. "Taylor actually sent me a letter that I opened last night. Like a handwritten letter because she is incredible. She's out of this world."
Rodrigo said they exchanged letters, and Swift showed her support on social media. She also appeared to promote Fearless (Taylor's Version). Even before the release of Sour, Rodrigo celebrated when Swift praised her cover of "Cruel Summer" from Swift's album Lover.
It all culminated in a meeting documented at the 2021 BRIT Awards, which Swift and Rodrigo posted on Instagram.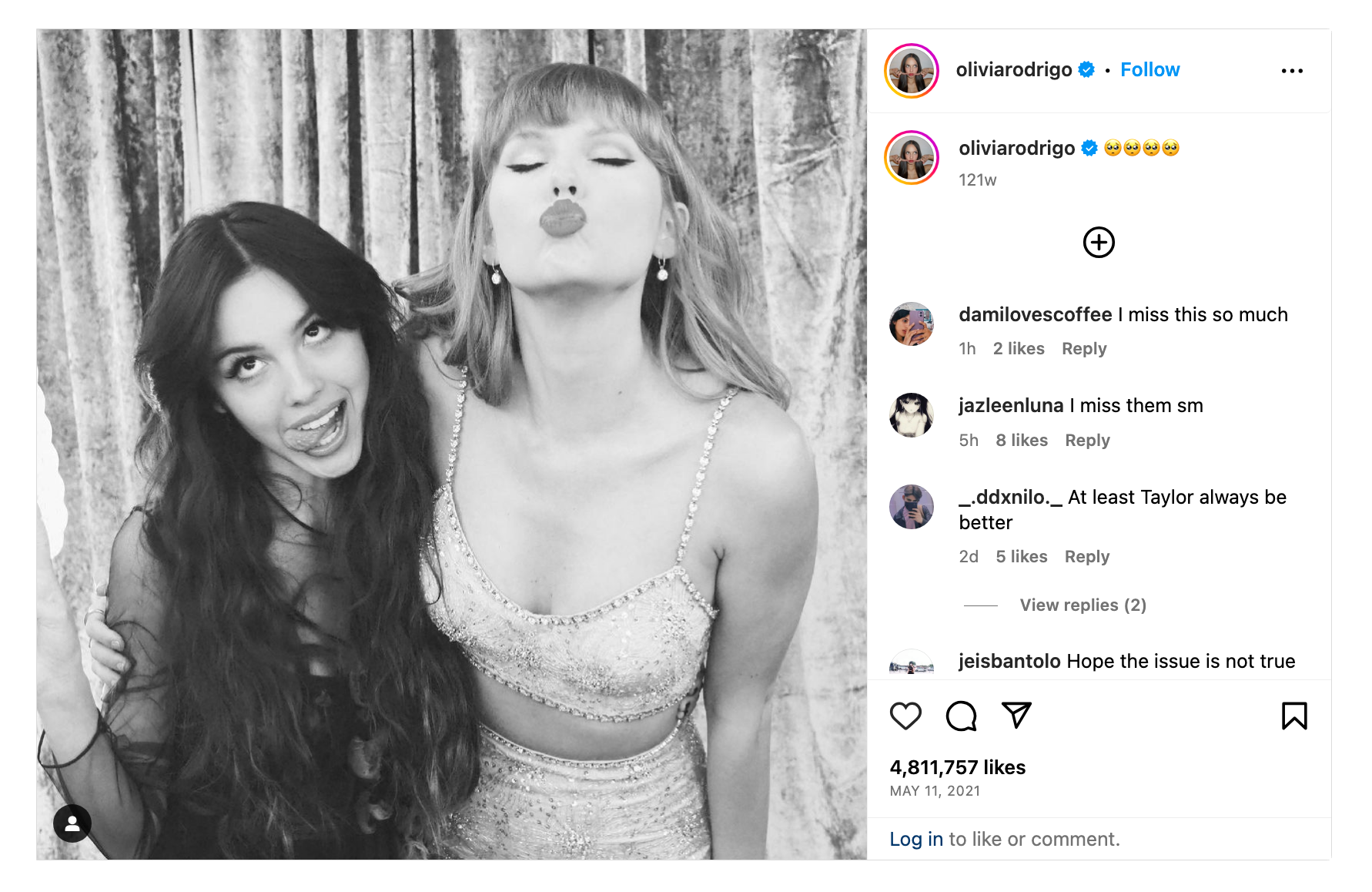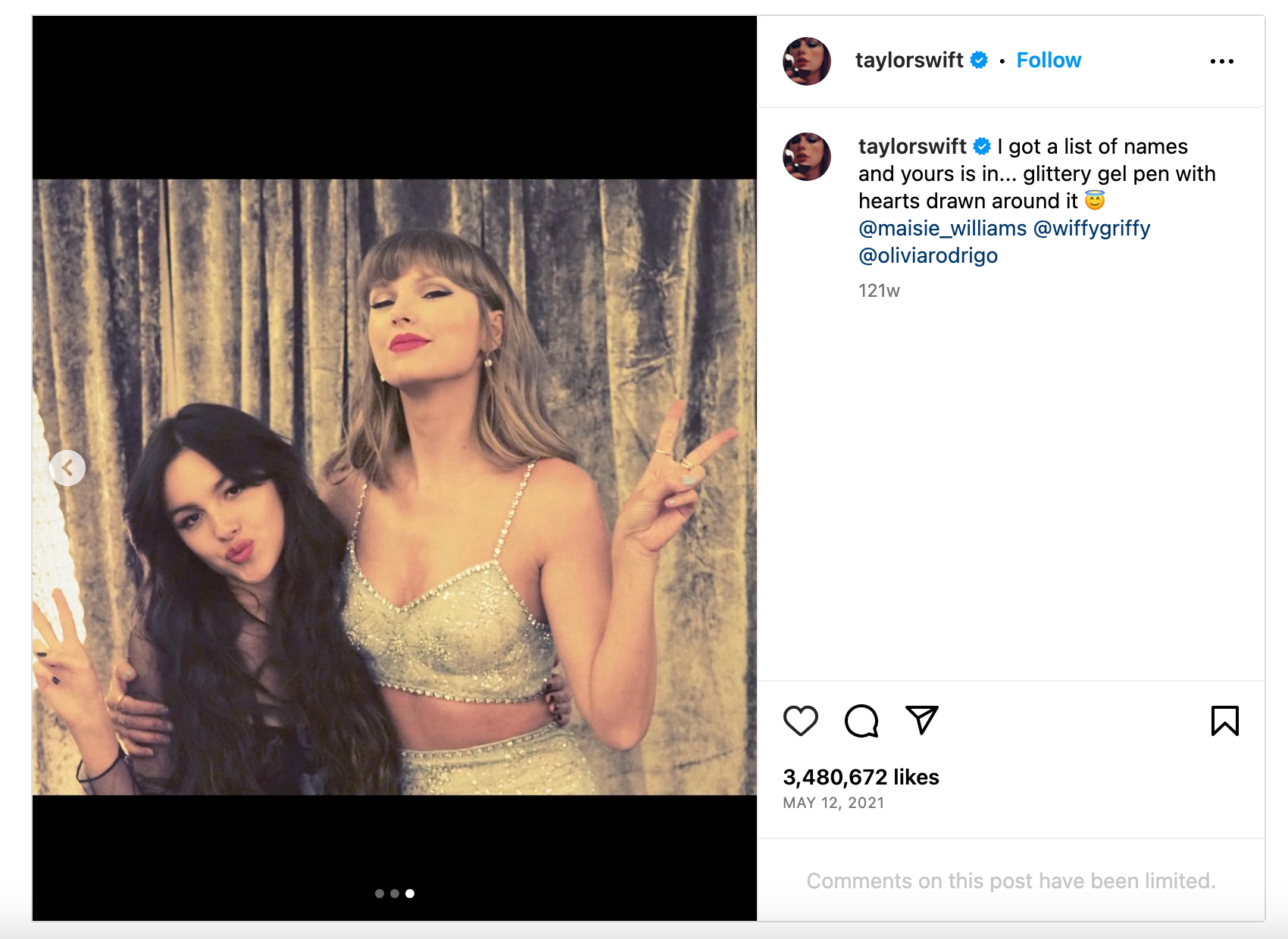 Even now, comments on Rodrigo's photo reference the two stars' alleged feud that occurred later on.
The Sour co-writing credit conundrum
For those who believe there is one, the start of the feud between Swift and Rodrigo may stem from an issue about writing credit.
Rodrigo thanks Swift and producer Jack Antonoff in Sour's album notes, and she gives them co-writing credit on "1 Step Forward, 3 Steps Back" for borrowing from Swift's "New Year's Day" (from Reputation). A Rolling Stone report from July 2021 highlighted that Rodrigo added Swift, Antonoff, and St. Vincent as co-writers on the song "Deja Vu" because of structural similarities to "Cruel Summer."
She has also discussed being inspired by "Cruel Summer" for the song "Deja Vu." Paramore later received a co-writing credit for "Good 4 U."
The question of songwriting credit has been costly for Rodrigo and her producers, but Rodrigo found frustration in another form: People using the co-writing snafus to discredit her. But with Guts, she appears to be more aware.
"I was a little caught off guard," Rodrigo told Rolling Stone in the 2023 cover story. "At the time it was very confusing, and I was green and bright-eyed and bushy-tailed. Is that the phrase?"
She noted that the question of credits (and if she was made to give those other artists a songwriting credit) was "not something that I was super involved in."
Interview comments and lyric speculation
By late 2021, Swift and Rodrigo stopped publicly supporting the other artists' releases, and Rodrigo no longer publicly praised Swift by name.
A lengthy Reddit post in r/FauxMoi documented many of these interactions, along with perceived slights from Rodrigo toward Swift in interviews. One of them comes from Rolling Stone's 2021 Musicians on Musicians Package, which paired Rodrigo with Alannis Morissette. At one point, Rodrigo asked Morissette how she handled being in the spotlight and receiving criticism.
"All eyes on the fishbowl," Morissette responded. "There was a lot of bullying and a lot of jealousy and a lot of people whom I'd adored my whole life being mean girls."
Rodrigo's response? "Same!" Some perceived it to be a dig toward Swift.
In a recent New York Times profile centered around Guts, Rodrigo noted that she hadn't attended Swift's Eras Tour.
There's also speculation that Rodrigo's first single on Guts, "Vampire," is about Swift. Upon Guts' release, the lyrics of two other songs have added to that speculation.
An overreach or actual beef? The question lives on.


We crawl the web so you don't have to.
Sign up for the Daily Dot newsletter to get the best and worst of the internet in your inbox every day.