What do you get when you dress a plus-sized woman in gray?
A manatee—or so one egregiously named Target listing seems to be implying.
Earlier this week, the Daily Dot took you inside the world of WTFPlus, a Tumblr designed to highlight the many inanities of plus-sized fashion—like the fact that sometimes, variously sized dresses that are identical in every way cost significantly more when they're plus-sized.
But that's not all that can happen to plus-sized shoppers who are looking for dresses otherwise identical to those of their thinner counterparts.
Here are two identical Mossimo kimono-style dresses, one for regular sizes, and one for plus sizes. All is well, until you look closer at the colors available for each size.
For sizes XS through XXL, the colors all have banal names, like "lemon zest" and "dark heather gray."
But for Target's plus-sized shoppers, one of the color labels has been slightly altered: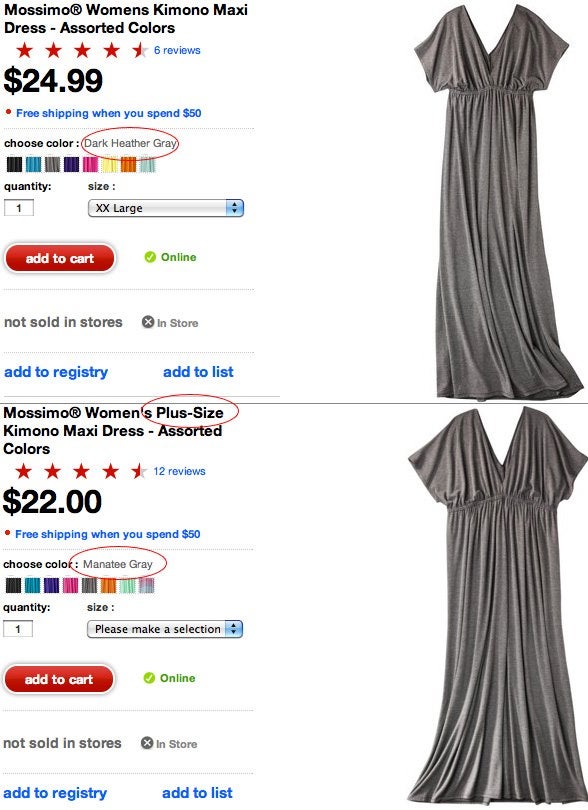 That's right; the plus-sized shopper can choose from a delightful "manatee gray."
Target is often praised for the durability and versatility of its plus-sized clothing line, which is one of the more affordable options for plus-sized buyers. This plus-sized dress is even a few dollars less than its smaller counterpart, something fairly rare in plus-sized fashion. And given that all of the other colors are the same across both plus-sized lines, you might guess that this is most likely a simple mistake in product labeling, and probably not some Target minion's idea of a cruel joke.
But you'd be wrong, however. When Twitter user Susan Clemens ran across the color discrepancy yesterday, she sounded the alarm, only to have it pointed out to her that "manatee gray" is actually a standard Target color for other products as well.
The discrepancy was enough to land on Reddit's WTF? forum earlier today, where it garnered a few baffled responses, and speculation about "the minimum karma [Reddit upvotes] this has to get for some marketing person at Target HQ to to get chewed out."
But Target took the attention in stride, with representative Joshua Thomas stating to Forbes today that it was simply "an unfortunate oversight" that the company was working to correct.
Perhaps in the future, Target will leave the animal-inspired color names to the bath and household products—and they could do away with the overabundance of hideous animal prints for plus-sized fashion while they're at it.  
That would definitely put the lemon zest back in my kimono.
UPDATE: Target responded to Clemens last night, tweeting, "We apologize for this unintentional oversight & never intend to offend our guests. We've heard you, and we're working to fix it ASAP." Two different buying teams were responsible for the color choices, a rep explained, and "manatee gray" is a standard Target color.
Unfortunately, if you wanted to buy that gray dress in a plus size, no matter what the color is called, it's no longer available.
Illustration by bobert-rob via wishermadeawishfall/deviantART