Warning: This article contains spoilers for Stranger Things season 3.
Stranger Things season 3 has already broken a lot of records. According to Netflix, more than 40 million households viewed the new season in its first four days—more than any other film or series on the platform. Stranger Things season 3 also boasted the longest continuous use of sailor suits as normal attire. But the Scoops Ahoy uniform was just one of dozens of funny moments that fans immortalized with memes. Rather than immediately re-binge the entire season, you can scratch your Stranger Things itch with these carefully curated Stranger Things season 3 memes.
The best Stranger Things season 3 memes
1) Joyce and her magnets
Joyce's fixation on her broken magnets got many viewers talking. While she was right, and her insistence that something was wrong ultimately led to her shutting down the giant machine that was opening the gate, her obsession with the inanimate objects was ripe meme material.
Joyce in S1&2: What is wrong with my boy?!
Joyce in S3: What is wrong with my magnets?!#StrangerThings pic.twitter.com/WkY4epal8S

— 9GAG (@9GAG) July 9, 2019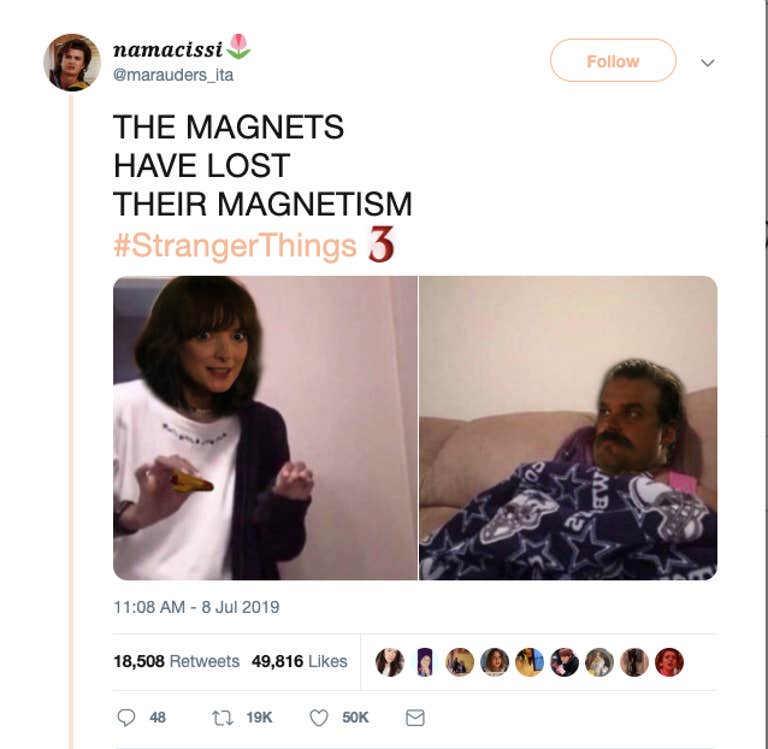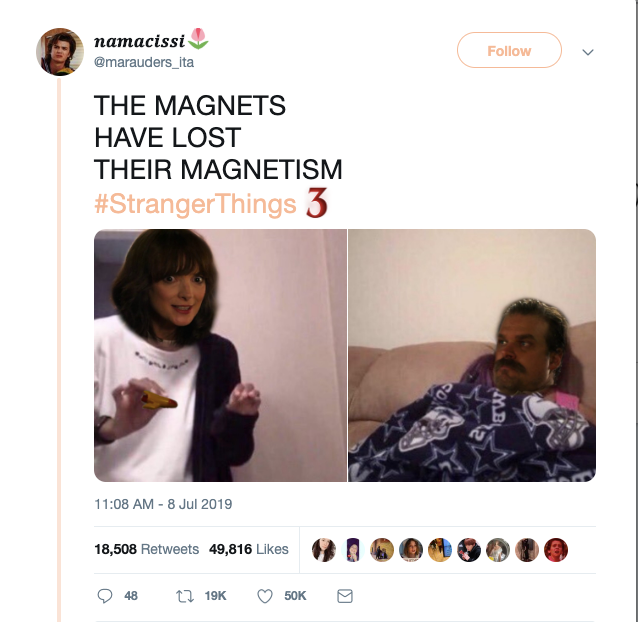 Joyce all of #strangerthings season 3 pic.twitter.com/2EIFOo7LXm

— another jojo stan. (@elchicogrueso) July 8, 2019
2) The NeverEnding Story theme song
While this musical break in the Stranger Things season 3 finale may have drawn split critical reactions, those who enjoyed it really, really enjoyed it. Fans made sure to broadcast that they were listening to "The NeverEnding Story" on repeat and sobbing uncontrollably.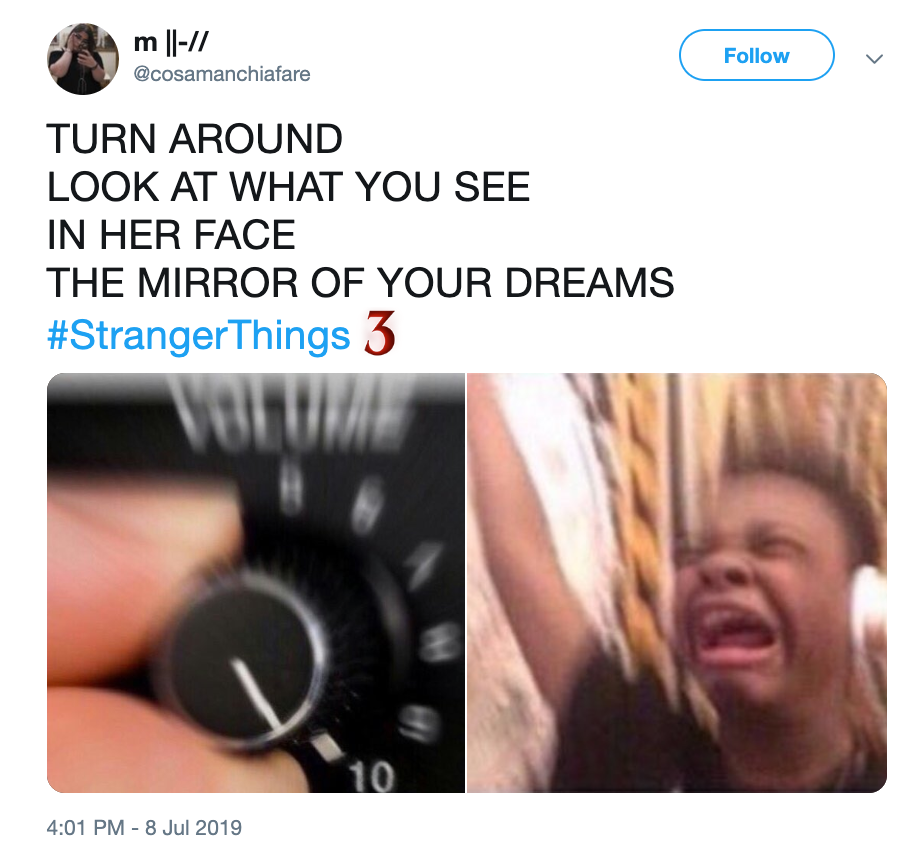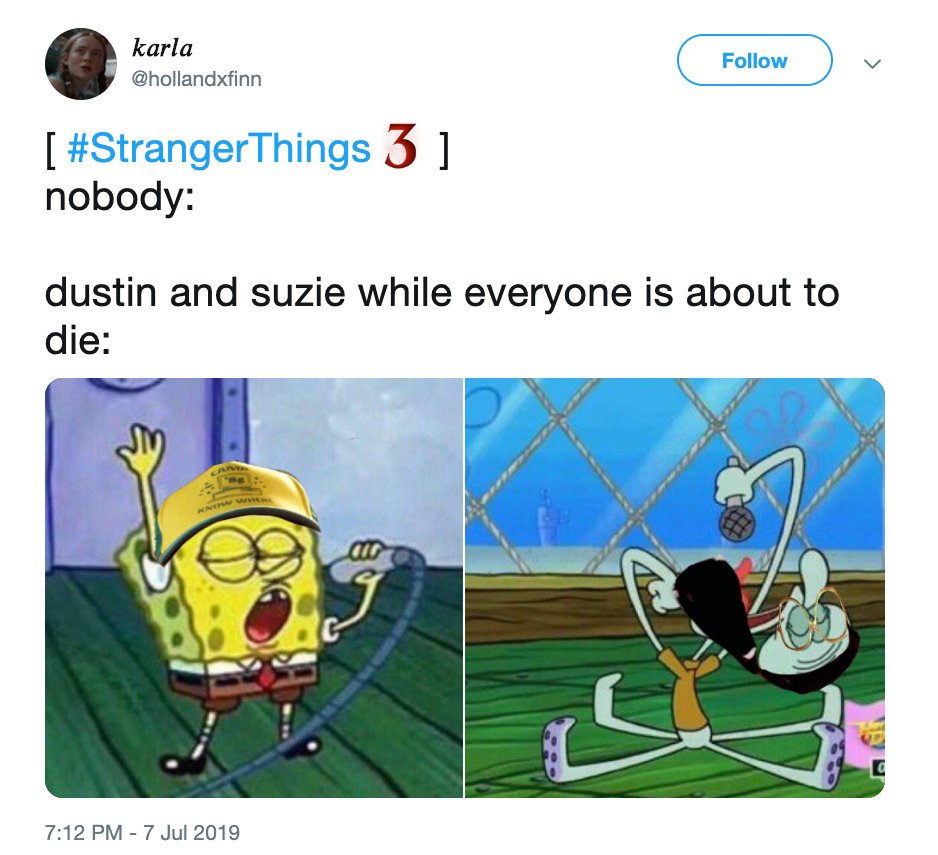 3) "Keep the door open three inches"
Dustin and Suzie's wholesome duet wasn't the only thing that got tears flowing. Hopper's surprise death at the end of Stranger Things season 3—and the humble request he wrote in his letter to El—left many fans inconsolable.
When you finish season 3 and try to act like everything's fine #strangerthings pic.twitter.com/3Vwzu8BQdW

— Stranger Things (@stnetflixtv) July 9, 2019
"and for the sake of ur old poor dad please keep the door open 3 inches"#StrangerThings pic.twitter.com/yX17cdFXw7

— 9¾ (@amaliguess) July 8, 2019
"but, please, if you don't mind, for the sake of your poor old dad, keep the door open three inches."#StrangerThings pic.twitter.com/gx1OcUTYU7

— Millie Hanks (@milliehanks_) July 8, 2019
4) "Hopper's alive" theories
While some fans were weeping over Hopper's letter, others were theorizing (or insisting) that the police chief is not, in fact, deceased. Fan theories quickly circulated, emphasizing the Russians' mention of "the American" in the post-credits scene.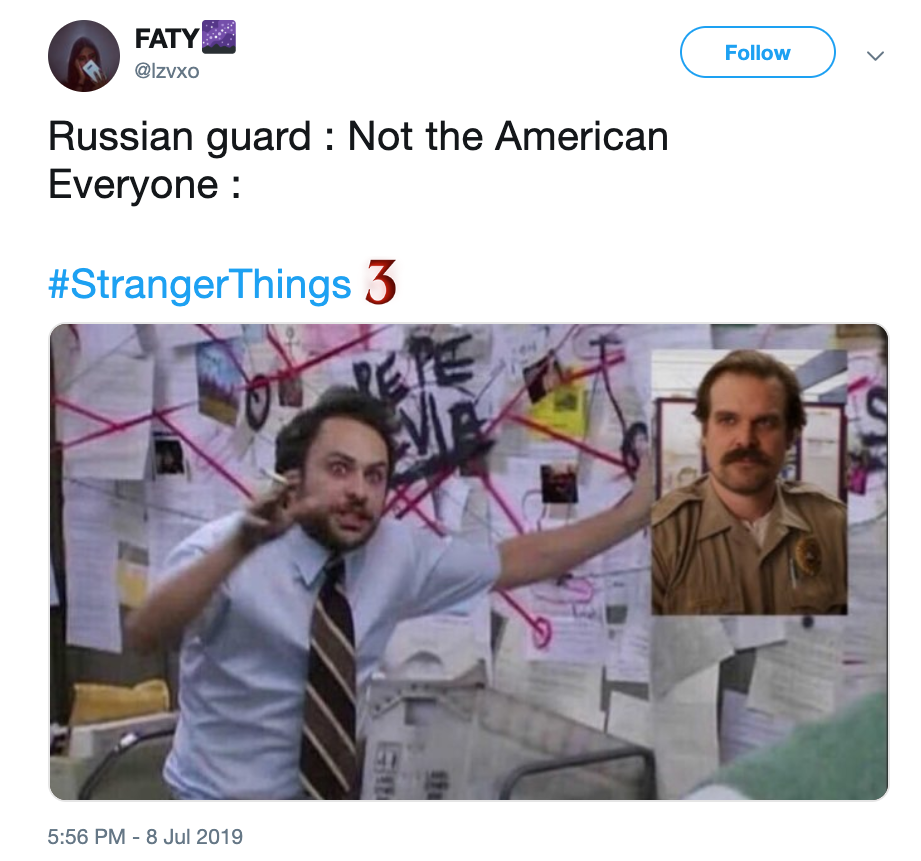 Will Byers was not a large part of Stranger Things 3. The character, whose disappearance in season 1 was central to the sci-fi story, mainly appeared in this season to ask his friends to play D&D with him. But his friends are distracted all summer by their new relationships.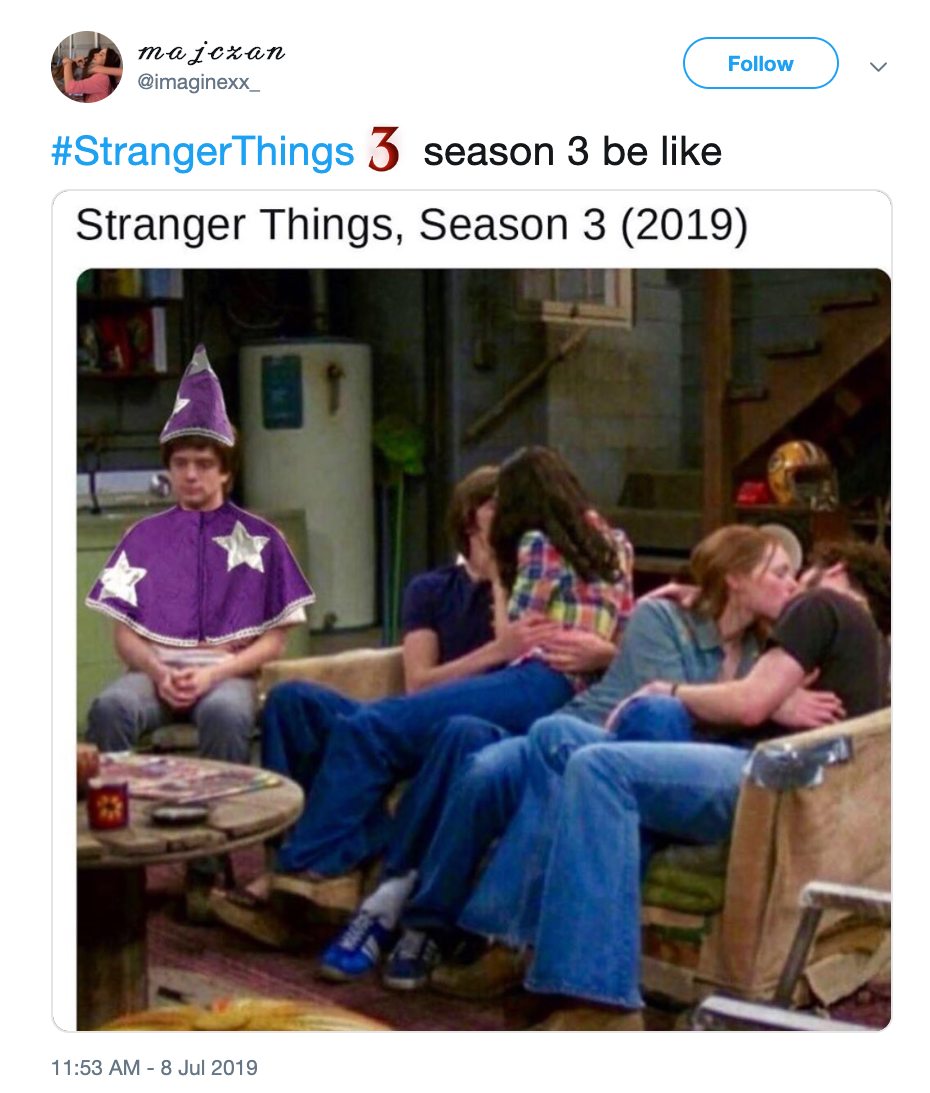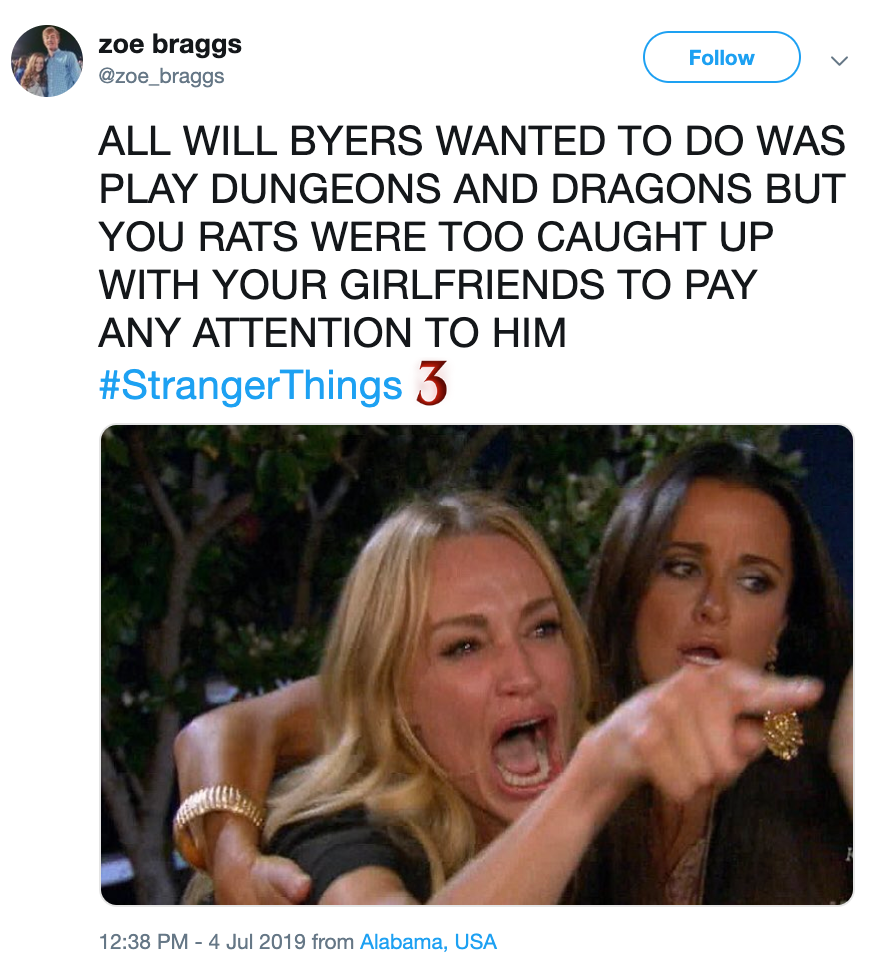 6) The Mind Flayer
Whenever the monstrous Mind Flayer was nearby, Will rubbed the back of his neck and said to his friends, "He's close." The motion spawned memes of photos and videos of people touching the back of their neck.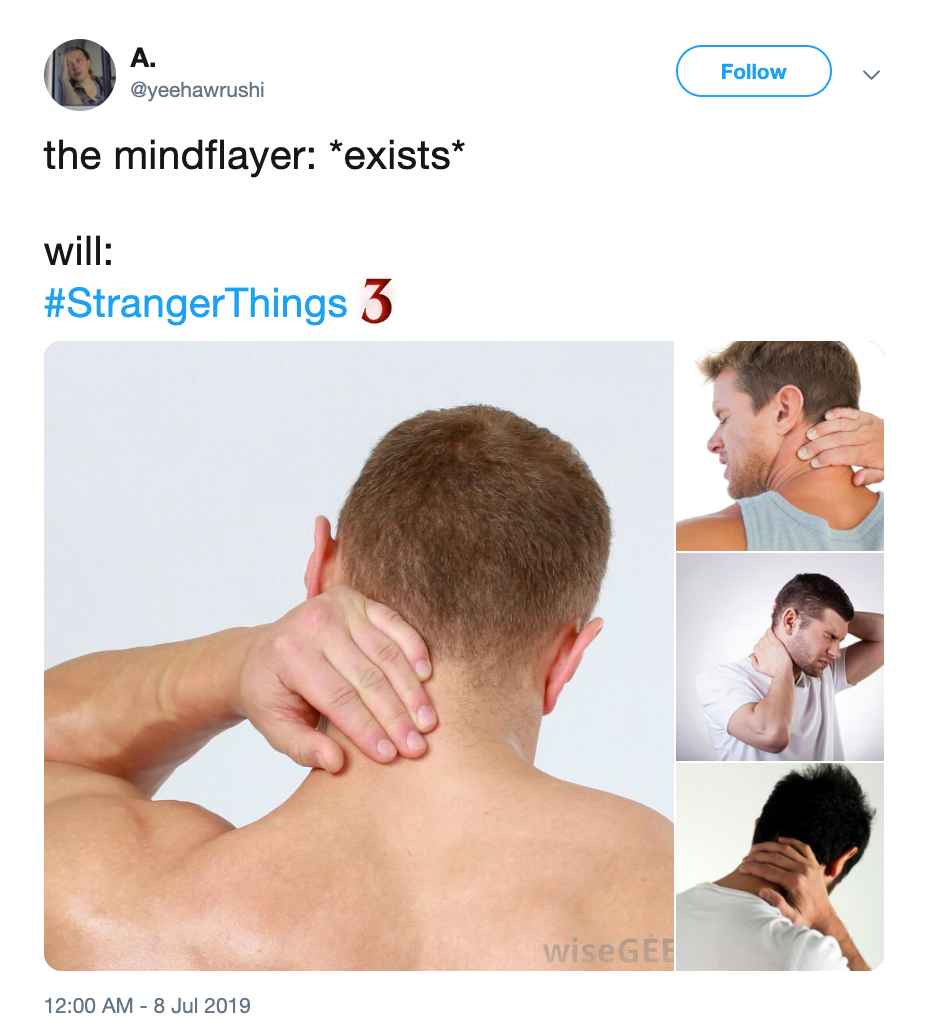 Will when the Mind Flayer was nearby #StrangerThings pic.twitter.com/uwaUNZ6fMk

— Joel Robertson (@ImJoelRobertson) July 7, 2019
And then there was the Mind Flayer surviving the fireworks the gang threw on it in the Starcourt Mall.
#StrangerThings
The Mind Flayer in the mall pic.twitter.com/YVnt1slcaU

— Grayson (@grayteeheeson) July 8, 2019
It's a known fact that if you share footage of someone holding a card, poster, or whiteboard, meme-makers will Photoshop something onto it. Netflix knew what it was doing when it had new character Robin (Maya Hawke) hold up a board to Steve that showed a "You Rule" versus "You Suck" tally. Stranger Things fans used the board to express hot takes and theories about the show.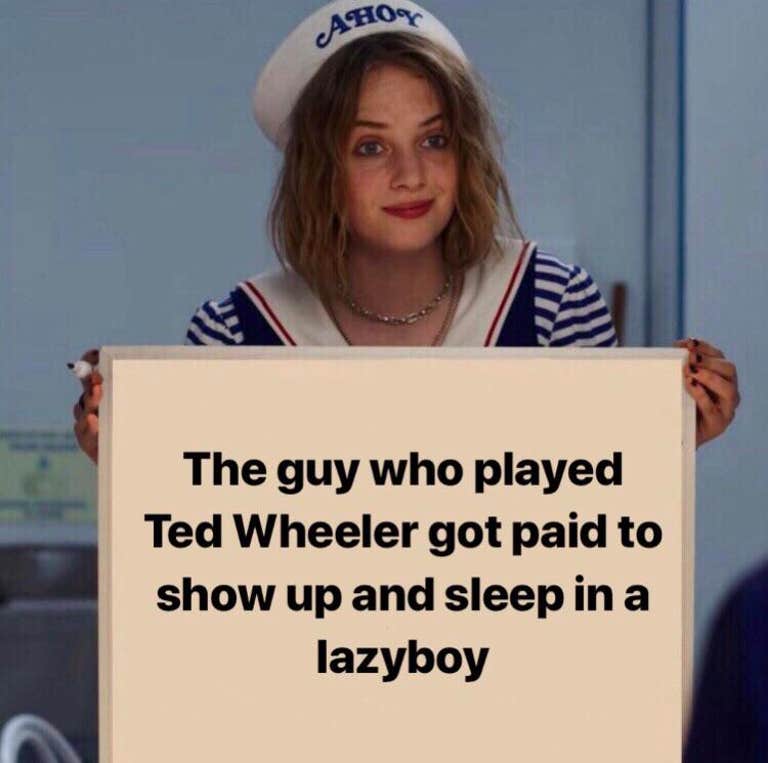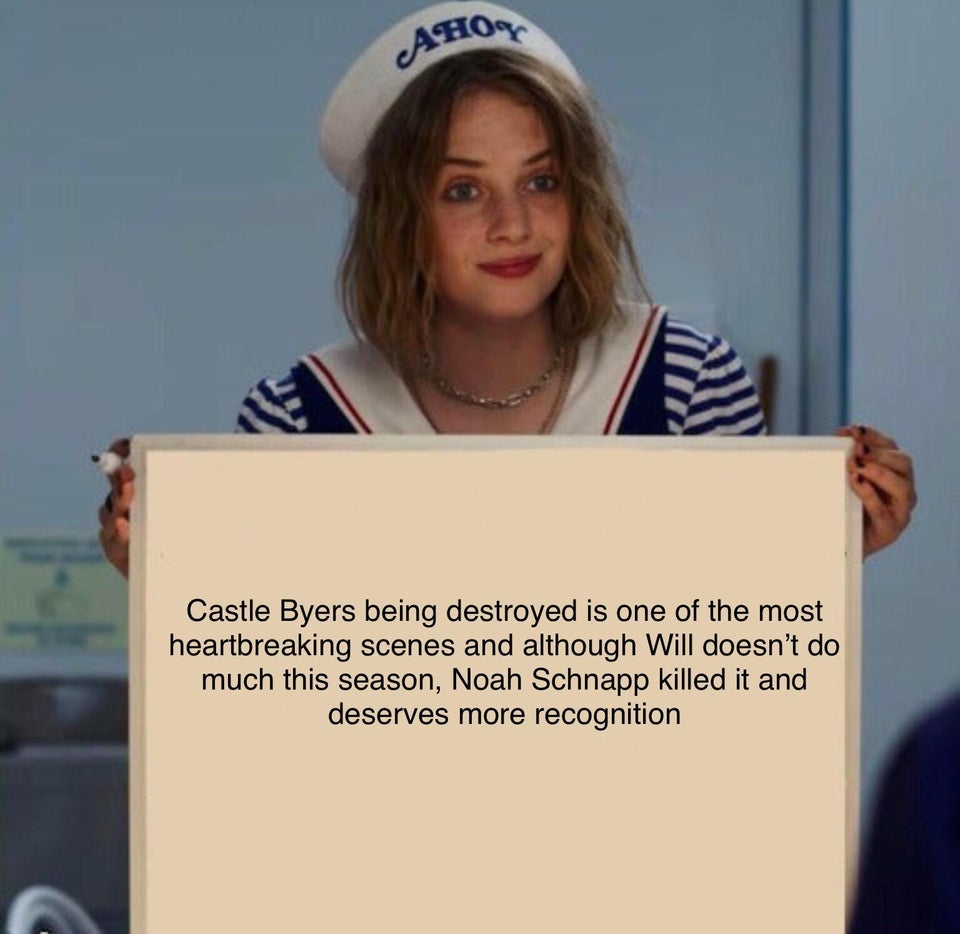 Alexei, affectionately dubbed "Smirnoff" by Hopper, truly deserved better. The Russian character quickly became a fan favorite in Stranger Things season 3 for his earnest love of cherry Slurpees and cartoons. RIP, Alexei.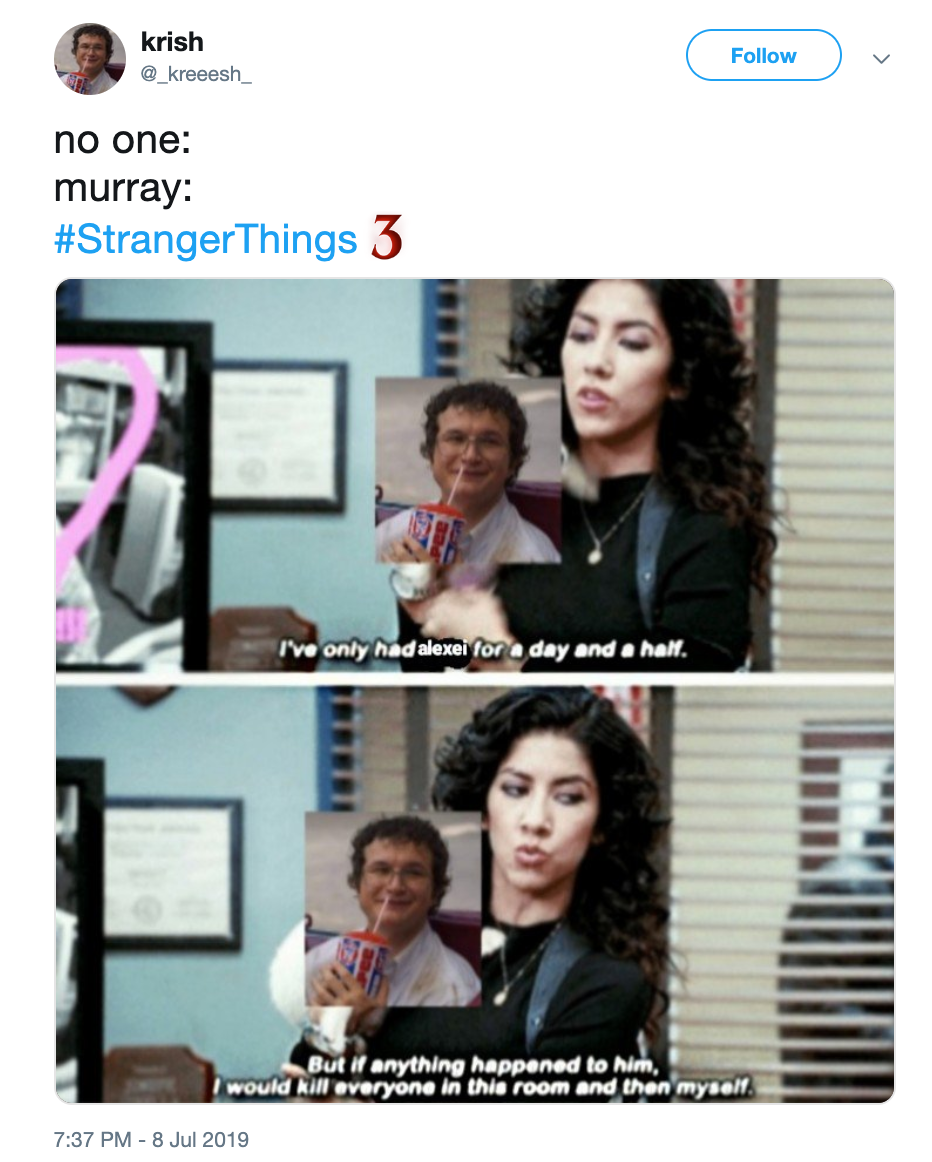 READ MORE: