This article contains spoilers.
Will Byers is one of the most important characters in the first season of Netflix's Stranger Things series. Although the young Hawkins, Indiana, resident doesn't receive a lot of screen time, his mysterious disappearance in episode 1 launches the main plot of the sci-fi story, leading to the discovery of a government lab's secret experiments and a portal to another dimension that lets in a terrifying creature known as the Demogorgon.
Will (portrayed by Noah Schnapp) is finally back home at the end of the first season, rescued by his mother, Joyce Byers (Winona Ryder), and Chief Jim Hopper (David Harbour) from the Upside Down. But his connection to the other dimension, and specifically to a being known as the Mind Flayer, still haunts him in season 2. In Stranger Things' new third season, Will's storyline feels shortened in favor of the several other competing storylines, which have arguably become more interesting. With more than a dozen main and reoccurring characters, it's hard to criticize the show for focusing more on characters that have become fan favorites, like babysitter extraordinaire Steve Harrington (Joe Keery) and psychokinetic teenager Eleven (Millie Bobby Brown), while also introducing great new characters like Robin (Maya Hawke).
Will's lines in season 3 mostly consist of asking his friends if they will play Dungeons & Dragons with him while they worry about their burgeoning relationships with girls. (Mike even tells Will, "It's not my fault you don't like girls," providing another hint that Will could be gay.) This dynamic has since been highlighted in several Stranger Things memes, notably in a That '70s Show screengrab that depicts Will as Topher Grace's character Eric Forman, in a photoshopped purple wizard costume, sitting by himself while couples make out around him.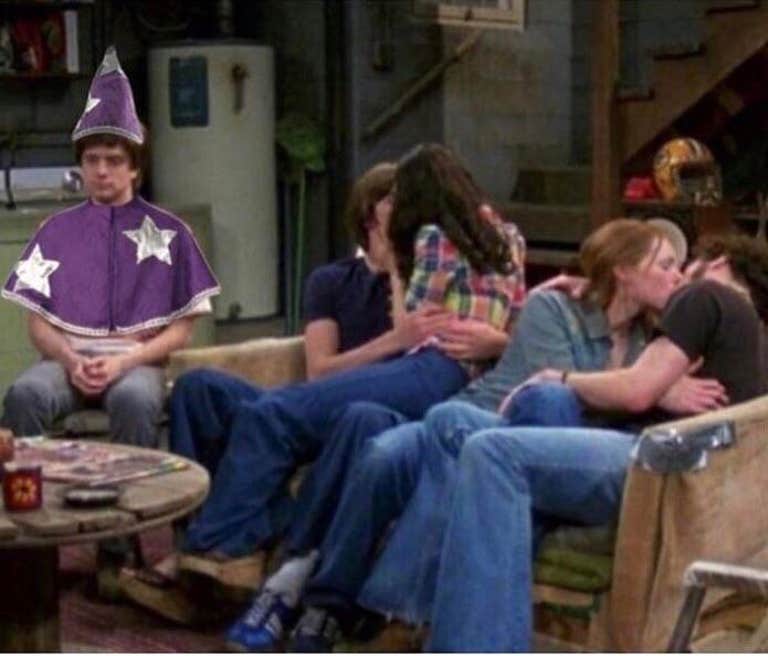 And then there are all the screengrabs from season 3 of Will asking his friends if they can play D&D. Poor Will.
Can someone, uhhhh, love Will Byers please?? from StrangerThings
https://twitter.com/Wolferino7/status/1147506753392787456
ALL WILL BYERS WANTED TO DO WAS PLAY DUNGEONS AND DRAGONS BUT YOU RATS WERE TOO CAUGHT UP WITH YOUR GIRLFRIENDS TO PAY ANY ATTENTION TO HIM#StrangerThings pic.twitter.com/BUOF2vJ7rc

— zoe braggs (@zoe_braggs) July 4, 2019
When Will isn't longing to play D&D and not wanting to grow up, he is feeling the back of his neck and telling his friends when the Mind Flayer is close, in the style of Harry Potter touching his scar when Voldemort was near. That became another meme.
Anyone else feel like Will's only line in Stranger Things 3 is "He's here" like over and over again?

— molly (@mollymmryan) July 8, 2019
#StrangerThings

Will: He's here.

The Gang: pic.twitter.com/OD3z6tAicJ

— Airedmania (@airedmania) July 5, 2019
Will when the Mind Flayer was nearby #StrangerThings pic.twitter.com/uwaUNZ6fMk

— Joel Robertson (@ImJoelRobertson) July 7, 2019
Will this season of #strangerthings pic.twitter.com/GnjlsrpUgJ

— V☠️ (@minivanessie) July 7, 2019
And then there are general memes about Will's abbreviated dialogue this season.
just tried to change my password to all of will's lines in season 3, but they said it was too short #strangerthings pic.twitter.com/4NFdm8NxtS

— ava (@fightclnb) July 5, 2019
Did Will Byers deserve more lines this season? Probably. But, again, Stranger Things has several different storylines that it needs to flesh out. And it's becoming an increasingly difficult task for the show to manage all of them. Stranger Things 3 ends with Will hugging his friends and crying as he, Jonathan, Eleven, and Joyce move away from Hawkins. We don't know what awaits Will in season 4, but hopefully, his role expands to more than a human alert for danger. It all started with Will's disappearance, and his character deserves a complex storyline. But first, he really needs to find new people who will play D&D with him.
READ MORE:
Got five minutes? We'd love to hear from you. Help shape our journalism and be entered to win an Amazon gift card by filling out our 2019 reader survey.