Stefán Karl Stefánsson, the Icelandic actor best known as No. 1 villain Robbie Rotten on the kids' show LazyTown, is now in the final stages of bile duct cancer, his wife said this week. The news is devastating to kids who loved LazyTown and to the dank memers who've helped Robbie Rotten become one of the most celebrated characters on the internet. It is, of course, even more devastating to his wife and four children.
"Stefán has bile-duct cancer (Cholangiocarcinoma), a rare and little-researched disease," his wife Steinunn Olína wrote on Facebook. "The disease is now advanced to stage four, and therefore, his life expectancy is unfortunately significantly reduced." She added that Stefánsson's "candle burns quickly," and it was "unbearable to tell our children that their dad would not live to be an old man."
Stefánsson and his family have not been alone in facing his cancer diagnosis, though. The internet loves Robbie Rotten, and even the dankest, most black-hearted memers were sad to hear that the man who embodied him was fighting for his life. Late in 2016, Reddit's r/dankmemes subreddit voted Robbie Rotten "Meme of the Year," and posters from the subreddit poured money into a GoFundMe campaign for his medical bills.
Now that his illness has worsened, they're doing it again: Reddit is being flooded with tribute posts thanking Stefán for being both a great TV villain and a big-hearted real person who loves his fans.
A new Robbie Rotten "approval/disapproval" meme has emerged on Reddit, in the same vein as the Drake approval matrix and the Persuadable Bouncer. On top, Robbie pushes away something he doesn't like. On the bottom, he points to something that's pretty good, actually. For example: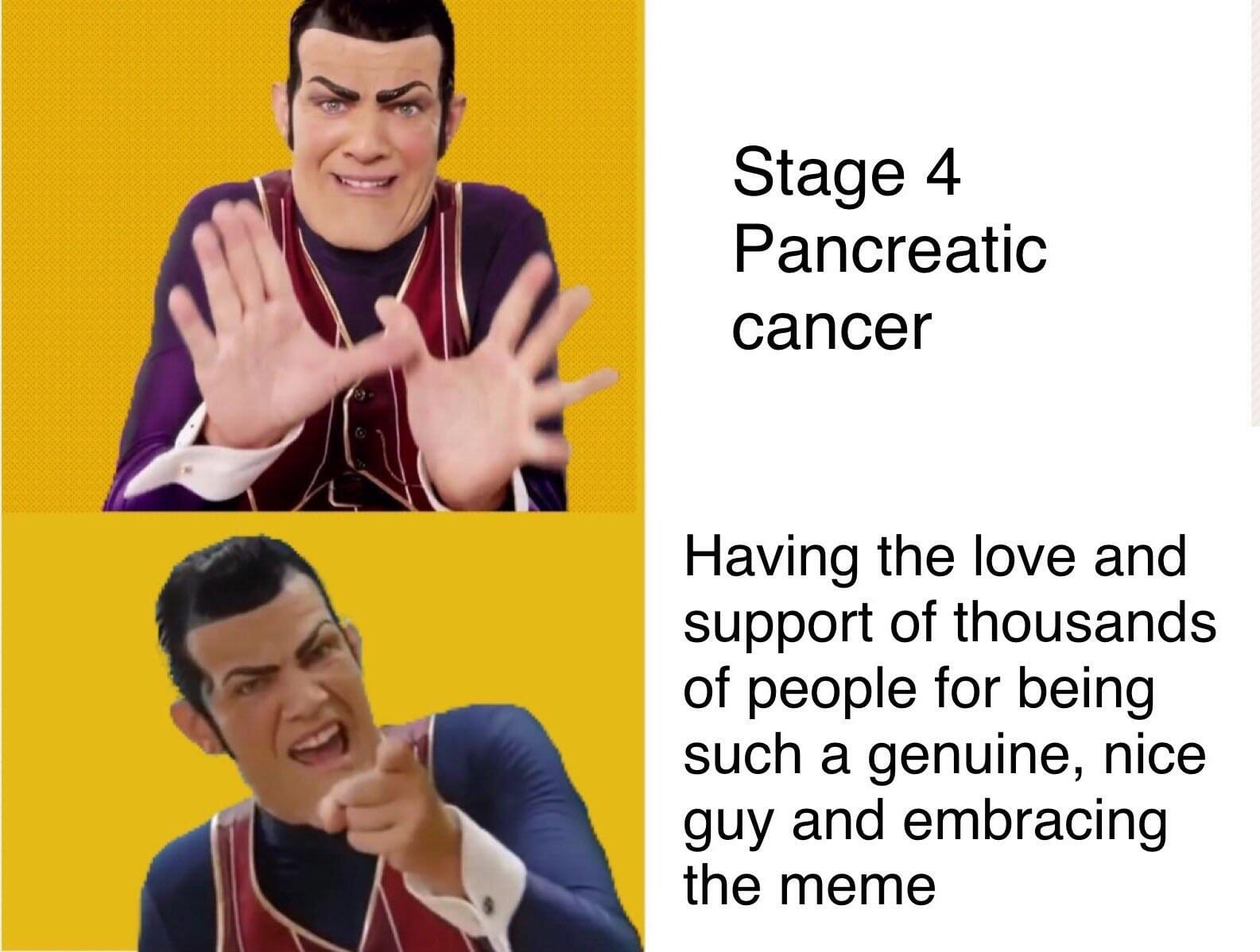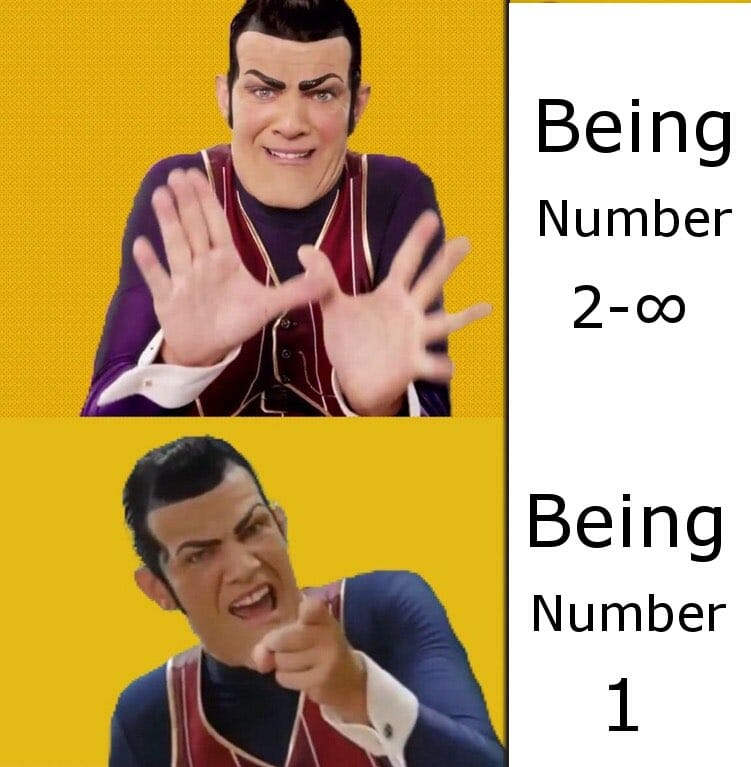 YouTuber Grandayy, known for his many, many, remixes of Robbie Rotten's signature song, "We Are Number One," has also tweeted about Stefán Karl's prognosis and has linked to the GoFundMe page from his YouTube videos.
But no matter what, he will always remain number one in our hearts ❤️

— Dr Grandayy (@grandayy) June 22, 2017
Although Stefánsson is back in the hospital and isn't ready to make a statement yet, he's clearly been affected by the outpouring of online support.
"Love and humility are unusual and so helpful through it all. I'm moved and very grateful," he wrote in Icelandic on his Facebook page, linking to a meme that said, "The memers may die, but the memes live on."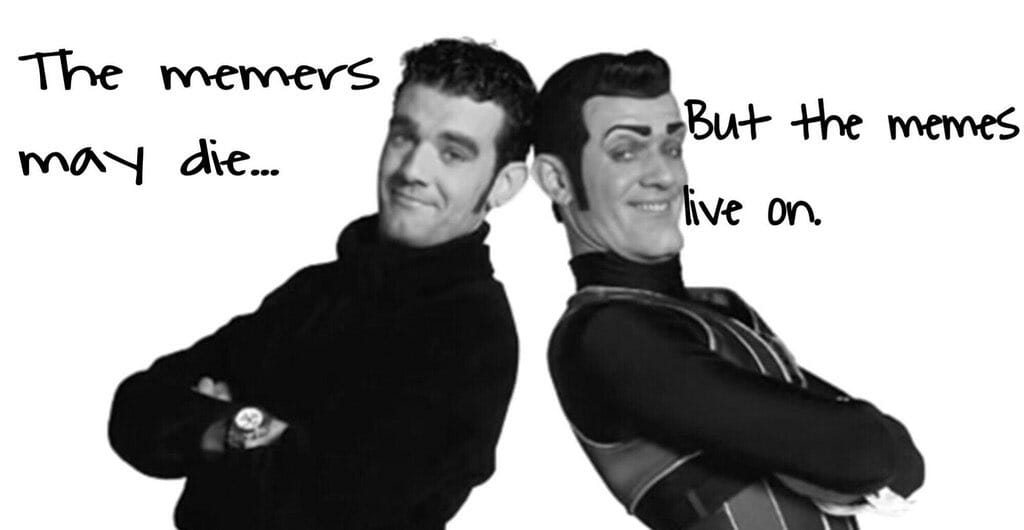 As for the fundraiser, it's now being repurposed to help Stefánsson's family get by after he passes, and meme freaks continue to donate to it. "I want us to raise a staggering amount so that Stefan will not have to bear the additional worry of his family's future, at least in the short term," wrote LazyTown head writer Mark Valenti, who runs the GoFundMe page.
Aside from his role as Robbie Rotten, Stefán Karl is probably most famous as the Grinch in the touring production of How the Grinch Stole Christmas! The Musical, which ran between 2008 and 2015. Since the '90s, he's been in films and theater productions in both Icelandic and English, and has done voice acting for major U.S. productions including Night at the Museum and Marvel's Thor. He's 41 years old.
Correction: An earlier version of this story mischaracterized Stefánsson's condition. He was diagnosed with pancreatic cancer in 2016. After surgery and chemotherapy, it seemed he had beaten it. But when he went to what was supposed to be his final check-up in June 2017, doctors discovered new tumors on his liver. He was diagnosed with stage 4 Cholangiocarcinoma, a bile duct cancer.