We live in an age in which it's become increasingly common for fandom to influence baby names—just ask the hundreds, if not thousands, of kids named "Daenerys" or "Khaleesi," for starters. And though parents may now have a bit of remorse over doing so, given the disastrous final season of the popular HBO series, at least they had noble intentions. Unlike, say, a couple who recently popped up on Reddit's Am I the Asshole (AITA) section, who came up with a rather unfortunate Star Wars name for their unborn daughter.
As the father explains in the post, appropriately titled "AITA for wanting to name my daughter after a Star Wars character?," he and his wife are apparently huge Star Wars fans and even met while camping out for the premiere of The Force Awakens in 2015. One year later, they were engaged (he proposed with a ring hanging off the arm of a Rey Funko figure, natch) and now the couple is about to welcome their first child.
He writes that while their friends and family have always "respected" (read: tolerated) their obsession, that changed when they revealed the Star Wars name they had chosen during a Zoom hangout.
"Captain-Phasma," OP writes. "The whole name, like Mary-Kate."
The father continues, explaining that their family and close friends "went from being happy and excited to appalled," and that they (not incorrectly) believe that they are "messing up the child for this."
"My wife and I were both bullied as kids, including myself for having a name associated with a girl (example: Jordan), and we think a strong name would make other kids in awe of our daughter," he continues. "Especially once you have the tie-in to Gwendolyn Christie, who is basically a warrior. Our daughter should be both respected and feared."
No, no, no, no, no. Between the already strong nerd genes combined with the asinine name, other kids might be "in awe" of their daughter, but not for the reason they think.
He adds that his parents are "begging" them to reconsider the Star Wars name and instead name their daughter "Gwendolyn" or "Brienne" for Christie's Game of Thrones character. However, he writes that it's "a sore point" for him because his wife watched the show behind his back and that his parents "know this."
It's almost as if Patton Oswalt's Parks and Recreation character manifested into real life!
At any rate, in addition to being shredded in the comments by an overwhelming majority of Redditors who thankfully agree with the couple's clearly exasperated family, the post also made it to the "Am I the Asshole?" Twitter account. Here, the post did not gain much sympathy, either.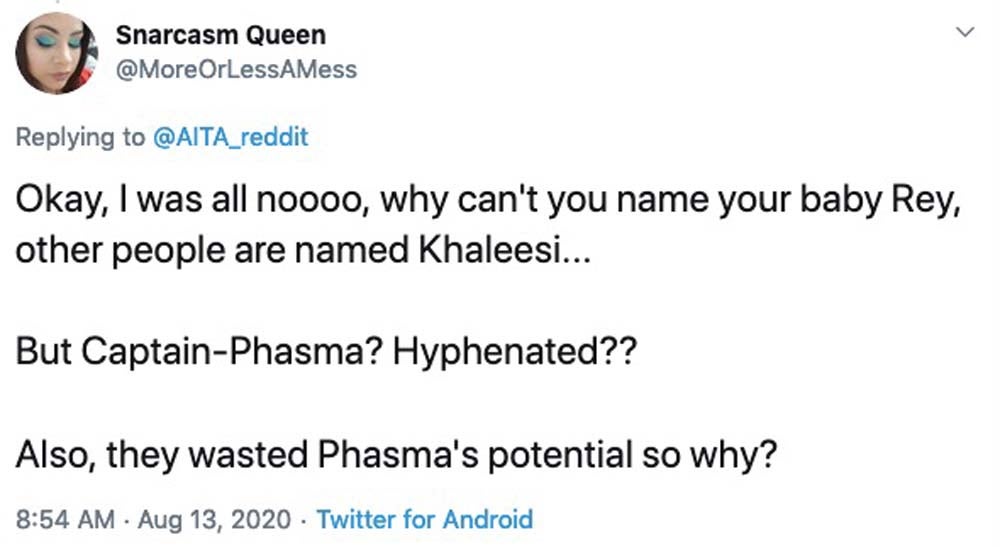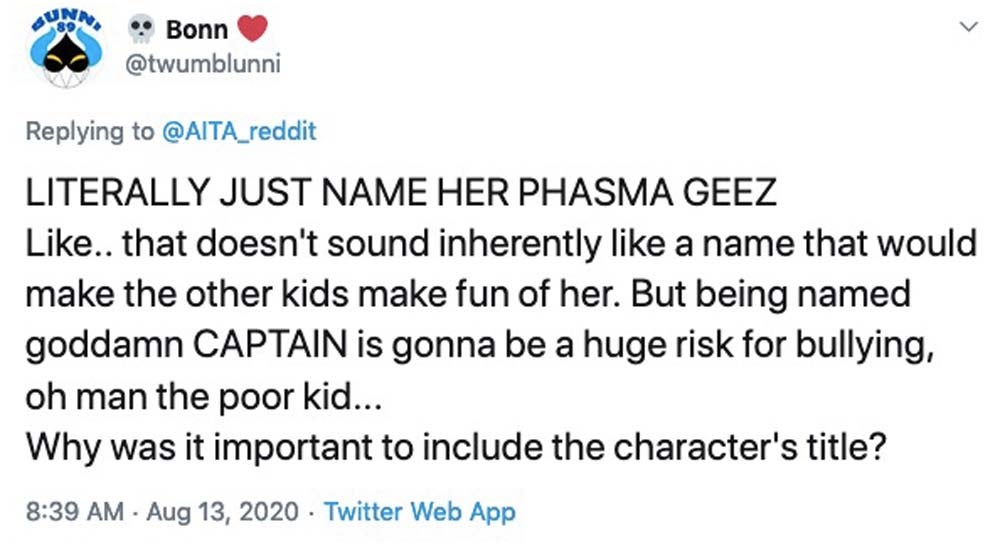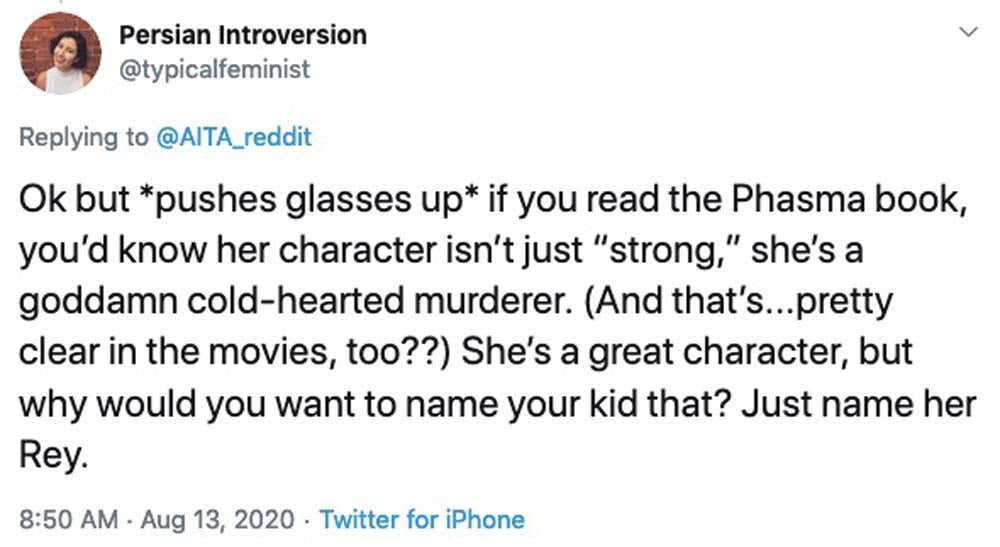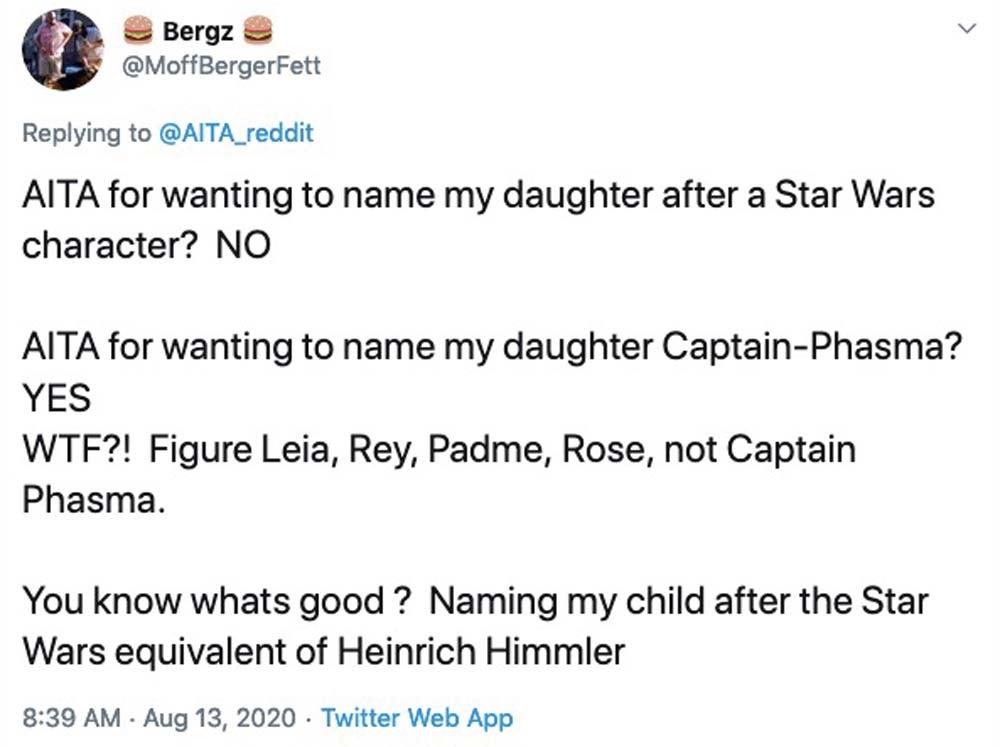 On a positive note, it seems as though cooler heads may have prevailed. In an update, OP writes that he was surprised at how negative the reaction was (really?) and that they're thankfully going to have a serious think about the Star Wars name before their daughter is born. He adds that his wife is "open" to a more normal-sounding first name.
You're welcome, unborn baby—hopefully your parents take the advice of the internet on this one.
READ MORE: