Snoop Lion has expressed his support for suspected murderer and former New England Patriots tight end Aaron Hernandez via Instagram.
The rapper, born Calvin Broadus, uploaded an image of himself and Hernandez to the photo-sharing platform on Thursday night.
"Keep ya head up!! We prayn 4 ya," the well-known marijuana enthusiast said to his 2 million followers.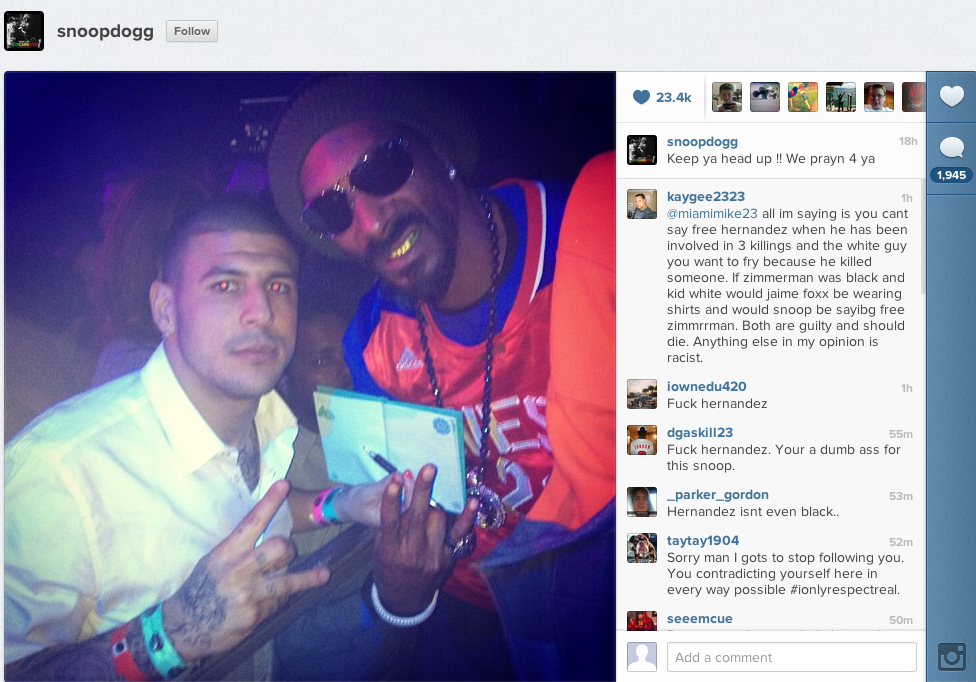 Hernandez is currently incarcerated at the Bristol County Jail in Massachusetts in connection to the death of Odin Lloyd. He's being charged with first-degree murder and, if convicted, could face life in prison without the possibility of parole.
As of this writing, the Instagram post has garnered more than 23,000 likes and close to 2,000 comments, the majority of them decrying Snoop Lion for uploading it in the first place.
"Sorry man I gots to stop following you," wrote Instagram user taytay1904. "You contradicting yourself here in every way possible #ionlyrespectreal."
"U should be praying for the family of the homie who got murdered!" remarked squares_28.
It's worth noting that the rapper himself has had a checkered legal past. In 1993, Snoop Dogg, as he was then called, was arrested and charged with the murder of a rival gang member. He was eventually acquitted of any wrongdoing.
Photo via Snoop Lion/Instagram