If you're a writer, you know that one of the hardest things about the craft is getting your ideas on paper. Fortunately, you're not alone. All the literary masters went through the same roughshod process. Take that time George Lucas almost gave the world Blarth Vader, or the time God advised us to Use Caution when inscribing the Ten Commandments. And, of course, the time F. Scott nearly introduced us to The #1 Gatsby.
Or so says the parody Tumblr, Shit Rough Drafts, which recently garnered a book deal for its creator, 22-year-old Paul Laudiero, after Chronicle Books dubbed it the winner of the Great Tumblr Book Search.
The account features whimsical takes on the proverbial "rough first draft" that lurks behind every great book, from the Bible to Fifty Shades of Grey. Featuring occasional flabbergasted remarks from a red editor's pen and a few guest appearances from rough draft screenplays, the Tumblr handily skewers the idea that the "rough" draft is something to be ashamed of. After all, who can deny the genius of an Argo penned by Matt Damon and Ben Affleck, set in Boston, Iran, or "You're gonna need an army of dolphins"?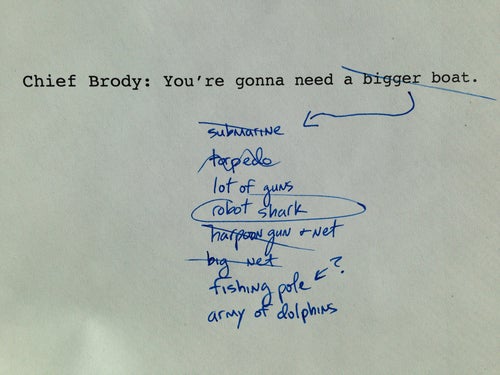 "While other Seniors in the humanities worry about what lies ahead," writes his former writing professor Laura Ellen Scott, "Paul has brought everything he loves together—literature, writing, and comedy—to give one hell of an answer to that most annoying question of all: what are you going to do with a degree in English?"
The answer, in this case, is mock your predecessors—not always an easy feat when faced with such daunting works as The Sisters Karamazov and Girl with the Non-Permanent Tattoo—and this week Shit Rough Drafts accepts that challenge head-on, tackling one of America's greatest literary achievements in honor of the film debut of The Great Gatsby.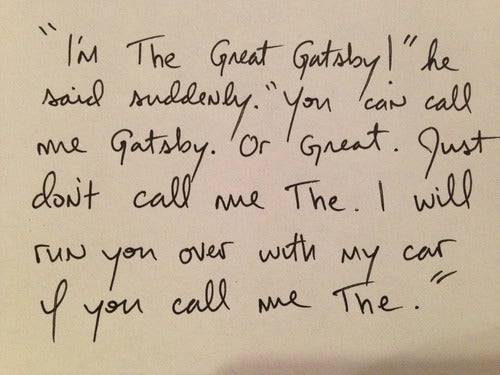 Fitzgerald's haunting jazz-age masterwork, with its story of class conflict, lost love, and steady disillusionment with the American Dream, has had its share of recent takedowns. Prior to yesterday's scathing decimation of Gatsby from critic Kathryn Schulz ("aesthetically overrated, psychologically vacant, and morally complacent"), perhaps the most well-known were the affectionate takedowns of the book from webcomic and lit geek Kate Beaton.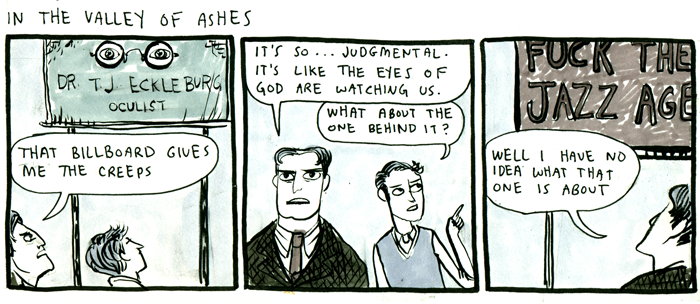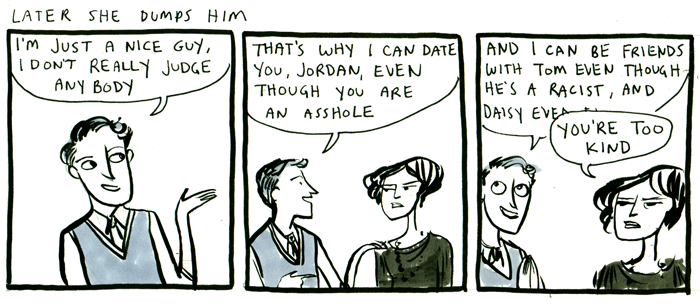 Shit Rough Drafts is in full-on "Shit Rough Gatsby" mode for this week's premiere of the much-anticipated Baz Lurhmann film. "[G]et ready for the GREATEST BOOK MOVIE OF ALL TIME. Old sport," the Tumblr instructed readers on Monday.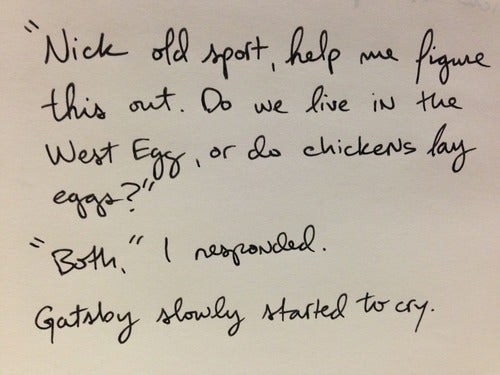 Though fanciful, quick-sketch spoofs of great works of literature may not be the most highfalutin way to update modern classics ("what's the Boo stand for?" "Boobies."), it's an ever-fresh way to make people smile. Laudiero, who does stand-up comedy and improv when he's not writing, knows better than most the comic value of a quick one-liner. Or four or five lines on paper, in this instance.
After all, if you can laugh at one of the greatest novels ever written, you'll be that much better equipped to laugh at yourself.
Or, at least, at your next shitty rough draft.
Photo via Young To Publishing