The people have spoken, and they want Scooby-Doo's Shaggy in Mortal Kombat 11.
There's a petition going around demanding that the bumbling Scooby sidekick be added to the upcoming fighting game. It may sound nuts, but it's actually totally in line with everything we've been seeing about Shaggy in the meme world recently. In short, Shaggy memes are blowing up.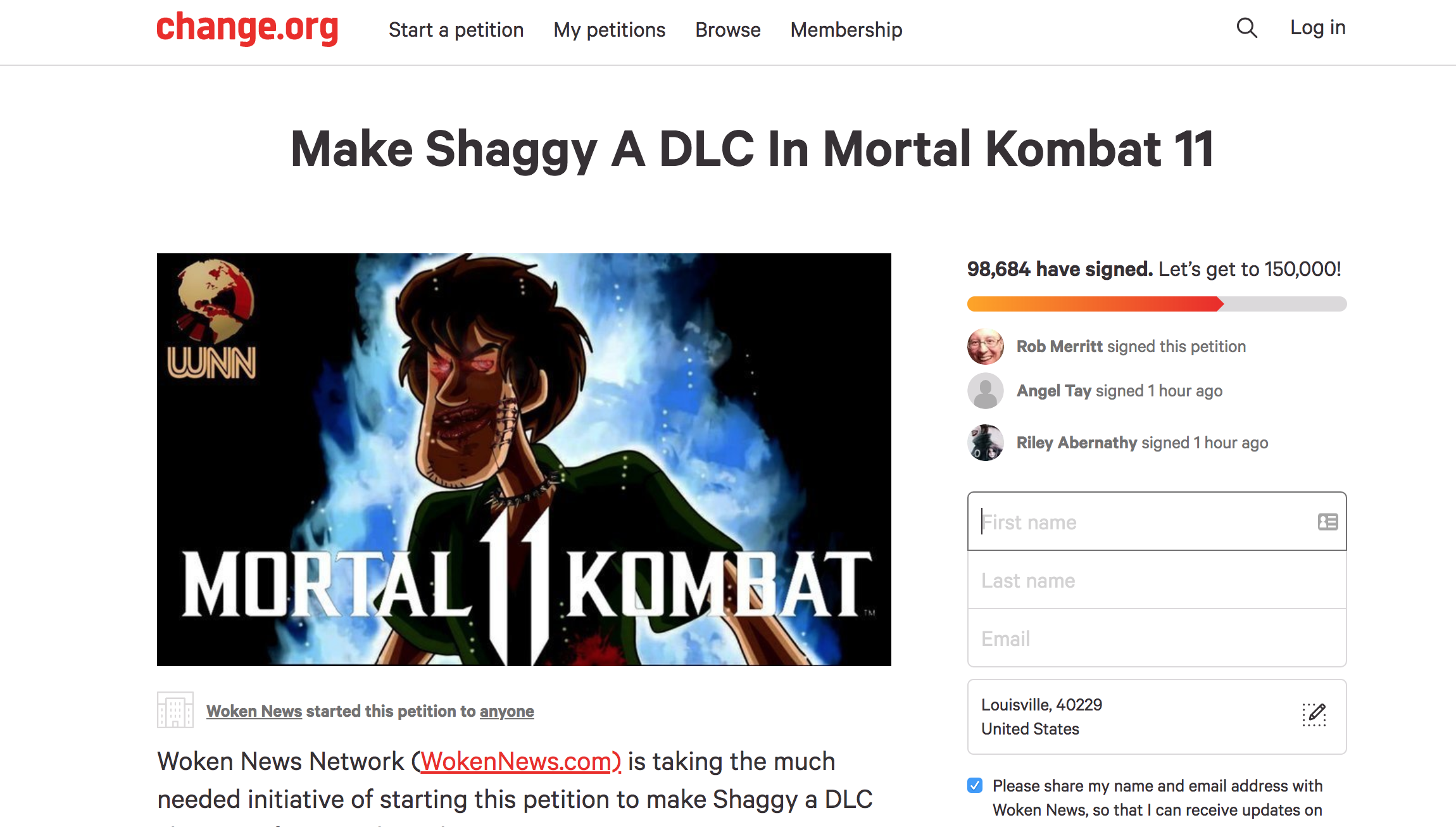 The petition, which was started one day ago by the Woken News Network, has already amassed over 94,000 signatures with a goal of 150,000. In just 24 hours, it managed to earn around 58,700 signatures. Woken News is a meme-tactic website is full of Onion-like joke articles, such as this one about how the Big Bang was caused by Shaggy himself.
Shaggy memes
As far as the meme itself, it looks like the origin can be traced to some clever redditors commenting on Shaggy's prowess in a street fight with some random thugs. When redditor muffler_kek commented "Like, you only made me use 10% of my power man" the comment received around 640 points, according to Know Your Meme. It was then that Shaggy was reborn as an all-powerful being that the internet knows to love and respect—because he might, like, erase you from existence otherwise, man.
From there, several more snowballed out of the silliness until it reached Chuck Norris-like levels of irony. Now, we're seeing tons of memes around the internet portraying Shaggy as the omnipotent being he supposedly is. The jokes don't stop. People want Shaggy. And they want him in Mortal Kombat 11 yesterday.
https://twitter.com/mrmusss/status/1089692638595465221
https://twitter.com/burgersamaDLX/status/1090068992763535363
Just found out there is legit a petition for adding Shaggy from Scooby Doo into Mortal Kombat 11. Not really a fan of the series, but you can bet I'll buy it if I can KO people with Shaggy! #LikeWhoaScooby

— Matt Ronchak (@MRonchak) January 29, 2019
I'll only buy Mortal Kombat 11 if they actually add shaggy in a dlc #MortalKombat11

— Alex King (@Aoking98) January 29, 2019
https://twitter.com/GATheHype/status/1090068075670618112
Please put shaggy in mortal kombat.

— baja blast pasta negra (@YourSharkGF) January 29, 2019
ya'll really wanna watch Shaggy get decapitated in Mortal Kombat, huh?

— Aaron Jason Espinoza (@TheAgentOfDoom) January 28, 2019
We want shaggy pic.twitter.com/LLSfQepfLT

— Iker De Gandiaga (@gandiaga_de) January 28, 2019
https://twitter.com/GunpukuNoHime17/status/1089987122256261124
https://twitter.com/hernichard/status/1089917296938758144
@MortalKombat @NetherRealm Please add shaggy to your game I will buy Mortal Kombat 11 immediately if you add him. pic.twitter.com/FS1YEYLdho

— Nikki Ashaka (@yuki_snow) January 28, 2019
https://twitter.com/SavinTheBees/status/1089743418954117120
I can't believe they made a petition to have Shaggy from Scooby Doo as a DLC for Mortal Kombat 11…and of course I signed it. #whatsnewscoobydoo pic.twitter.com/ddg7JQIQPI

— Angelo Munji (@AngeloMunji) January 28, 2019
A souped-up Shaggy has even attracted the attention of actor Matthew Lillard, who portrayed Shaggy in the live-action Scooby-Doo films. Beyond that, there's an entire subreddit dedicated to the jokes. It's a phenomenon all its own, but despite the wildly enthusiastic public reaction, it's safe to say at this point we're not going to be seeing Shaggy as DLC for the violent upcoming fighter.
Dear universe. Please never let this end. https://t.co/BStc2xhGYg@reddit is the best.

— matthew lillard (@MatthewLillard) January 27, 2019
Creator Ed Boon took to Twitter in response to the fans' outcry for Shaggy, though it didn't seem as though he was initially on board.
Let me know how that works out for you… https://t.co/0da0D4GJte

— Ed Boon (@noobde) January 28, 2019
But as the day crept on, it looked like even he was getting in on the fun. Even though he's clearly just making jokes, if this could somehow happen, it sure would make a ton of fans happy.
Hi? Lo? Mid? Grab? I will mix your shit up in fighting games! pic.twitter.com/nzCq4iskj7

— Ed Boon (@noobde) January 28, 2019
As for seeing Shaggy wreck his opponents in gnarly Mortal Kombat brawls? We'd totally be into it. Zoinks!
READ MORE: