Scotland's Tayside Police force handed 80 community officers smartphones in an effort to get them using Twitter and Facebook. However, 31 of the officers have yet to tweet.
Community officers received social media training, according to The Courier, with a dedicated app created for them to use when posting to Facebook and Twitter.
The idea behind the initiative to allow residents a chance to follow the police through the app to see exactly what officers are dealing with and where they'd been active, using the geolocation data in tweets. The force also hopes to let citizens interact with cops directly to know more about efforts in their area.
So far, however, the project has been in arrested development, with some officers tweeting completely unrelated activities.  
Constable Jim Mitchell sent one tweet that perpetuated a common stereotype, simply stating, "mmmm doughnuts." He hasn't quite got the hang of @replies, either, as he tweeted the following to no one in particular:

Another officer, Dave Gallagher, tweeted about looking for a break just after getting back to work.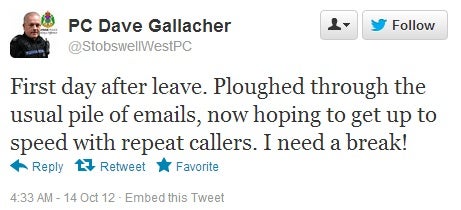 Other police departments around the world have experimented with similar efforts. The Seattle Police Department recently launched 51 geographically focused accounts to keep residents up-to-date on incidents.
However, some Scotland residents believe the initiative is distracting for officers.
'Taxpayers want [officers] paying attention to the beat, not coming up with something to tweet," Taxpayers' Alliance campaign manager Robert Oxley told The Courier. "Smartphones can assist officers in their duties, and the police should not ignore social media, but it seems a waste of time trying to get so many tweeting."
Tayside Police defended the adoption of Facebook and Twitter, claiming they're "used to engage, provide updates on incidents and operations, make appeals for assistance, and to seek help tracing missing people."
The smartphones came at no cost, according to a police spokesperson, as they were given to the force as part of a pilot project it's running with a mobile provider.
Photo by JD Hancock/Flickr