In the past two years, Ryan Gosling has thoroughly infiltrated Tumblr, was the unwitting subject of a Paul Ryan Twitter parody account, and disrupted the flow of Vine by refusing to eat his cereal. When will the Internet tire of his sleepy blue eyes and dashing heroics?
Hey girl, not anytime soon. The Gosling-ing of the Internet continues.
Hey Girl is a new Chrome extension that turns any website into a Gosling hall of mirrors. The plug-in references the ubiquitous "Hey Girl" meme and changes the images on any website you visit to a select number of Gosling pics. So if the front page of, say, CNN is really getting you down, the Chrome extension will Gosling-ify images of sinkholes, serial killers, and child abductors. (Don't worry, you can un-Gosling the site too.)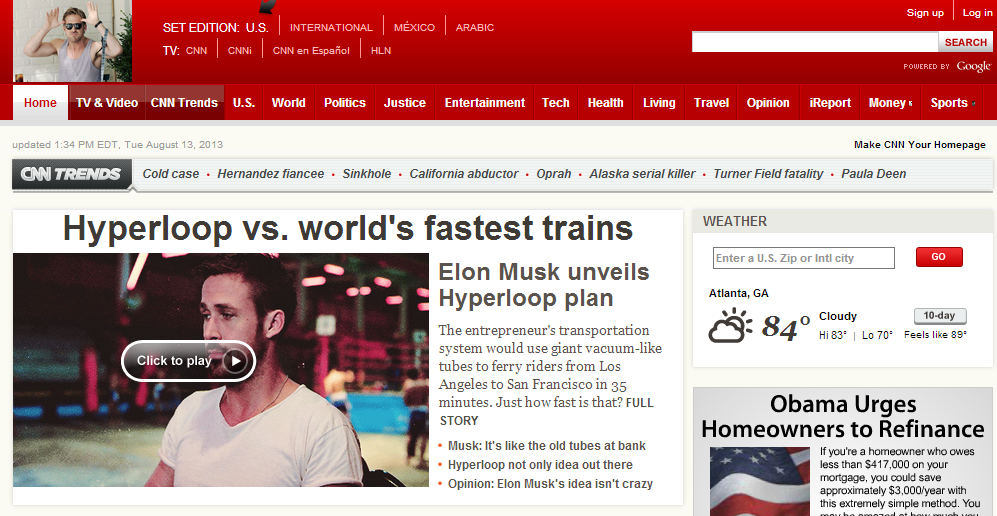 The extension was created by 25-year-old freelance developer Katherine Champagne, who is currently a student at Dev Bootcamp in Chicago.
"The idea came about as the result of a little challenge issued to me by one of my instructors, Kevin Solorio," she told  the Daily Dot. "My programming pair and I were having fun changing all of his Dev Bootcamp profile details to make him appear as if he was Channing Tatum, live in the browser with JavaScript. Kevin walked by our workstation and said, 'Now make it a bookmarklet.' I thought, 'Challenge accepted,' changed the concept to Ryan Gosling, and [Hey Girl] was born!"
So go ahead and add a Gosling gallery to the Al Jazeera website. Champagne said she definitely does not see any downside to this ongoing Goslingification:
"The more opportunities I have to look at that dreamy face, the better!"
Photo by discutivo/Flickr