Last year, during Rooster Teeth's 24-hour Extra Life livestream, host Caiti Ward was slimed with a mysterious green substance. A guy was tased. Hot peppers were eaten. This year, there will be a steamroller. It's all for charity, though.
Extra Life, the Houston-based platform that rallies gamers to raise money for Children's Miracle Network Hospitals, has partnered with Austin, Texas' Rooster Teeth since 2010, and last year it raised $1.2 million for the charity. This year it's trying to raise $1.25 million for Austin's Dell Children's Hospital; the entertainment company also recently opened the Rooster Teeth Healing Garden as part of the new Dell Children's Mental Health Unit.  
Twenty-four hours is a lot of time to fill, but Rooster Teeth's robust production and entertainment teams do their best to keep people engaged. Ward (who's appeared in Rooster Teeth series RWBY and Day 5) and husband Jack Pattillo of Achievement Hunter tell the Daily Dot that this year, some of the challenges will include a steamroller (to destroy "something of value"), Harry Potter trivia, a dunk tank (it took four years to get approval), a tattoo artist, moonball slingshots, and the return of the Wheel of Vengeance, which broke at one point last year.
https://www.youtube.com/watch?v=KsW2k-bJLk4
While they have to keep in mind things that are doable from a production standpoint, this year they're "trying to do as many extreme things as possible." Last year they tased Achievement Hunter's Michael Jones for donations (there was a medic on site), but there hasn't been mention of that happening again.
"They like seeing us in pain," says Pattillo.
While some gaming communities on YouTube have devolved into other activities, like spreading misinformation and pro-Trump political memes, Rooster Teeth's community has always seemed more positive and well-rounded, despite any sadism that might happen during the Extra Life stream. Ward says they just have "really dedicated participants."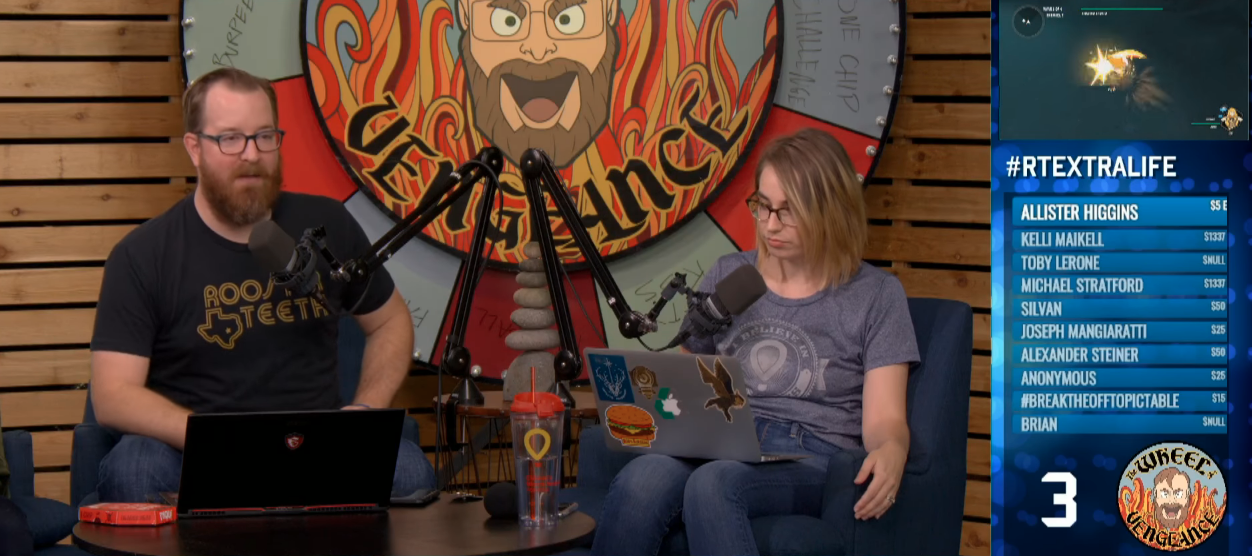 "It's not just the money raised for charity but that community," she adds. "Rooster Teeth really strives to be good role models in that way. …We talk a lot about community as the driving force."  
Proceeds from any Rooster Teeth merch purchased during the stream will also go to Extra Life.  
The livestream starts Nov. 10 at 8am CT and runs until Nov. 11 at 8am CT. You can stream it here, or on Rooster Teeth's Twitch and YouTube channels.
And don't worry, the talent is practicing self-care during the chaos.  
"We've started to take naps now," says Ward.