Inside a hangar in Austin, Texas, the dust casts an eerie glow that domes over a makeshift camp. Men and women stumble around tattered tents, looking dazed. It's the second-to-last day of filming season 2 of Day 5, Rooster Teeth's first dramatic series. Electra Avellan, who plays Paula, darts into frame, frantically calling for her son. Another take. Showrunner and co-creator Josh Flanagan looks a little frazzled. He stops to cough: Is it the dust or something else?
This particular episode was previously being filmed on location in Alpine, Texas, but a dust storm displaced the set. "On our lunch break, the wind just picked up our entire set and threw it," Flanagan tells the Daily Dot. "Giant chain link fences and totem poles and tents and everything. Everything magically became a sail and the wind took it."
Back in Austin, the dust has settled inside the studio, where a more detailed replica of the set lives. The dust has settled in my nose as well.
"It was definitely a journey getting here," he says.
Season 1, which debuted last summer, explored a mysterious event that kills anyone who happened to be asleep, or wants to go to sleep. A group of survivors attempts to keep their eyes open and discover a more ominous threat. In season 2, as survivors try to reach an "oasis," Flanagan says they're "looking more at sleep as a commodity."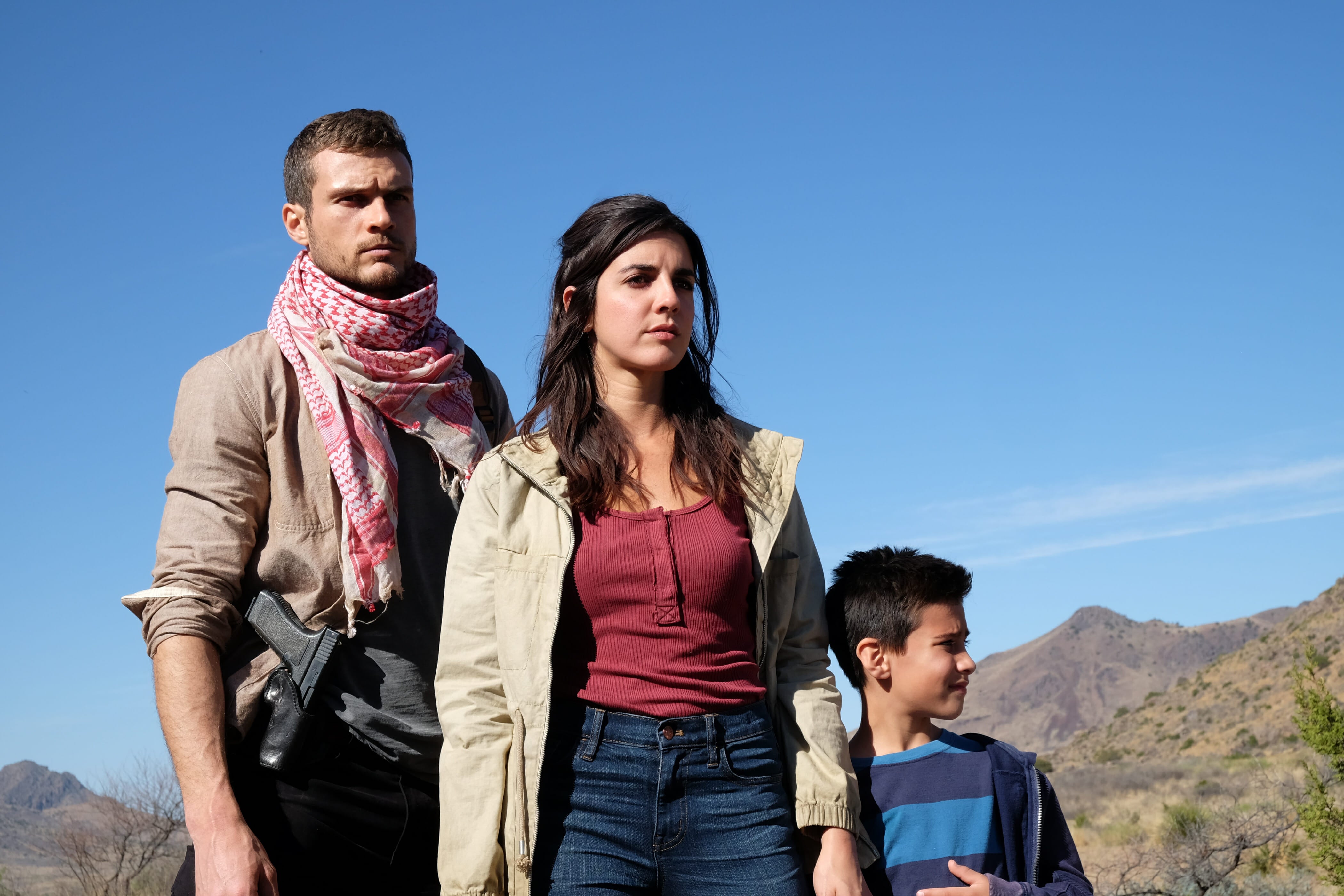 If season 1 was a "ground-level view of a crisis," season 2 has expanded to include more locations, viewpoints, and cast: Avellan, Ryan Cooper, William Sadler, Jake Busey, and Adriene Mishler are among the new additions, along with returning cast Jesse Boyd (Jake), Walker Satterwhite (Sam), Davi Jay (Ellis), and Ally (Stephanie Drapeau). With season 2, they "reached big," says Flanagan. For the season's big action set piece, they "took the Game of Thrones approach where there's a penultimate episode where there's a really big action pop."
Mishler plays Gabbi, a journalist following a lead in an effort to figure out the "point of origin" for the sleepocalypse. Mishler's also one of the forces behind the popular YouTube channel Yoga With Adriene, and over the last few years she's grown her audience with a different kind of performance. She took a break from her channel to get back into acting.
Mishler was drawn to the "complex" character of Gabbi. "She's a little bit zipped up," she says. "But it's really cool, given the circumstances of the story, we get to see her kind of unzip." In the scene they're shooting today, they're "the closest to sleep that we've ever been," says Mishler. "All hell has broken loose at this point."
Flanagan says they started writing season 2 last September with a proper writers' room, as opposed to season 1, which was more "internally" written. Within the first episode people are shot and stabbed multiple times. There are explosions and hallucinations. Survivors resort to self-abuse and experimental drugs to cheat death, and the villains are less clearly defined. A woman has to uproot her son and become a refugee. It's decidedly darker than season 1, but the character expansion gives the series some of the narrative heft it was missing.
There are still a few moments when you remember this is a Rooster Teeth joint, like a nerdy Call of Duty reference. On set, several crew members wore Jurassic Park shirts, perhaps an in-office nod to Jake's reference in episode 2. These lighter moments balance out the times when the acting gets static. Hopefully it gets a bit looser across eight episodes.  
Last summer, Flanagan said he saw a parallel between Day 5 and Nightmare on Elm Street. With the new season, that reference isn't as applicable: There's more of a human element, and commentary on what it means to be be rootless.
Day 5 is now streaming on Rooster Teeth FIRST.