The two things Reddit loves more than anything in the world are photos of ridiculously hot women and specious anecdotes about famous people. So when a redditor with the impossibly awesome handle coolsexguy420boner came forward yesterday claiming to have dated supermodel Kate Upton in 2007, Reddit predictably went bananas.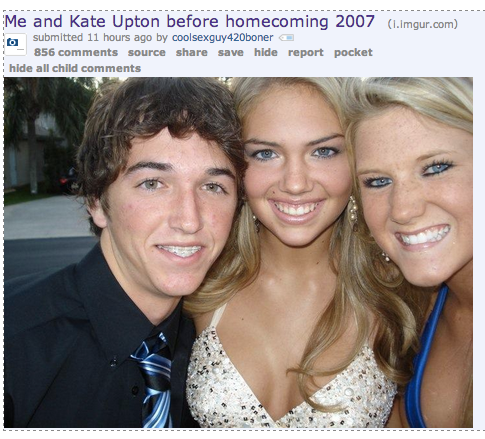 Coolsexguy420boner (I suspect that'll never stop being fun to type) first told his story on a comment thread for a photo of an 18-year-old Upton, when she was first signed by IMG Models. 
"I went to homecoming with Kate back in the 9th grade," he wrote. "We both went to the same high school (holy trinity in FL) and we 'dated' for a few weeks. She was a really sweet girl and the first girl I ever kissed. I changed schools my junior year of high school and haven't talked to her since."

Naturally, Reddit was skeptical: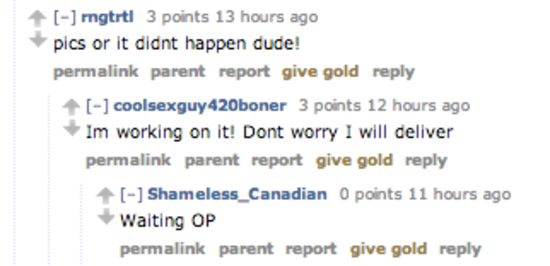 And oh boy, did coolsexguy420boner deliver. Earlier today, he posted the above selfie with Upton and an unidentified blonde female in r/pics, claiming the photo was from a 2007 homecoming dance. He also provided more details of his relationship with Upton, which apparently was fairly chaste and lasted only a few months:
The response on Reddit was split between two very different, but equally ridiculous, camps. Some commenters reacted with awe, as if they were basking in the warm glow of some divine being:


(You kind of got the sense that given the opportunity, some of these dudes would be totally down to have sex with the OP for having met Kate Upton, rather than Upton herself).
Others responded with bald-faced incredulity:
Whether coolsexguy420boner's story is legit or not (although honestly, I'm inclined to think it is—why else would someone post such an unflattering photo from their high school years, unless they needed proof they briefly dated a supermodel?), it's clear that most redditors want to believe.
Celebrity anecdotes like coolsexguy420boner's serve as proof that otherworldly, impossibly beautiful women like Upton are, in fact, mortal like us—and they also offer a sliver of hope that awkward-looking, orthodontia-laden dudes like coolsexguy420boner (yup, I was right, that never stops being funny) have a shot at them.
Hopefully Upton will chime in at some point to validate or refute the story, but wherever she is right now, we hope this is true:
Update: Apparently, coolsexguy420boner isn't as cool or sexually active as his username suggests. He just posted the following on the Reddit thread:
Okay so I have to confess that this isnt me in the picture and I never dated Kate Upton or anything of the sort. I found this picture on the internet and made up a bullshit story about it. Sorry guys.
We commend coolsexguy420boner for his honesty, but wonder why, if he was lying, he couldn't have come up with a more exciting story than "I took Kate Upton to homecoming and didn't have sex with her."
H/T Reddit | Photo via coolsexguy420boner/Reddit