Now you too can join the ranks of Dorothy Parker and Ernest Hemingway—and no, we don't mean you'll be moving to France or enjoying a homoerotic literary rivalry with your best frenemy. You can drink them under the Algonquin round table in Reddit's one-day Drunk Writing Competition.
The competition, the brainchild of redditor MathewBroderick on Reddit's r/writing forum, started yesterday at 5pm EST after a hilariously rambly set of rules that included "the more dreadful the writing style the better," and "don't break any laws." Stories of a minimum of 750 words each will be posted in the Reddit subforum through Noon EST today, with a $100 Amazon gift card going to the story with the most upvotes.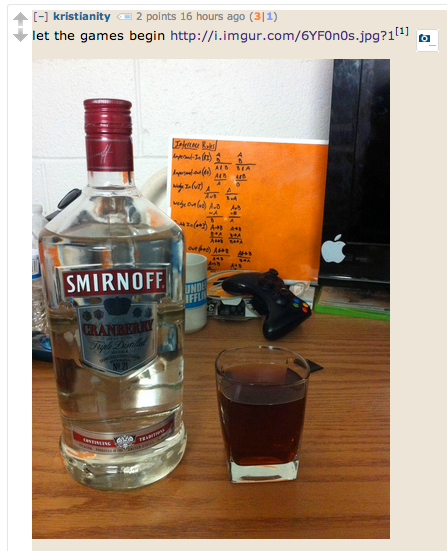 Here's a sample of what you'll find there:
"I HAVE BEEN SENT BY EVIL KING BIGGUS DICKUS TO COMPLETELY FUCK OVER THIS TINY INSIGNIFICANT TOWN FOR LITERALLY NO REASON, EVEN THOUGH YOU HAVEN'T REALLY DONE ANYTHING WRONG. IT'S BECAUSE HE'S EVIL, AND STUFF. BOO!"

The demons terrifying voice ripped through the air like a herd of particularly spooked wildebeest
It turns out ceilings aren't carpeted. At least, not here. Where's here? The blood is running down my face now that I'm upright. I know this because I've taken a fat finger underneath my nose and am holding it out in front of me. I'm letting the woozy boozy feeling wash over me as I sway to an invisible rhythm.

Bleary eyed, I make an assessment. Limbs intact? I pull my trousers out to make sure my little buddy is still there. The most important limb. Check.
… if you're going to start a business together without actually being business people, what you need between you is a common language of fart jokes and a friendship forged through fire. Otherwise, you'd have the foresight to avoid such a relationship. So, fuck you. THis starts in college.
Currently it's impossible to know who's winning thanks to what appears to be a rogue army of downvoters who have skewed voting on all threads. Not to worry; MathewBroderick has declared he will count only the invisible upvotes, come what may.
So far, the tone of drunk redditors writing has been more laid-back than you might expect from a website that frequently acts as the gatekeeper between 4chan, Anonymous, bronies, men's rights activists, and the rest of the Internet—sometimes all at the same time. 
Yet redditors have taken the challenge very seriously, clearly defying the contest instructions.
"The idea is to get a first draft full of mistakes and hilarity on the screen without edits," urged MathewBroderick. In other words, Reddit's writing competition is a mini-version of NaNoWriMo, but with more alcohol. "[It's] about writing like editing doesn't exist," he elaborated. "Spill your guts and raw writing."
The long line of writers who've written some of their best works while in the foggy haze of deep alcoholism include everyone from horror novelist Stephen King to Tin Pan Alley lyricist Lorenz Hart. (King recovered; Hart didn't.)
Apparently assuming they have a lot to live up to (or drink down to), some redditors appear to be taking the drinking part as seriously as the literary part. "I'm working on reaching a level of broken punctuation before I begin," commented redditor mattresscrane. Given that their big story idea involves a guy on a toilet, we're hoping they don't try writing from personal experience.
Actually, theirs isn't the only story featuring toilet humor (or just toilets). Maybe we should count ourselves lucky the competition contented itself with encouraging alcohol consumption and not anything harder. The stories also tend towards the lewd (if not flat-out X-rated), the politically incorrect (if not flat-out racist), and self-consciously meta. Several stories focus on the difficulty of writing stories. One story, written "after finishing 1 alcoholic egg nog + 2 Founder's Breakfast Stout's," opens thus:
The sign in front of me had me puzzled. It read: "Welcome to Boobtown…Where EVERYTHING is made of Boobs!"
Could it be? A succinct, simple metaphor for Reddit itself?
"Thank God I didn't end up ind Penisville!" I thought as I drove as fast as I could in the opposite direction.
…On second thought, maybe the only way to make this competition less embarrassing for everyone is to be drunk while reading it.
Might as well pass the egg nog, throw another log onto the fire—or another penis joke onto the pile—and join in.
Photo via Reddit