Fernando Alfonso III contributed to this report.
Quickmeme, the image-captioning site used by millions of Reddit users to share photos, has been banned from the social news site.
Reddit moderators and administrators have determined that Quickmeme has engaged in vote manipulation to drive traffic to its site.
The site-wide ban was announced early Sunday morning on Reddit's r/AdviceAnimals, a default forum with more than 2.6 million readers who have helped proliferate, and foster, the Internet's most popular memes—including Grumpy Cat, Overly Attached Girlfriend, and Scumbag Steve. (The people behind these memes have achieved significant financial success thanks to their Reddit popularity and have even landed movies, promotional deals, and commercials.) 
News of the ban broke on Reddit in the form of a Scumbag Steve meme, reading, "Owns Quickmeme. Becomes mod of AdviceAnimals, uses vote bots to squash any other meme website." The image was posted to r/AdviceAnimals Saturday evening by redditor jokes_on_you, sparking an active discussion about the ban.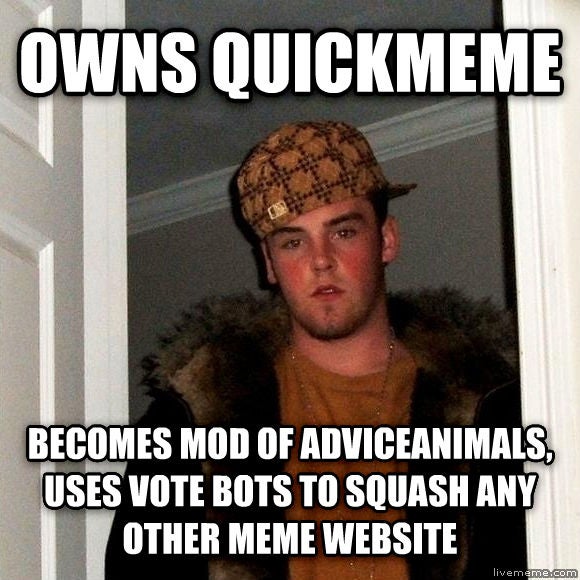 In a subsequent comment, jokes_on_you provides a few more details and links to support the allegations of he and his fellow redditors. 
So it turns out /u/gtw08 [a mod on /r/AdviceAnimals] is the owner of quickmeme. Here is an article about Wayne Miltz, who owns Miltz Media with his brother. Miltz Media owns quickmeme proof. Both of these articles are public and therefore do not violate reddit's rules regarding personal info. /u/manwithoutmodem, /u/yourfriendshateyou, and I have found evidence of this and of vote manipulation. Here is some evidence of vote manipulation.
Then, in a bizarre twist, the Reddit bot qkme_transcriber (which, as its name suggests, transcribes memes for redditors who may be blocked from seeing the hosted image) was quick to post a statement about the ban, denying any involvement with vote manipulation or direct connection to Quickmeme. 
I have absolutely no affiliation with Quickmeme or its owners or management, nor have I ever been in any contact with them. I was created to provide a service for the reddit community.
Qkme_transcriber goes on to explain, "For the time being, I'm out of a job. I am only programmed to work with Quickmeme links, and Quickmeme links are now banned. … If you want me to be able to work with other meme generators, let them know."
Gaming Reddit for traffic has become a regular frustration for the community, which boasts more than 22.9 million monthly visitors in the U.S. alone. This is particularly true within Reddit's default subreddits. All new Reddit users are automatically signed up as subscribers of the site's default subreddits, which include r/AdviceAnimals, r/Atheism, and r/Politics. And as such, content submitted within these subreddits are regularly featured on Reddit's front page each day and capable of being clicked on by more than 1 billion people.
This has resulted in the media organization like the Atlantic and Bloomberg Businessweek paying off influential redditors to promote stories. These organizations have even had their own staffers embed themselves within Reddit to spam the site daily with links to their articles. Such activity has resulted in domains being temporarily banned on Reddit. It has also made redditors hypersensitive and paranoid about businesses taking advantage of their communities. This has particularly been the case on r/AdviceAnimals.
In March, the moderators of r/AdviceAnimals addressed concerns regarding reports that Quickmeme links resulted in malware alerts. The r/AdviceAnimals community called for Quickmeme to be banned, while the moderators argued that such a move should not be "done on a whim." Despite a handful of redditors posting screenshots of their Internet browser generated spam alerts, Quickmeme joined the Reddit thread to officially state that they "don't support malware/adware viruses etc."

All traces of Reddit's logo were missing from Quickmeme's site at the time of writing. An attempt to post a link to a Quickmeme page returned an error message: "quickmeme.com is not allowed on reddit: manipulation of reddit."
Quickmeme was started in 2011 by Stephen and Wayne Miltz. Today, it is one of more than 10 different sites the brothers own under their company Miltz Media. In April 2012, Quickmeme alone collected more than 70 million unique visitors a month and about a half-billion page views in that same time, US News reported. 
"I think this is just the beginning, too, as far as our reach out there with memes," Wayne Miltz told US News. "[B]ecause it's just starting to hit what I call pop culture, whereas before it was popular with more tech-savvy culture for the longest time."
UPDATE: Quickmeme has broken its silence regarding the ban. See its complete blog post here. 
Photo by secagle/Flickr