Ray Fisher, who portrayed Victor Stone and the superhero Cyborg in Justice League, is alleging abusive and gross behavior by director Joss Whedon during the Justice League reshoots.
Fisher first hinted at Whedon's alleged behavior over the weekend on Twitter when Fisher shared a video of himself and Jason Momoa (who played Arthur Curry and Aquaman in Justice League). The video is from San Diego Comic-Con 2017, where Fisher and Momoa were promoting Justice League with Whedon, which would be released later that year. In the video, Fisher is praising Whedon.
"Joss is a great guy and Zack picked a good person to come in and clean up, finish up for him," Fisher says in the video.
He is now saying that he would like to "forcefully retract every bit of this statement," though he didn't say why he wanted to retract his statement.
On Tuesday, Fisher directed his comments directly toward Whedon and Whedon's alleged enablers Geoff Johns (who was DC Entertainment's chief creative officer until June 2018) and Jon Berg (a Justice League producer who was Warner Bros.' co-president of production until December 2017). Cyborg was Fisher's first major film role.
"Joss Wheadon's [sic] on-set treatment of the cast and crew of Justice League was gross, abusive, unprofessional, and completely unacceptable," Fisher tweeted. "He was enabled, in many ways, by Geoff Johns and Jon Berg. Accountability>Entertainment."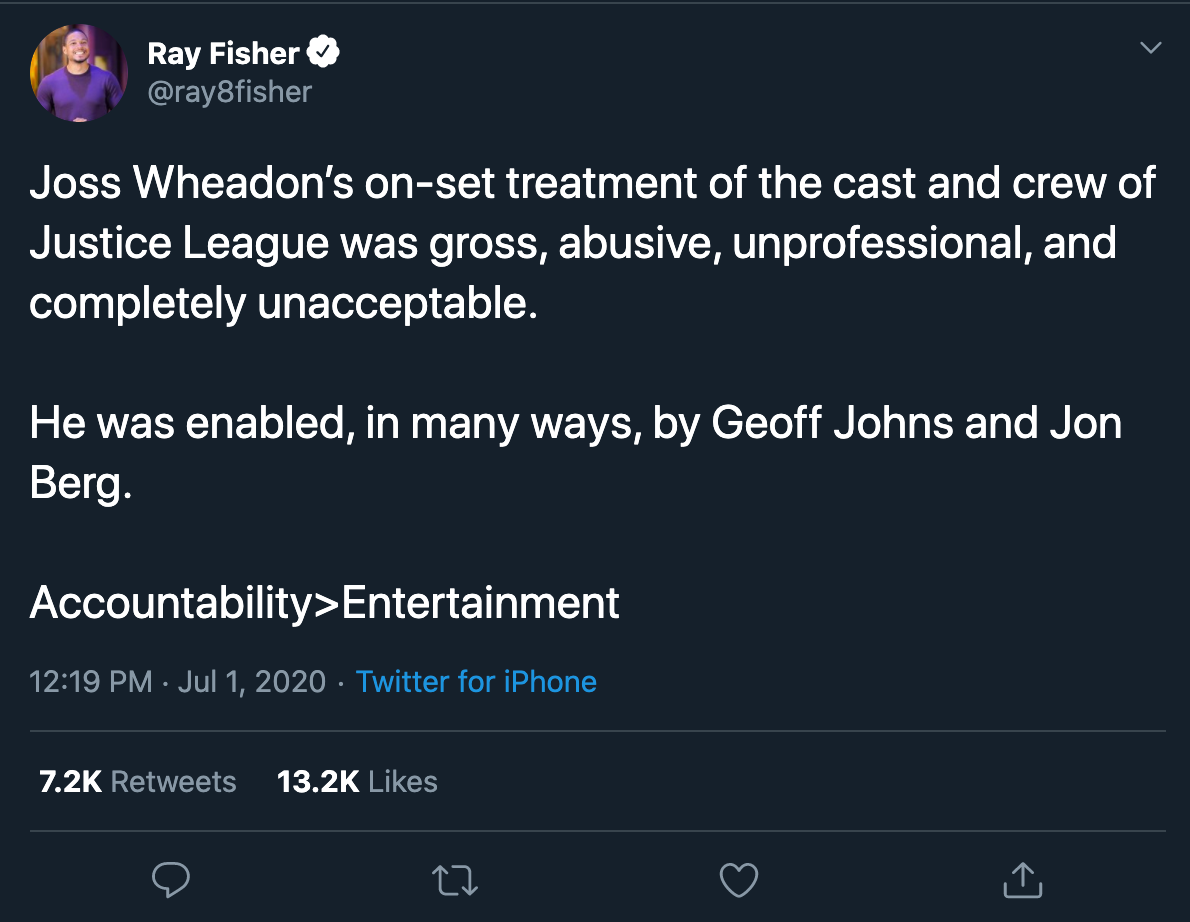 The Daily Dot has reached out to Warner Bros. and Whedon for comment and will update if we hear back.
Whedon took over filming Justice League in 2017 after original director Zack Snyder left the film following a family tragedy, and among the biggest changes between Snyder's version and what we ultimately saw was how Cyborg was handled.
Fisher was among the many Justice League cast members who supported the fan campaign to release Snyder's version of Justice League; his Twitter bio includes the hashtag #ReleaseTheSnyderCut. In May, WarnerMedia announced that the Snyder Cut will be released as an HBO Max exclusive.
And Cyborg's story might just be the one to get the biggest change between the theatrical and Snyder's version of Justice League. Last month, Snyder called Fisher "the heart of my movie" after Fisher praised Snyder and screenwriter Chris Terrio for putting him in the movie and giving him the chance to help shape his character's story.
H/T IGN