Just before Thanksgiving, people started to notice a weird new product in Target stores. Original Prongles come in the same style of tube as the popular chip brand Pringles, and they even share half a motto (Pringles: "Once you pop, the fun don't stop!" Prongles: "Once you pop … that's great!"). But Prongles are better than Pringles because they have a badass extreme sports pig on the can, I guess.
Prongles went viral Nov. 21 after this tweet from BuzzFeed's Kat Angus, who couldn't stop staring at the bizarro Pringles ripoff:
this photo just keeps getting better the longer you look at it pic.twitter.com/Fff15285i1

— Kat Angus (@katangus) November 21, 2017
The chips subsequently got coverage on Grubstreet, Mashable, and other notable websites.
But what was the deal? Who made these, and how did they end up in Target? Even Googling Prongles is a pain in the butt ("Did you mean Pringles?"). Fortunately, one curious Prongles consumer managed to crack the case.
In a series of photos on Imgur, the user documented his investigation into the origin of Prongles. First, he bought a can at Target and noticed they rang up as "CAH Card Game." Then he peeled back the label, revealing this: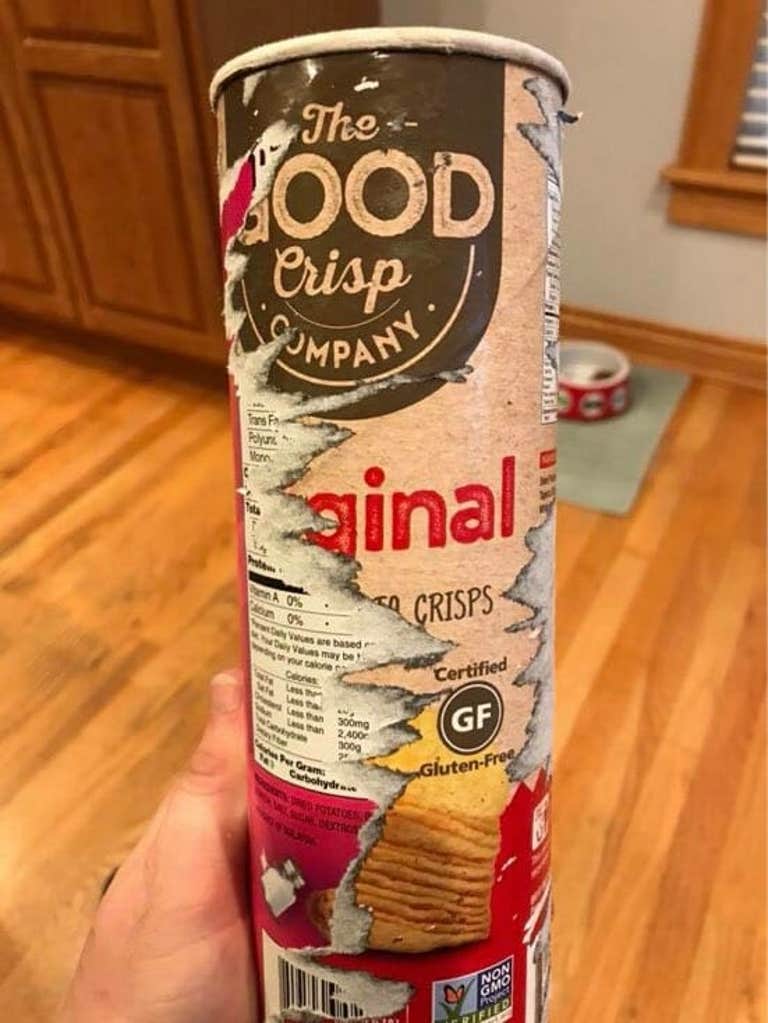 An address on the hidden "Good Crisp Company" label traced back to the Chicago offices of popular misanthropic party game Cards Against Humanity—"CAH." Mystery solved!
The website on the can, OriginalProngles.com, is a rad, funky-fresh pastiche of '90s snack advertising, and it includes an amazing FAQ page that will clear up any lingering questions about the chips. And about the mascot:
That's Brayden, the Prongles hog! Wild hogs are one of the only animals that will eat potatoes. Brayden loves extreme sports and lives life at one speed: WHOLE HOG. He also loves to cool down with a can of Prongles while hanging out with his best friend, Justin Bieber.
It also claims that Cards Against Humanity is a chip company now, and doesn't make games anymore—because "the snack food industry is bigger and more profitable than the board games industry." This is an obvious joke because you can still buy Cards Against Humanity on their main website.
Effective today, we are leaving the games industry. It's time we focus on our real passion: revolutionizing snack food with our new brand, Original Prongles! https://t.co/hxNqJOB7Ch

— CardsAgainstHumanity (@CAH) November 24, 2017
On Monday, Cards Against Humanity's Max Temkin explained the wild process of getting the chips onto shelves, which took nearly two years.
"The setup of the joke is for Black Friday, the most commercial and business-y day of the year, we make the worst possible business decision," he told the Takeout. "The secret that makes it work is that we worked harder on this than anyone would reasonably expect."
Good prank, though. Everyone loves it, and Twitter is on Prongles overload this week.
Sooooooo how did everyone's Black Friday shopping go? Did you manage to beat the crowds and score your Prongles? pic.twitter.com/MC53PUsgxl

— Alan Denton (@AlanTheWriter) November 25, 2017
@PronglesChips "Daddy, I want my favorite chips, Prongles." #onceyoupop pic.twitter.com/N7sY4FAf86

— Brian Glass (@btglass) November 27, 2017
https://twitter.com/TrailerDrake/status/935220605812649990
I haven't yet gotten to the point where I don't immediately bust out in joyful laughter when thinking about Prongles. https://t.co/CxKg7nYyGZ

— Ryan ⭐️ (@ftcup) November 27, 2017