What's worse than finding out your has been laptop stolen from your hotel room?
Try getting back from the security desk and finding that the the machine has returned and that it's been used by someone else. Would you ever be able to trust that computer again?
That's just what happened to Jens Kyllonen, a Finnish high-stakes poker player who was the victim of theft and hacking in Barcelona last weekend. For Jens, it gets worse. In addition to personal documents and finances that we all keep on our laptops, his computer has access to the online poker accounts that hold much of his wealth and provide his livelihood. It might be the most valuable piece of property he owns.
Jens, who competed in a €1.7 million Euro ($2.25 million) tournament in Barcelona last week, busted out of the European Poker Tour's main event at 3:30 pm on Thursday, Sept. 5. He planned to forget his loss and unwind by surfing the Web on his laptop.
No such luck. First, his electronic room key wasn't working. When he finally got into the room, his laptop was missing. At a hefty 17.3 inches and 10 pounds, his Fujitsu Celsius laptop wasn't easy to miss.
Here's where things get positively bizarre.
Jens left his own room to ask his hotel mate about his missing machine. When he returned 10 minutes later, the machine was back.
"My heart jumps, my mind is racing, for a second or two I'm doubting my sanity," he wrote on poker community twoplustwo.com. "This is when I get scared. Someone has been in my room during this short period of time, for what I know he could be hiding under the bed or in the bathroom right NOW."
Jens ran to hotel security. When he got back, the machine had been stolen again. After Jens demanded a room change, the machine was found a short time later on the second floor.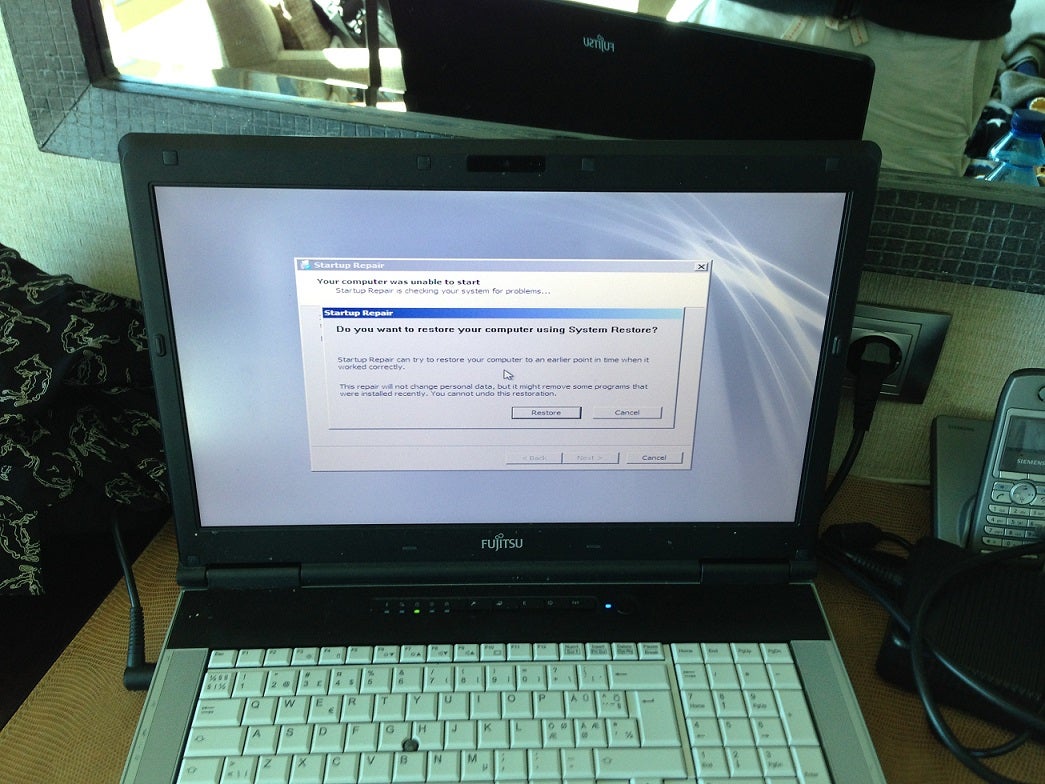 Hotel security was no help to Jens. Eight security cameras had malfunctioned during that day including the cameras covering the hotel lobby, Jens' hallways and the second floor where the machine was found. 
Later that day, hotel security and Pokerstars, a major sponsor of the event, confirmed that multiple break-ins had occurred and at least two laptops were stolen. Jens says that many more players have been hacked this weekend. Barcelona police are getting involved.
Forum users on twoplustwo.com are lining up to tell stories of shoddy security at the hotel and at other poker tournaments.
A professional poker player is the perfect target for hackers because very few people have more to lose on their machines. A poker player's whole life might be saved on his or her hard drive.
Keyloggers can steal passwords for poker room accounts, e-wallets, bank accounts, and email accounts thus gaining access to the player's every cent. If the hacker wants to keep the pressure on for the long term, remote access screen-sharing programs can sneak a peek at a player's hole cards when they play poker online, rendering them useless against the wrong opponents.
The investigation into the thefts is ongoing.
Photo via olivier duperray/Flickr