If you're from the Austin, Texas area, you're probably familiar with Pluckers Wing Bar. But you may want to pass up a visit after Pluckers' latest tweet, lest you grab a side of male pregnancy with your wings.
On Monday night, the official @Pluckers Twitter account posted a picture of Phineas Flynn from Disney Channel's Phineas and Ferb with a bulging, seemingly pregnant belly. Phineas, who is presumably teenaged or younger, has both of his hands on his comically enlarged stomach and is looking down at it, smiling, along with a small heart next to his face.
@Pluckers captioned the picture with: "me after all you can eat wings." It racked up over 2,800 retweets, 7,700 likes, and over 1,000 replies.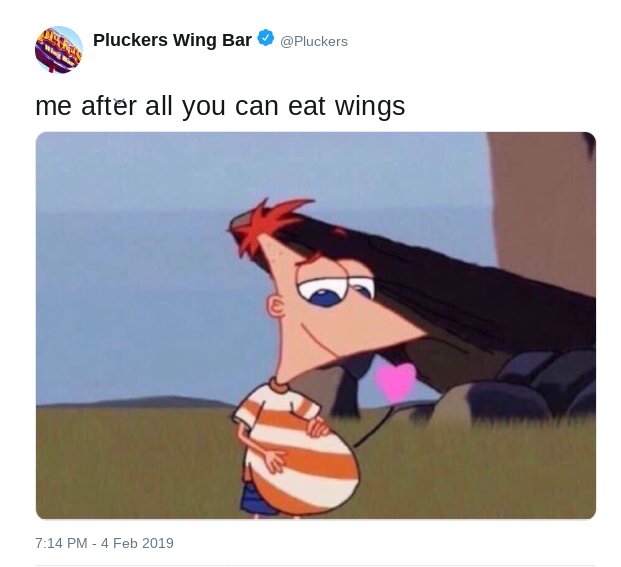 For the uninitiated, @Pluckers' tweet is a fetish edit seemingly referencing one or more kinks: "mpreg," or male pregnancy, "feederism," or sexual gratification from consuming a large amount of food, and/or "voreaphilia," or sexual gratification from consuming another person.
https://twitter.com/SpaceDoctorPhD/status/1092942193692758018
All three kinks are particularly common in fandom circles, with male pregnancy regularly satirized on the internet. Case in point, here's SpongeBob pregnant with Shrek's baby.
I'm so, so sorry.
Anyway, Pluckers' tweet isn't going viral just because it's a kink edit: it's 18+ artwork of an underage character. Phineas is at least under 15 years old according to the Phineas and Ferb Fandom Wiki. Add fetishism into the mix, and Twitter showed zero chill toward Pluckers' tweet.
February 5, 2019
February 5, 2019
February 5, 2019
February 5, 2019
https://twitter.com/SuperConnor64/status/1092882643656466432
Something isn't right pic.twitter.com/plMwfgZI2m

— Roach (@SleepyCyndaquil) February 5, 2019
February 5, 2019
Others were tortured with their forbidden knowledge about mpreg and feederism. They understood why the @Pluckers tweet is going viral, and yet, they couldn't reveal their Extremely Online exposure to the DeviantART kink world.
I hate that I can explain the replies to this on-the-surface innocent tweet about being full https://t.co/S0ZigwSVGk

— Gene Park VII Remake (@GenePark) February 5, 2019
https://twitter.com/ossancon/status/1092965267167014912
if I wake up tomorrow and see the fucking pluckers wing bar phineas mpreg shit on my dash again, I'm personally gonna block a bitch. Good Night

— Cheeky (@CheekyMonados) February 6, 2019
Some even wondered if Pluckers was aware that the meme was a kink post of an underage character.
in today's episode of brands trying to be relatable: pluckers tweets an mpreg phineas and ferb edit https://t.co/9r0NhOYfE3

— نمر (@nascissism) February 5, 2019
Brands, please hire people who will be able to tell you if something is a kink edit before you post it https://t.co/NtgHkQ1xLr

— Petrana 冰冰 Radulovic (@Pet_rana) February 6, 2019
https://twitter.com/AzureAceHD/status/1093148222212718592
It's unclear for now. But if brands are turning toward depression and kink edits of children's cartoons to reach customers, late capitalism is about to get very interesting.
https://twitter.com/banditVEVO/status/1092930553416900608
Lest we forget the time Barnes and Noble tweeted Pokémon vore pic.twitter.com/uLLNFLclSu

— YARD YARD DAYS (@0llieD0g) February 6, 2019
Update 11:50am CT, Feb. 6: After the Daily Dot approached Pluckers for comment, the restaurant chain deleted the tweet and apologized for its "hidden meaning."
"The effects of this tweet were unintentional. Much like us, the hidden meaning was lost on our fan base as well since we regularly receive much bigger responses to our tweets," Pluckers told the Daily Dot over Facebook Messenger. "We apologize for our ignorance and anyone that we have unintentionally offended, and have since removed the tweet."