When something goes viral on TikTok and Twitter and Tumblr all at once, it's usually not for positive reasons. But in a rare moment of cross-platform solidarity, everyone is obsessed with comedian Kyle Gordon's new song "Planet of the Bass."
Captioned "Every European Dance Song in the 1990s," this TikTok song affectionately parodies bands like Aqua and LaBouche. Like many classics of the genre, it combines upbeat techno with nonsensical lyrics performed by a female singer and a guy with a growly voice.
It's also unbelievably quotable. Come for "When the rhythm is glad/There is nothing to be sad." Stay for "Life, it never die/Women are my favorite guy."
Kyle Gordon credits "Planet of the Bass" to the perfectly-named DJ Crazy Times and Ms. Biljana Electronica. And yes, there's a full-length version coming soon.
Film critic Mark Harris remarked that the song is so accurate, he could imagine profiling this band when he worked at Entertainment Weekly in the 1990s: "We absolutely would have given these two a full page with a photo shoot and a very short story that tried to get around the fact that they spoke no English."
'Women are my favorite guy' memes
While basically every line in "Planet of the Bass" is a masterpiece, "Women are my favorite guy" is really taking off. It encapsulates the magic of Eurodance songwriting, combining positive vibes with a statement that doesn't entirely make sense.
Also? Maybe women are your favorite guy. Extremely relatable.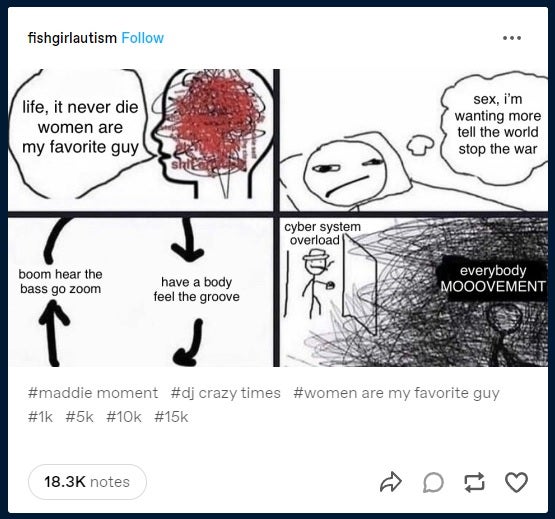 The song's Tumblr virality makes sense because the platform was already primed to enjoy this style of parody. Last year, a viral text post broke down the core tenets of the Eurodance genre, setting up the exact same format as Kyle Gordon's TikTok:
"All you need to make eurodance is one female vocalist (mediocre-to-incredible), one male vocalist who Cannot sing but can say shit like 'I'm a sex king man with a party plan / international nation hand in hand. in a deep voice, and an apartment somewhere in italy."
In other words, Ms. Biljana Electronica and DJ Crazy Times. An unbeatable formula.


We crawl the web so you don't have to.
Sign up for the Daily Dot newsletter to get the best and worst of the internet in your inbox every day.