It's no secret that SWAT raids have been on the rise ever since their 1960s inception, in accordance with the militarization of American police—a phenomenon heavily scrutinized following protests in Ferguson, Mo., last month. They're so commonplace, in fact, that Internet trolls can easily dispatch teams to the homes of their enemies for revenge (or just a sick thrill).
Even so, just witnessing one of these forced entries is apparently now grounds for arrest: a Gresham, Ore., man says he's been slapped with criminal charges and a $5,000 fine for filming men in combat gear who were serving a search warrant across the street from his apartment early on the morning of Sept. 2.
"4:00am I was laying in my apartment sleeping an I heard multiple bombs blasting and glass breaking and my entire apartment shook repeatedly," he explained in a YouTube post under the name Skylow Productions.  
Grabbing his iPad, he ran outside to find "5 or more Tank/Military Trucks just cruising" through the neighborhood. When he began filming, he was ordered to stop "interfering" with the raid.
The cameraman, identified as 27-year-old Fred Marlow by Photography is Not a Crime, wrote that he was charged with refusing "to obey a lawful order by the peace officer" and resisting arrest. He stated in an interview that the arresting officer, a "Sgt. McGowan," assumed he was drunk because of a gait affected by a titanium rod in his leg from a car crash nearly a decade ago, and tried to breathalyze him. In the days following the incident, he has set up a number of websites devoted to exposing and discussing police brutality, as well as a crowdfunding page to raise money for the dubious fine and legal fees. He's raised more than $800.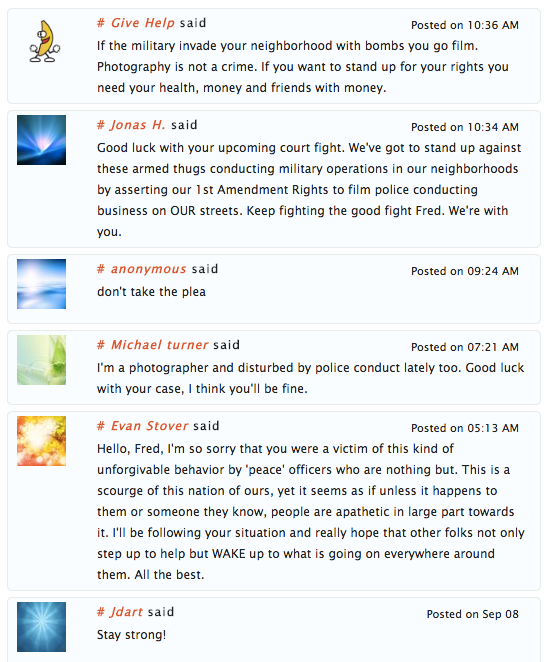 "He was body slammed to the ground on his face and zip tied leaving cuts and bruises all over his face and body possibly head or brain damage in the long term," reads one of the many sites he created to host the video above. "This good citizen is not being aggressive he is not interfering and it is not past his curfew." On the GoGetFunding page, he alludes to previous struggles in life and seems to despair at coming through this matter intact:
The public safety concern is that right across the street is East Wind Apartments which is filled with family's and little kids sleeping at 4:00am in the morning. What if someone started shooting and a bullet struck an apartment and killed someone while they were sleeping. There officers are not marked and are wearing military camo and carrying what appears to be fully automatic weapons. Is this safe to be carrying out such an extreme military procedure with bombs and machine guns right next to an apartment filled with woman and children as well as in between two schools. Here is the video I worked hard to clean up my life and get on the right track. I need a fair chance at this i am being charged with two crimes and $5000 that's just like someone lifting me up from my leg upside down and shaking all the money i saved over the years. For what? video taping an incident that woke up the entire neighborhood?
In the hopes of learning more about this developing situation, the Daily Dot reached out to the unnamed man by way of a chatroom he started for those who want to report "Gresham Police Abuse" or talk about related topics. So far, there's been no reply, though he has been in touch with supporters. "I want to thank everyone that has helped me so far," he wrote last night.
According to an early report about the raids, evidently drug-related, Gresham PD spokesman Lt. Claudio Grandjean "did not immediately know how many people were taken into custody."  
H/T RT | Photo by Oregon Department of Transportation/Flickr (CC BY 2.0)