I'm proud to report that I moved to Austin because of the wonders of South by Southwest. 
My buddy visited the Texas freakfest in March 2007 and loved it. We rolled into town in a big, yellow Penske truck that summer. The rest is history. Now I'm all snooty about the way I eat tacos. 
I write about my own experiences because that "Man, I'm moving to Austin" sentiment is hardly unique around this time of year. As Twitter user @erie notes in her new Tumblr Not Actually Moving to Austin, there's a whole slew of young hipsters who make the magical decision to move to Austin each and every March. 

It's as true as the advent of springtime.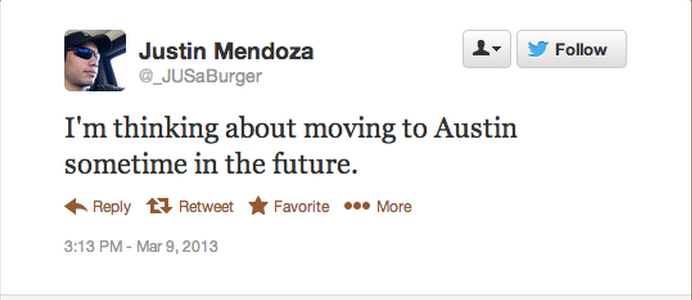 No telling whether or not these folks actually plan on packing up the truck and heading down. Should they decide to show up, we'll be sure to welcome them with open arms. 
Photo via Awesomemerch/Instagram