Newsweek's Leah McGrath Goodman knew that outing the identity of Bitcoin's alleged creator would be controversial. She probably didn't expect pizzas to show up on her doorstep. 
After publishing a 4,500-word exposé on Satoshi Nakamoto, a 64-year-old Japanese immigrant purported to be the creator of the world's most popular cryptocurrency, the author has experienced a spectrum of reactions: adoration, skepticism, rage, and everything in between. 
No news organization captured this polarization better than Forbes, which championed Goodman's story as "brilliant journalism" Thursday morning. About eight hours later, a Forbes tech reporter tweeted that Newsweek "has got some splainin to do."
All the while, a steady stream of hate was pouring from Reddit's r/Bitcoin, trashing Newsweek and Goodman for violating Nakamoto's privacy.
Goodman not only revealed Nakamoto's identity and personal characteristics, but she also showed a picture of his house and his car with the license plate number. In Internet lexicon, this is known as a "dox," the dumping of someone's personal information without his permission. And on Reddit, doxing is a big no-no.
"The house, car and plates photos are absolutely out of bounds," atraininprint commented Thursday. 
"Red card offenses. Tracking down the real Nakamoto is a legitimate story. But this was done with no understanding of what serious journalism is all about. Not only has the reporter and this version of Newsweek (which is not the same as the old, highly responsible Newsweek) done a great injustice to this Mr. Nakamoto (whether or not he's the inventor of bitcoin), they have done an equally great injustice to serious journalism."
In retaliation against Goodman, 4chan's business (/biz/) and technology (/g/) imageboards dumped all of her personal information online. The Pastebin document includes her current address and nine previous residences, her cellphone number, and the names of family members. On /g/, an anonymous user also posted what looked like Goodman's social security number. Users claimed to send her pizzas. (It's an old joke.)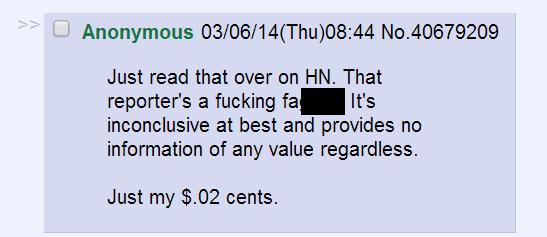 Underneath all the usual noise on 4chan and r/bitcoin, the communities had one glaring question: Who is Goodman, and was she really the best person to task with the biggest story of Bitcoin's five-year history?
Redditors dug up parts of Goodman's professional history, including a story that got her banned from entering the United Kingdom for a year. 
In 2012, Goodman attempted to research abuse claims at the Haut de la Garenne children's home, on the island of Jersey off the south coast of England.
"Both the UK Border Agency (UKBA) and Jersey's customs and immigrations service insist her ban was unrelated to her journalistic investigations," the Guardian reported in June 2012. Goodman disagreed: She was flagged by Jersey customs officials as soon as they found out she was conducting research there.
The ban was ultimately lifted in July 2013. Once news spread on Reddit, U.K. users became wary:
"I'd take any level of research by her to be dubious at best," bitcoinoisseur commented.
Furthermore, they noted Goodman's blog history has no reference to Bitcoin in the past three years, and her first tweet about the digital currency was in January 2014.
Hours after Newsweek published the Nakamoto story, the man himself denied any involvement with Bitcoin to swarms of reporters parked outside his home. 
He doubled down on this assertion in an interview with the Associated Press Thursday afternoon: "I got nothing to do with it," Nakamoto said. "It sounded like I was involved before with Bitcoin and looked like I'm not involved now. That's not what I meant. I want to clarify that."
"I stand completely by my exchange with Mr. Nakamoto," Goodman told the Associated Press. "There was no confusion whatsoever about the context of our conversation—and his acknowledgment of his involvement in Bitcoin."
Original photo by Damian Dovarganes (Remix by CoinCult)