Yesterday, the iconic Ken Doll got a 2017 refurbishment, an effort by Mattel to bring the doll into the mainstream. Out was the classic, 1950 country club look, and in was something more resembling the dudes you find swiping on Tinder. The new Ken Doll got a meme makeover to match.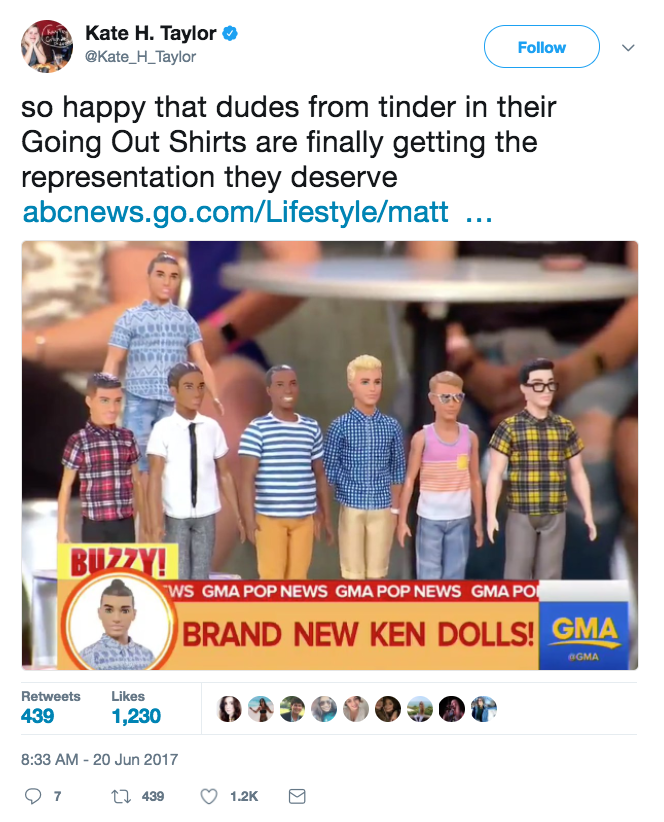 Man Bun Ken especially struck a chord. Almost immediately after he debuted, he earned comparisons to Bernie bros, vape kings, and fuccbois all over Brooklyn.
Do u wanna meet at Whole Foods? pic.twitter.com/FaPMNSMB8o

— so sad so sexy (@WithALittleJazz) June 21, 2017
"Why do you have to make everything about race what about class?" pic.twitter.com/rO21K6W6Fp

— Mia McKenzie (@miamckenzie) June 21, 2017
https://twitter.com/getcerebral/status/877474858858315776
get back to me when the Ken doll has a mane of crumb-filled chest hair and a small gut from the cheeseburgers we just ate on the beach

— Anthony Oliveira (@meakoopa) June 21, 2017
That new Ken doll has already ignored 2 of my texts while still liking my Instagram posts.

— Alison Leiby (@AlisonLeiby) June 20, 2017
https://twitter.com/NicCageMatch/status/877238495076642816
https://twitter.com/emilyjashinsky/status/877212713415565313
Does the new man bun Ken doll also come with a tiny vape? pic.twitter.com/OoBf1mDRTA

— Lord Single Malt (@Singlemaltfiend) June 20, 2017
Man Bun Ken has a few notes on the creative. pic.twitter.com/OkcZpIGeCo

— R/GA (@RGA) June 21, 2017
Man Bun Ken wasn't the only one the internet had thoughts about, however. The new blonde Ken, Twitter supposed, may have had a little alt-right in him.
https://twitter.com/MiQL/status/877332240199372801
this ken doll wants to know why there's no white history month pic.twitter.com/LISGhbv6qZ

— victoria (@theblowout) June 20, 2017
Really, though, none of them were above reproach.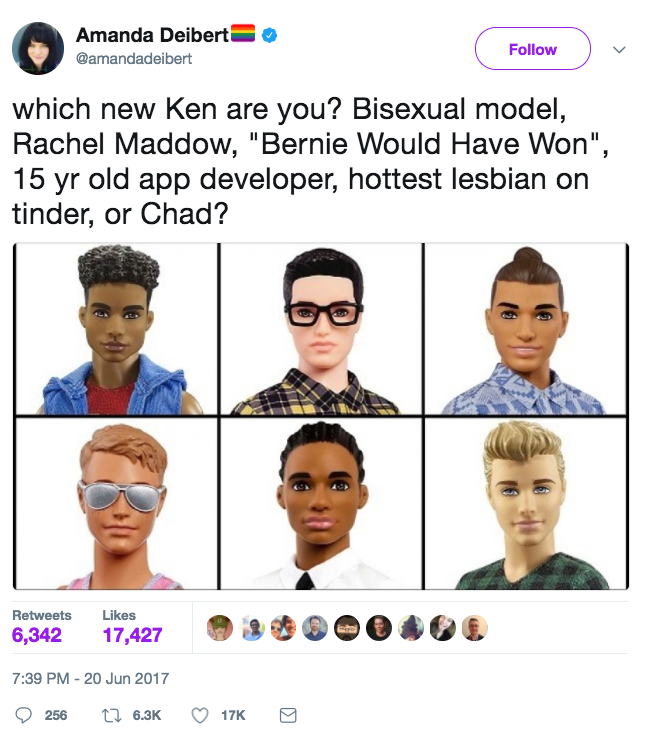 Really, what did Mattel expect would happen?