Thursday the New England Patriots Twitter account, @Patriots, tweeted that in thanks to their 1 million followers, it would create "digital jerseys" for anyone who retweeted the celebratory announcement. The idea was simple: RT this image and an algorithm would instantly respond with the jersey bearing your Twitter handle on the back.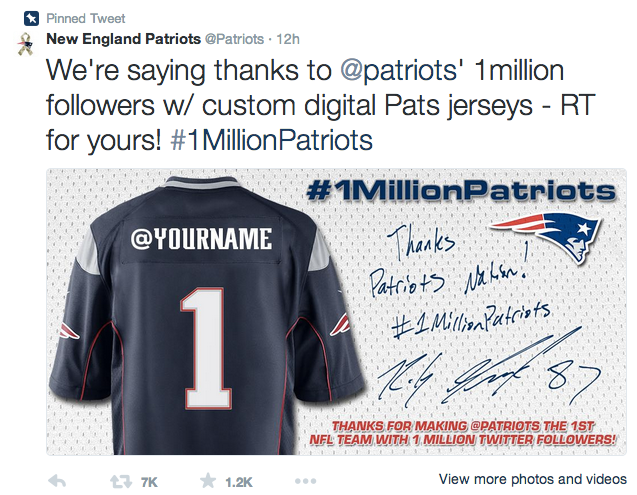 Screenshot via @Patriots/Twitter
What the Pats didn't account for was, well, fake accounts. I'm sure during the marketing agency meeting at some point someone said, "OK but what if they write anything they want on the jersey?" and some idiot responded with, "Well, let's just make it auto-populate their Twitter handle! That way they can't make it up!"
"Perfect," said some numbskull with a weak grasp of the lengths trolls will go to fuck up your corporate endeavor. Twelve hours later some huge Patriots enemy, racist, and objectively bad person, registered for the Twitter account "@IHATEN*****S," retweeted the prompt, and thusly tricked the Pats' Twitter account into tweeting back at him an image with that disgusting handle displayed across the back of a Patriots jersey.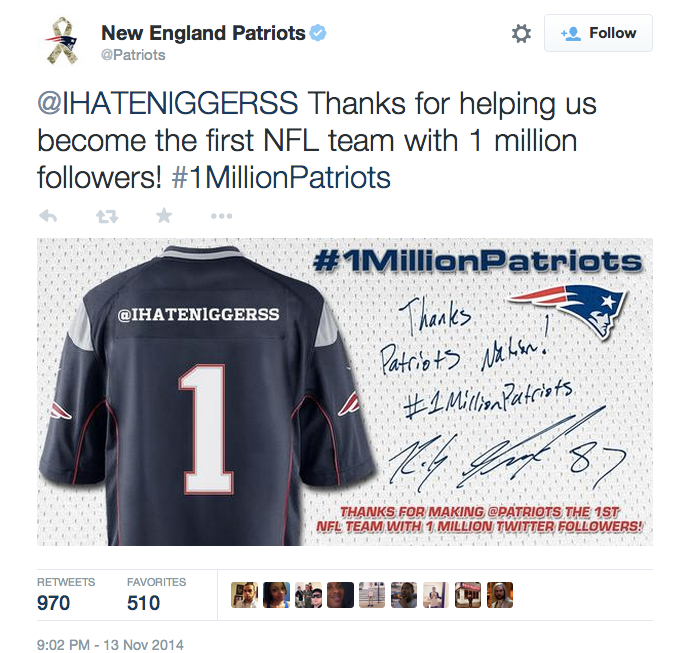 Screenshot via @Patriots/Twitter
Even though the Tweet began with the user handle, which would make the tweet unable to be seen by non-followers of said account, within an hour it had over 1,000 RTs and dozens of responses communicating pure befuddlement.
Obviously, this was not the intent of the campaign celebrating #1MillionPatriots on Twitter. And, unfortunately for the Pats social media team, completely "not their fault."
There was no intention here, no mistake of judgment. In fact the Pats were quick to apologize.
We apologize for the regrettable tweet that went out from our account. Our filtering system failed & we will be more vigilant in the future.

— New England Patriots (@Patriots) November 14, 2014
However, in this day and age when hundreds of thousands of people are willing to make a jump to destroy your corporate social media presence, all outcomes need to be accounted for. It's a bummer. Especially if this faceless enemy (as surely perceived by most Internet trolls) gets taken down a notch while some employee on the social team who overlooked spot-checking each entry gets a pink slip. But I guess thems the breaks lately. Should they have had a stricter barrier for entry into this "contest?" Yes. Should some asshole not have made a Twitter account claiming their hate for the most offensive word in our language? Yes. But the public isn't gonna focus on the latter. The former heats the water. Let's see if New England can get out.
Photo via Keith Allison/Flickr (CC BY 2.0)