Last weekend, my sister texted me to ask if I'd been watching Cobra Kai. We're both of the age where the original Karate Kid films were part of our childhood, and she'd just started the series. Her follow-up text wiped away any rosy nostalgia, however.
"I would let old Billy Zabka spit in my mouth."
That's apparently a shared sentiment in the wake of Cobra Kai's popularity. The (now) Netflix original series follows the rekindled rivalry of Daniel LaRusso (Ralph Macchio) and Johnny Lawrence (William Zabka), 30 years after the All Valley Karate Championship. It's a document of middle-age malaise, aimed partially at the Gen X/millennial audience that grew up with the movies. But it's also drawn in Gen Z with its teenage characters, including Daniel's daughter Sam (Mary Mouser) and Johnny's estranged son Robby (Tanner Buchanan).
Cobra Kai's a decidedly PG show, though general horniness has escalated since Netflix dropped season 3 on New Year's Day. The series debuted in 2018 as a YouTube Red original, and picked up a modest fanbase. Its stars still seemed surprised at the response ahead of season 2, which debuted in 2019. But what truly exploded the show's audience and fandom was its move to Netflix in 2020. The first two seasons were made available on the platform last summer, and viewers stuck at home during the pandemic snorted it up. Cobra Kai dominated Netflix's Top 10 for weeks. It's been at No. 1 since its season 3 release.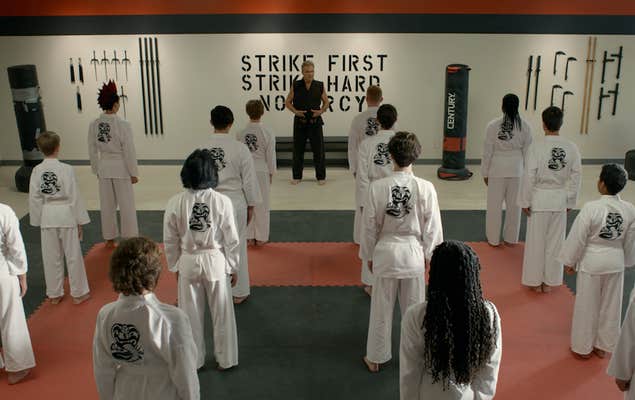 Besides horniness, why is the show so popular?
Part of it is the absurdity of its premise. Some of the first dialogue uttered in season 3 includes the phrase "all-out karate riot," and Cobra Kai heightens its comedy with the impossibility of SoCal teenagers joining rival karate dojos and fighting each other in schools, arcades, juvenile detention centers, and tastefully decorated homes. But that allows its young cast to build its own world, often void of parents, where bullying, mental health, and friendships are explored more seriously.
And then there are the adults. Cobra Kai is very much a show about absent dads and stand-in father figures, a soap opera in which the melodrama stems (mostly) from three men—Daniel, Johnny, and John Kreese (Martin Kove)—who never quite learned how to process their feelings. Daniel is successful but stuck in the past, Johnny is an alcoholic even more stuck in the past, and Kreese is, well, pretty creepy, but the flashback-heavy season 3 gives us some context for his behavior (Vietnam). It's the toxic masculinity trifecta, a bloody rendering of the "instead of going to therapy" meme.

The one person with any real sense or maturity is Amanda (Courtney Henggeler), Daniel's wife, who perfectly deploys a smiling eye-roll or head tilt whenever Daniel brings up his mid-life karate drama, but can also shut down the man-boy antics with a well-timed barb or comment.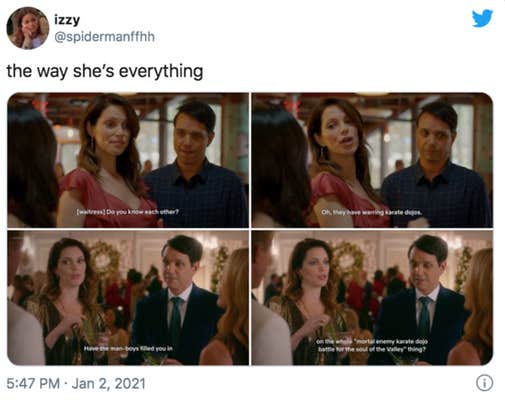 The sentiment that Amanda is the best character is echoed on Twitter, where fan accounts espouse her no-nonsense approach. Last fall, a post in the Cobra Kai subreddit took issue with her parenting style, calling her too "lenient," what with all the violent karate fights. But Daniel spends a lot of time mentoring Robby, and we rarely see him interact with his own son, who is in literally one scene this season. Amanda spends a lot of time running their business while he's playing karate police. Season 3 also gives more time and thought to the rivalry between Sam and Tory (Peyton List).
The Cobra Kai fandom has opened up the series to memes, theories, and shipping. (Johnny and Daniel, or LawRusso, are one popular ship on Twitter and TikTok.) Morgan, 18, runs the Out of Context Cobra Kai account, but says she wasn't familiar with Cobra Kai before Netflix. She started watching it with her parents one day and got hooked.
"After I had finished the show, all I wanted to do was talk to people about it but I had no one to talk to since my parents were more casual viewers of the show and none of my online friends had watched," she says. "One of the things I love most about the show is how hilarious it is so I decided to start this account as a way to show people how funny the show is and to get more people to watch it." One of the show's creators, Jon Hurwitz, now follows the account.
Nina, 27, started a fan account last April, because "my followers and friends from my other account were getting annoyed with so many karate drama tweets." Growing up, she says, her brother and cousins were into the movies and started doing karate because of them. "I always wanted in but my father said it was a boys' thing and therefore I couldn't be part. So I refused to watch the movies." It took pandemic boredom for her to finally watch them, and then the series, with her brother.
Nina says the Cobra Kai Twitter fandom is still fairly small but the Netflix crossover expanded the circle. As a woman in the fandom, she feels comfortable shipping characters or discussing how female characters in the show, or media in general, are portrayed.
"I love this show because it has this perfect balance between new and old, original and legacy," she says. "I used to be a huge Star Wars fan, and I became disenchanted with it because [of] the way they handled legacy so badly, and the company lets its official content creators step on their fans, especially women, who are constantly harassed and stepped on in that fandom, not only by other fans but the people in charge of its media."
That balance between new and old seems to be one of the major draws: Many of the fan accounts belong to teenagers or people in their early twenties, and the fandom takes the show's character growth and plot development seriously. "DILF" is referenced frequently, but there's also a reverence for the original texts.
Cobra Kai moved past easy nostalgia, but it's also subtly dropkicked those of us who grew up with the films into a new reality: Some of us want Billy Zabka to spit in our mouths, and some of us are wringing our hands over all these teenagers fighting.
---
More essential culture reads
---